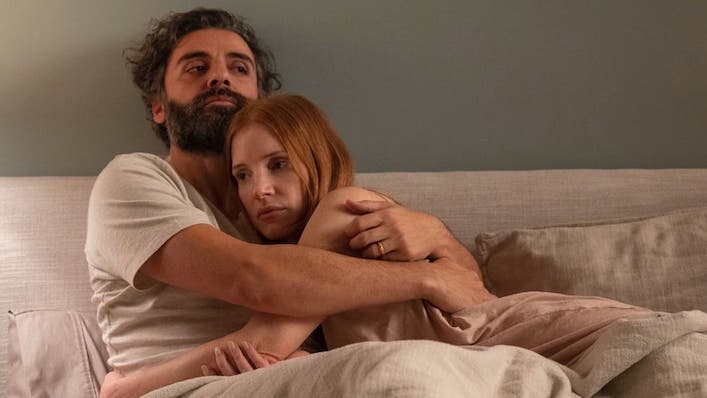 Jessica Chastain and Oscar Isaac's Scenes From A Marriage is now streaming in Australia

---
Back in 1973, Swedish auteur Ingrid Bergman was blamed for encouraging the rise of divorce across Europe with the release of his miniseries Scenes From A Marriage. I'm sorry but if your marriage can't survive watching 282 minutes of hot people seething at each other, you shouldn't be together in the first place.
Now, we're facing the release of an HBO miniseries which revisits Bergman's marital drama with fresh, contemporary eyes. Here's hoping Scenes From A Marriage 2021 won't be so compelling that it sparks separations amongst Aussie viewers, with the drama now available to stream on BINGE and Foxtel Now.
Oscar Isaac and Jessica Chastain star as Jonathon and Mira, a ridiculously attractive couple whose beautiful home and early years of attraction can't survive their gradually fading passion for one another. The miniseries consists of five episodes, beginning on September 13 and releasing weekly on BINGE and Foxtel Now until October 11—plenty of time to watch a romance collapse in slow motion.
The bruising trailer below gives a good idea of just how serious and heartbreaking things have become between Isaac and Chastain. She cries, "Do you know how long I've wanted to leave? I'm going to go out of my mind if I don't leave right now."
The supporting cast includes Nicole Beharie, Corey Stoll, Sunita Mani and Tovah Feldshuh, but our focus is of course on Isaac and Chastain here. The pair have appeared as a couple before in A Most Violent Year, making Scenes From A Marriage our next chance to see the development of their acting collaboration.
Although it's hard to picture anything surpassing Bergman directing his own wife in hours and hours of marital drama, subscribers to BINGE and Foxtel Now can try out the steaminess and sadness of this remake series right now.