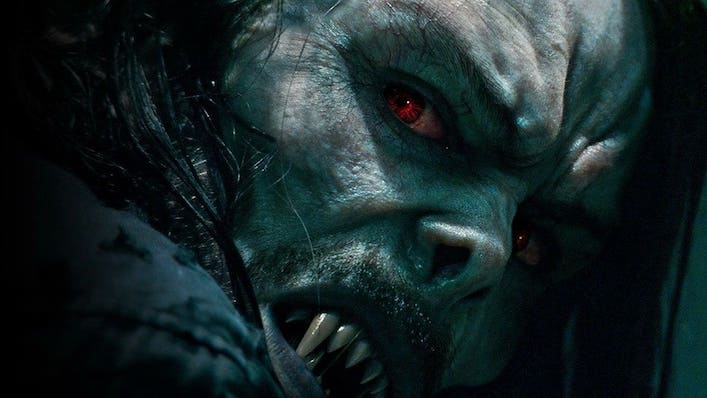 Jared Leto gets ugly in the first trailer for vampire superhero movie Morbius

---
Jared Leto's turn as DC's Joker in Suicide Squad was, to put it kindly, misunderstood. His interpretation only looks worse, too, in light of new Joker Joaquin Phoenix's Oscar-nominated take on the same role. What's a dejected white-faced clown gangster to do in that situation, in order to reclaim their place as a Hot Topic mall goth icon?
Sign up for Flicks updates
The answer is simple: attach yourself to a new freaky comic book franchise. Enter Morbius, the upcoming Sony vampire film about a doctor who gives himself a supercharged form of vampirism after trying to cure his blood disorder. The film looks to be a combination of Blade's gothic sensibility and the tragic anti-hero protagonist of Sony's failed Venom movie. Hopefully Leto and director Daniel Espinosa can accentuate both films' best qualities.
Leto's character, Dr. Michael Morbius, finds himself gaining abilities of speed, combat and echolocation like some kind of bat….man…or something. With a stellar supporting cast including Matt Smith and Jared Harris, Morbius' focus on sci-fi horror as opposed to superhero action could be kind of promising, in a very competitive supermarket (didn't mean it like that but okay).
The above trailer is careful to give potential fans everything they need to know about Morbius – yes, you get to see Leto's shredded abs. Yes, there's a spooky remixed version of a classical song, in this case Fur Elise. And finally, there's that teasing final moneyshot of Morbius going full vamp, replete with red Halloween contact lenses and a mutilated bat-like face.
Morbius swoops into cinemas to saaaahk your blaaaad this July.