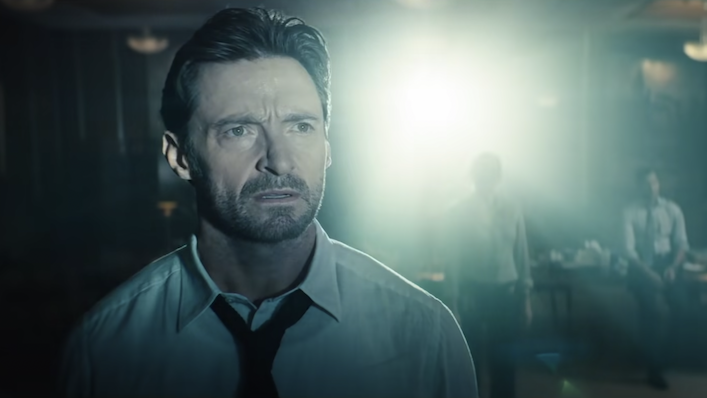 Hugh Jackman's sci-fi noir Reminiscence is being fast-tracked to digital release

---
The further we boldly tread into the future, the more we long for comforting nostalgia to draw us back into the past. Think about it: all our slick filmmaking technology is harnessed to make endless reboots, remakes, sequels, prequels…that's what the last couple lines of Gatsby were banging on about, right??
An original yet referential sci-fi noir, Reminiscence is the writing and directing feature debut of Westworld co-creator Lisa Joy. Select cinemas around Australia are currently screening this high-concept flick, but from September 16, you can also rent or buy it on demand, right from the comfort of home. It's somehow both a trip down memory lane, and a vision of our bleak future.
You see, Hugh Jackman's bitter protagonist Nick is a private eye working in a partially-underwater world, devastated by climate change. His trade is in helping clients retrieve lost memories for a price. As hypnotic new customer Mae, Rebecca Ferguson seems to only need help finding her lost keys, but when she goes missing after a short love affair with Nick, he becomes obsessed with figuring out the truth about her past.
Sounds like a noir story with a sci-fi skin, right?
The trailer below is definitely a bit reminiscent (heehee) of Westworld's slick aesthetic, and includes that series' scene-stealing Thandiwe Newton as Nick's coworker. But one also can't help noticing vibes of Inception and The Prestige (which Jackman of course also starred in), films directed by Joy's brother-in-law Christopher Nolan.
Add in the fact that Jackman and Ferguson played lovers already in The Greatest Showman, and Reminiscence begins to look like a half-sunken family reunion of sorts.
We were lucky enough to speak with Joy and Jackman earlier this year, who both distanced Reminiscence from the trappings of its genre.
"This is not just sci-fi—this is humanity," he told us in full-enthusiasm Hugh Jackman fashion. "It's a heart ripping open; it's life and death."
"I asked even for the colours in the set design to be warm-hued instead of those cold lights," Joy explained. "The future isn't this distant thing. It's here, and the things that we do right now form our world so quickly."
Fast tracked from cinemas for a speedy digital release, you can check out Reminiscence on participating platforms such as Apple TV, Fetch, Foxtel Store, Google Play, Microsoft, Prime Video, Telstra TV Box Office and YouTube.