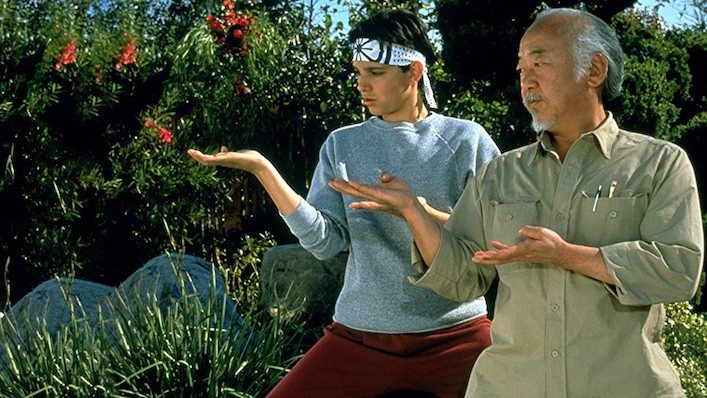 Did Cobra Kai make you want to revisit The Karate Kid? Here's where to stream it

---
It first came out in 1984, but in some ways it hasn't aged a day. The Karate Kid is still one of the best sports movies of all time, starting a verifiable martial arts craze amongst energetic white kids that continues today. Daniel La Russo's journey from bullied new kid to karate badass is genuinely pretty goddamned affecting, too.
Now, with the arrival of the game-changing sequel TV series Cobra Kai onto Netflix, you've got the perfect excuse to seek out this 80s gem. There's a few different ways for Aussie karate kids/adults/others to enjoy.
Sign up for Flicks updates
Starring the precociously charming Ralph Macchio as Daniel and Pat Morita as his sage mentor and new friend Mr. Miyagi, the original Karate Kid film was a sleeper hit, taking a modest budget and turning it into one of 1984's most profitable and beloved films, with a Best Supporting Actor Oscar nom for Pat Morita, to boot.
If that trailer above just isn't giving you enough 80s magic (or enough time to rock out to Joe Esposito's You're The Best, originally penned for Rocky 3!), you should rent or buy The Karate Kid in its glorious entirety.
You can do so on Apple TV, Youtube, Google Play, and Microsoft's streaming library. Check out your options below, and always remember to wax on and wax off…whatever that means, outside of the original car washing/ass-kicking context.