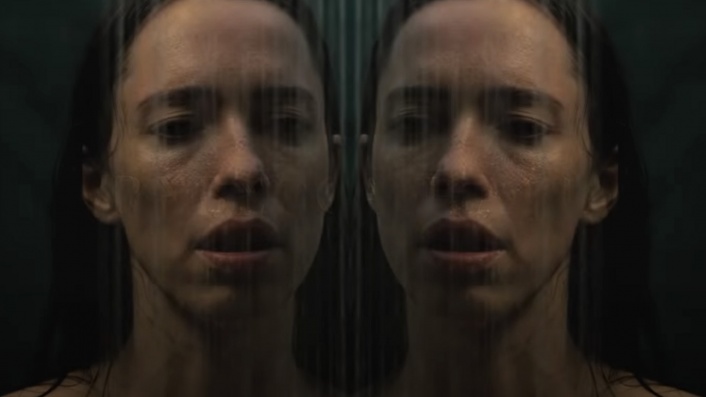 How to watch the disturbing psychological horror The Night House in Australia

---
Everybody's got a romantic 'type' they're attracted to; nothing wrong with that. But for Rebecca Hall's character in The Night House, realising her late husband's infatuation with similar, brunette strangers only leads to more and more horrifying epiphanies.
The Night House is a high-concept, psychological horror movie directed by David Bruckner, and it's currently playing in select Australian cinemas. We've got the spine-tingling trailer for you to check out below, as well as everything you need to know about the movie's tantalising set-up—spoiler-free, of course.
Bruckner has previously directed Netflix folk-horror flick The Ritual, as well as contributing segments to V/H/S and The Signal. Here, he casts Rebecca Hall as recent widow Beth, unearthing dark and confusing secrets in the beautiful lake house she once shared with her late husband Owen (Evan Jonigkeit).
It begins with finding architectural floor plans of an identical, but opposite home. And when she finds candid photos on his computer of other women, women who look eerily similar to Beth herself, we start expecting the worst. Was Owen hiding his true, evil nature from his wife? Or does it all have supernatural origins?
Rebecca Hall is always a joy to watch, just as captivating in intense, emotionally turbulent roles (like the staggering titular performance in Christine) as she is when playing second banana to blockbuster spectacle (she was one of the less-boring supporting characters in Godzilla Vs. Kong).
So even if 'joy' is in short supply, judging from the intensely eerie trailer above, The Night House looks like one to watch. It's in cinemas now, so creep to your nearest theatre if and when it's responsible to do so.