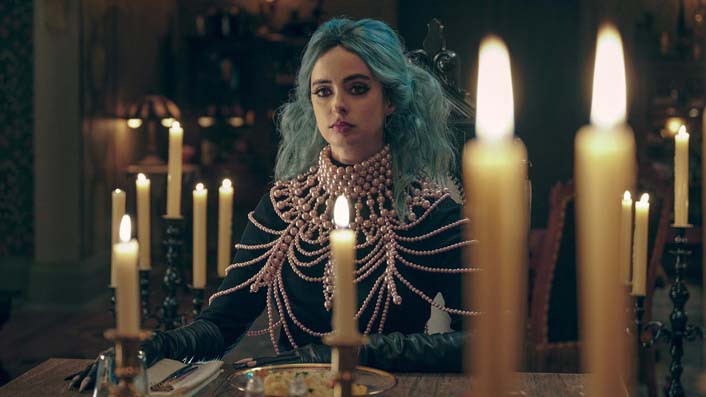 The bewitching family fantasy Nightbooks is now on Netflix

---
Krysten Ritter once starred as a terrible flatmate in the sitcom Don't Trust The B**** in Apartment 23; an unwieldy and off-putting name, perhaps, but she was totally charming nonetheless.
Her despicable apartment-haunting continues on Netflix this September, with the release of creepy tween film Nightbooks. Starring Ritter as an evil witch with a love for scary stories, Nightbooks is now delivering fun and frights on Netflix, where it's currently streaming.
Winslow Fegley and Lidya Jewett play a pair of resourceful younguns, trapped in Ritter's impossible apartment. It's got invisible cats, rooms that lead to jungles and forests, and gooey beasts hatching from eggs. A demonic unicorn at the end of the trailer looks especially freaky, rearing up on its hind legs, pink horn and eyes glinting in the dark.
Sign up for Flicks updates
"This is your life now", Jewett warns Fegley. "Forget your family and focus on being useful to the witch."
But judging from the trailer below, I have a feeling Fegley will be able to use his love of writing scary stories to trick the witch and earn his freedom. Basically, it's a spine-tingling spin on One Thousand and One Night's Scheherazade folk tale.
Nightbooks is based on a fantasy-horror novel by J.A. White, and produced by splatter maestro Sam Raimi—that should explain the surprising intensity and creepiness of the trailer's ookiest moments.
But if your little terrors love the thrill of being scared, Nightbooks might quickly join the likes of Hocus Pocus and Monster House as a great family-friendly Halloween classic. Creeeak open the dusty cover of Nightbooks on Netflix, if you dare: it's streaming right now.