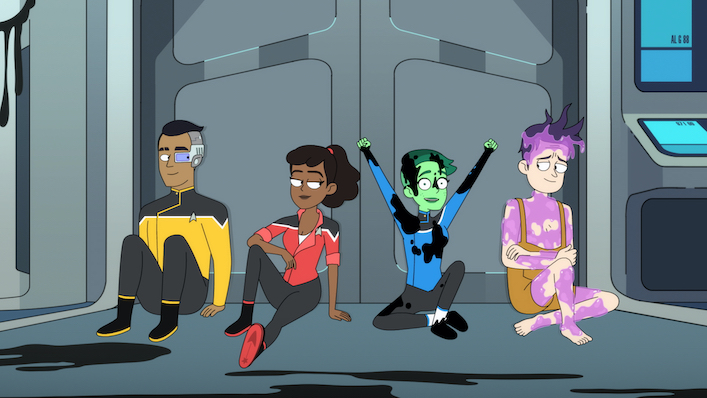 Will Star Trek: Lower Decks be released in Australia?

---
We all know by now what it means to wear a dreaded 'red shirt' in any piece of Star Trek media. The official uniform of security guard and low-level engineering lackeys aboard a Star Trek vessel, the 'Redshirt' means you're not too important to be savagely killed off during an episode without too much mourning once you're gone.
Now, an animated sitcom following the lives of Star Trek's most unimportant, disposable characters? That sounds pretty terrific, and it's hopefully coming to Australian streaming screens as soon as possible. Sadly, no Australian streaming platform has announced that they will be releasing it.
Sign up for Flicks updates
Star Trek: Lower Decks is the first animated and the first openly comedic entry into the sprawling Star Trek franchise. Its voice cast is stacked with sitcom and improv world talent, like Eugene Cordero, Tawny Newsome, and Noël Wells, all of whom play the slacker crew of the deeply irrelevant U.S.S. Cerritos in the year 2380.
The ten-episode first season has been compared to "Rick and Morty in space", and its bubbly, rounded animation style would definitely seem to point to adult animated shows as its primary inspiration. But it also sounds perfectly tailored to the broad audience who love Star Trek and the escapist world of mid-century sci-fi, too, with jokes that are enjoyable for viewers aged '11 to 70′.
The only downfall would seem to be that as yet, we have no idea where Star Trek: Lower Decks will land on any streaming services available to Aussie audiences.
So, Trekkies, you'll simply have to plow through the other hundred Starfleet-centric TV shows until we have further news. Keep your eyes peeled, particularly towards 10 All Access, where a few other shows from the US's CBS All Access lineup have ended up.