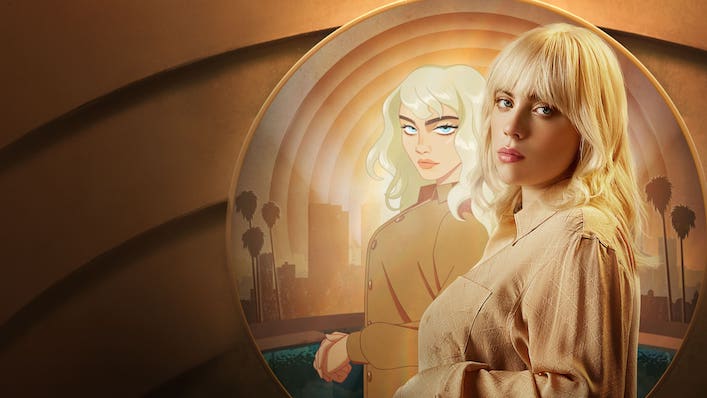 How to watch Billie Eilish in Happier Than Ever: A Love Letter to Los Angeles

---
Your first introduction to Billie Eilish may have been with 'bad guy', a spidery calliope of a pop song that won Triple J's Hottest 100 and got stuck in everybody's heads for ages. Not bad, for a frowny 17-year-old and her brother/producer Finneas.
Since then, Eilish has grown up quickly, releasing a James Bond theme song and a whole new era of sound and imagery for her latest album Happier Than Ever. This mature sophomore work is accompanied by Happier Than Ever: A Love Letter to Los Angeles, a "cinematic concert experience" that you can check out on Disney+ right now.
Directed in part by action auteur Robert Rodriguez, this fascinating project sees Eilish, Finneas and the LA Philharmonic Orchestra taking to the stage of the 'timeless' Hollywood Bowl. The new album gets played from start to finish, with animated interludes deconstructing the pop star's new and discarded public personae.
Fans can even check out one extended sequence without logging into Disney+. The film's performance of Oxytocin was released onto Youtube, bathing the real Eilish in chaotic red light whilst her 3D avatar speeds recklessly around LA in a vintage sports car.
The lyrics and visuals, all about self-destruction, bad exes and liberation, are probably a bit uhhhh adult for the primary demographic of Disney+. But Happier Than Ever: A Love Letter to Los Angeles is a lush and beautifully produced experience nonetheless.
It's available to stream for subscribers on Disney+ at the moment. Who would've thought we could check out this unique concert doco before ever seeing the Bond movie Eilish wrote a song for…