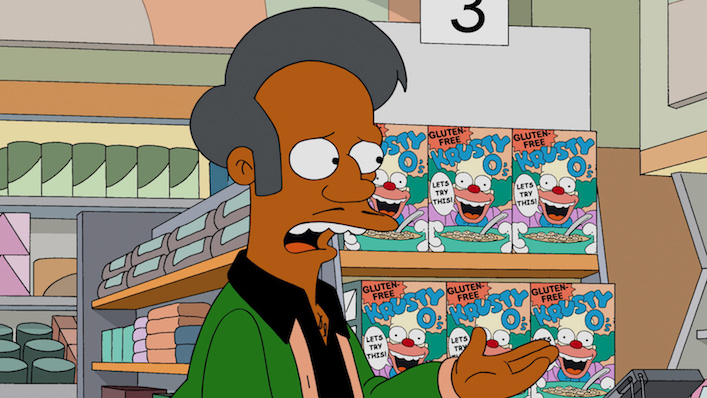 Hank Azaria confirms he will no longer voice Apu on The Simpsons

---
Since its inception almost exactly thirty years ago, The Simpsons has made biting, revolutionary humour out of all the stereotypes associated with middle-class American suburbia – from the fat lazy dad to the annoying do-gooder family next door. But the Indian-American convenience store clerk?
Sign up for Flicks updates
Being one of the longest running shows of all time definitely has its ups and downs, and the changing political reception of one of The Simpsons' most troubling characters signifies everything that's difficult about the show's continuance into the 2020s. Apu Nahasapeemapetilon, the Kwik-E-Mart proprietor voiced by (white) actor Hank Azaria, has been the centre of fierce debate, sparked in part by Hari Kondabolu's 2017 documentary entitled The Problem With Apu.
Now, Azaria has openly confirmed that he will no longer voice the legacy character at a panel for the Television Critics Association Winter Press Tour, saying, "I won't be doing the voice anymore, that's all we know…we all made the decision together. We all feel it was the right thing and feel good about it."
The inclusion of The Simpsons' producing and writing team as that implied "we" is interesting, considering the show's creative team have already addressed the Apu controversy in their own ineffective way. In a 2018 episode No Good Read Goes Unpunished, Lisa concluded a subplot about confronting racist caricatures in a children's book by musing that, "Something that started decades ago and was applauded and inoffensive is now politically incorrect. What can you do?"
The episode was lambasted for its limp non-response, which seemingly tried to please both 'politically correct' former fans and those who believe the show's bipartisan humour shouldn't be forced to make exceptions. Azaria's announcement has only fanned the flames of that debate, causing Apu to trend on Twitter once again.
Scots don't get annoyed at Dan Castellaneta voicing Groundskeeper Willie or Hank Azaria voicing Bumblebee Man. Why should Apu be any different? The sooner people stop taking themselves so seriously the better. It's ruining so much.

— Rory Kavanagh 🇮🇪 (@CoalaIE) January 18, 2020
This is good, but what's disappointing is Hank Azaria was seemingly the ONLY person involved with the Simpsons at all open to addressing the problem. Al Jean and the writers actively made fun of people who complained https://t.co/A4zxxEqI0h

— Brian Larsen (@LaneWinree) January 17, 2020
If @HankAzaria is indeed no longer doing the voice of Apu, I do hope they keep the character & let a very talented writing staff do something interesting with him. If not to better the show, then to atleast spare me some death threats.

— Hari Kondabolu (@harikondabolu) January 17, 2020
Whatever ends up happening to Apu, Azaria's decision to end his personal involvement in the character is a meaningful first step. An Indian-American voice actor could slip into the role, or the change could provide material for an interesting and even funny new episode highlighting how times have changed in Springfield.
Disney Plus subscribers can look back on thirty years of Apu – the streaming service features every episode of The Simpsons.