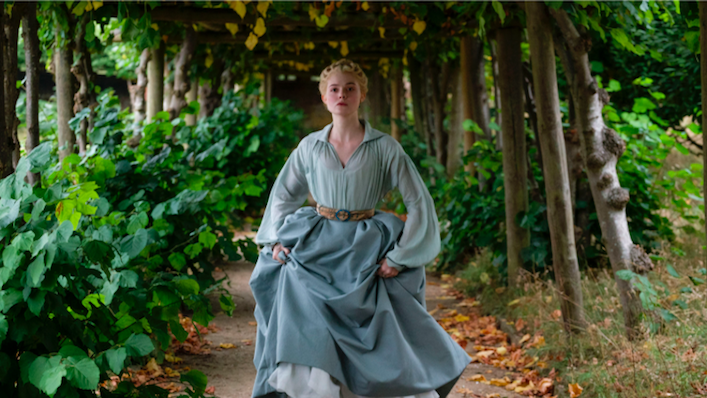 Great news: Elle Fanning is Catherine The Great in Stan exclusive The Great

---
Since the sleeper success of Yorgos Lanthimos' The Favourite, there's been a sizeable hole in the market for pitch black period comedy. I'm talking movies about ladies in big ornate dresses swearing and having cumbersome, awkward sex with 18th century  dolts.
Sign up for Flicks updates
Luckily, Stan will be airing a vicious new costume drama/comedy hybrid at the same time as it airs in the US: The Great, a series charting the royal rise of Catherine the Great, as played by Elle Fanning. And! The show is created by the writer of The Favourite, Australian scribe Tony McNamara.
The show's teaser trailer reveals a stellar supporting cast, including Nicholas Hoult (also from The Favourite, wow), Phoebe Fox and Adam Godley. All we're shown is a few scenes of Fanning being appropriately prim and feisty for her role as one of Russia's most memorable monarchs, and Hoult throwing a parachute-wearing Pomeranian off a balcony. And isn't that all you need, really?
Interestingly, the series looks to be tackling Catherine's earliest years and ascent to power, the very opposite of the Helen Mirren-led Catherine the Great series which aired on HBO last year. It's a great time to be Czarina Catherine in the film and TV landscape!
Check out The Great on Stan, at the same time as it airs in the US – May 16.