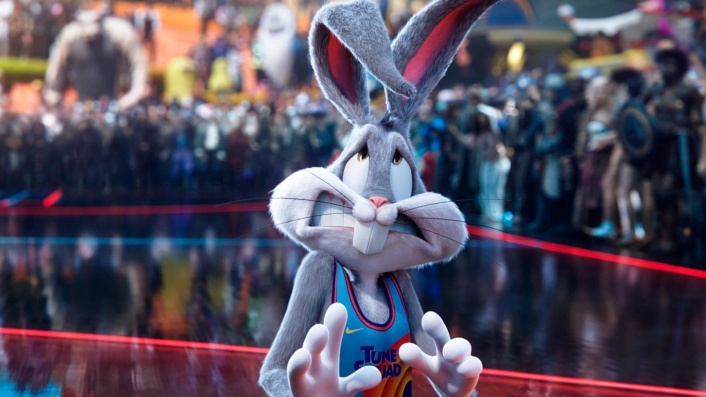 Get up and slam! Space Jam: A New Legacy is now available to rent or buy

---
The loony sequel Space Jam: A New Legacy slammed into Australian cinemas earlier this year, starring LeBron James as the hapless human baller who gets dragged into the colourful and surreal world of various Warner Bros. IP.
But now, absolutely everybody can get up and slam from the safety of our own homes! Space Jam: A New Legacy is now available to rent or buy, thanks to a fast-tracked digital release speeding the sequel straight from cinemas.
As with the original 90's phenomenon that starred Michael Jordan, this belated sequel thrusts James into the highest-stakes game of his life, against an evil algorithm's super-powered AI versions of sport champions. On James' team? Bugs Bunny, Daffy Duck, Porky Pig and Lola Bunny, a character every internet weirdo feels an unsettling level of sexual attraction towards.
The last trailer anove shows off the slick cartoon version of LeBron, and Don Cheadle's villain Al-G Rhythm (get it?). But one of the big draws in Space Jam: A New Legacy is Warner Bros.' assembly of every established film and TV property into the climactic b-ball game's spectators, which will feature everyone from Flintstones to Game Of Thrones and beyond.
From August 12, Looney families are able to hear those typical sarcastic animated lines from the comfort of home ('haters gonna hate!' 'well that happened'). Participating digital platforms including Apple TV, Fetch, the Foxtel Store, Google Play, Microsoft, Prime Video, Telstra TV Box Office and YouTube all feature Space Jam: A New Legacy for home audiences to rent or buy.
Whether you feel like reading our bewildered, mind-broken review of the movie before paying to watch at home is entirely up to you.