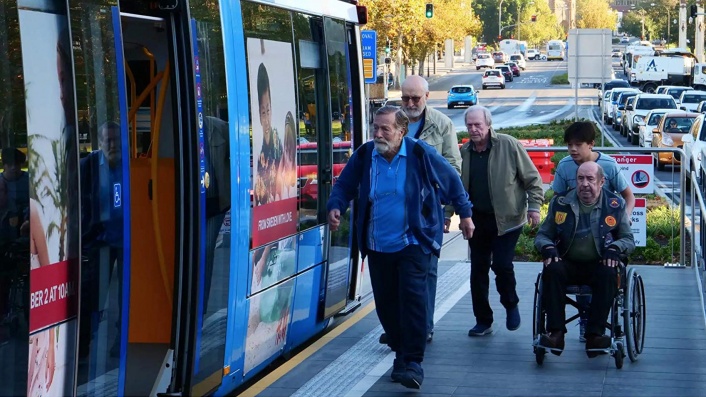 Geriatric buddy comedy Never Too Late has arrived in Australian cinemas

---
With a star-studded cast including two Oscar nominees, Never Too Late looks like one of 2020's most uplifting movies, following a group of elderly army pals who hatch a plan to escape from their retirement home.
If that sounds like the perfect film to see with the wrinkly loved ones in your life, you'll want to hit up your favourite local cinema, unless you live in Victoria where the cinemas are still closed (commiserations, folks). The film is now playing in select cinemas.
The buddy comedy stars James Cromwell and Jacki Weaver as a pair of star-crossed lovers, but they're not exactly the pubescent Romeo and Juliet types that come to mind; smitten with one another since their time in 'Nam, their characters both live at the same nursing home, until Weaver is suddenly moved away.
Now, with the help of a crack team of army buddies all holed up in the same residence, Cromwell and co. must pull off a daring escape to get out of the home and into Weaver's heart. The movie also features stone cold Aussie talent such as Shane Jacobson, Roy Billing, Dennis Waterman, and Jack Thompson, all against an Adelaide backdrop.
Click below to figure out the best session time for you to check out Never Too Late; and it's never too late to buy a ticket! Actually at some point in the next month or so, it probably will be too late. Just to be clear.