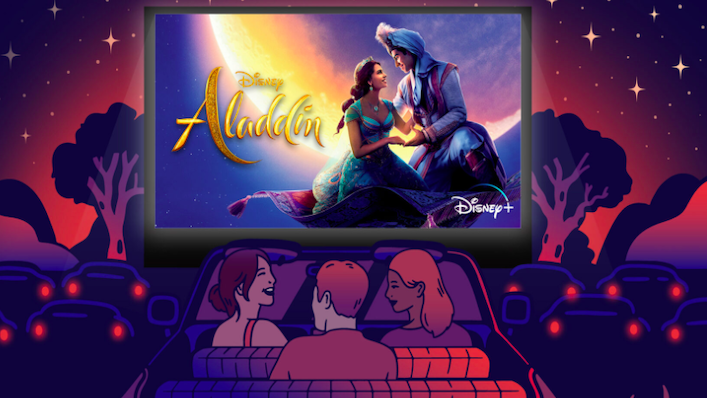 Disney+ drive-in cinemas are coming to Brisbane, Sydney and Melbourne

---
One of the (very, very few) cool side effects of the coronavirus pandemic screwing with film distribution has been the nostalgic pivot to drive-in cinemas; the perfect way to isolate audiences into their own car-shaped COVID-19 bubbles, spaced 6 feet apart, has been right under our noses this whole time.
Now, new streaming juggernaut Disney+ has made the prospect of a night at the drive-in cinema all the more tantalising and family-friendly, with the announcement of a collaboration with Openair Cinema. In Brisbane and Sydney, with further dates to be announced in Melbourne, the House of Mouse will be bringing their biggest titles to outdoor event spaces where fans can buy popcorn, park, and of course watch a movie.
Sign up for Flicks updates
As for the lineup of new and classic Disney hits, check out this sample schedule below; there really is something for everyone, namely because Disney owns the rights to seemingly every movie property these days. From Marvel Monday, to Sing-A-Long Saturday and Pixar Sunday, you could practically fill your week with Disney, all through a contactless and comfortable in-car screening experience.

Brisbane's Northshore Riverfront Event Space will host the series from September 17 to October 18, with tickets priced at around $50 for a car with more than 3 people. Sydney's Bankwest Stadium in Parramatta begins on October 22 and finishes on November 15.
It would seem that tentative plans are in place for Melbourne Disneyheads to enjoy the screenings throughout November and December, but dates have not been announced yet, presumably while Victoria's path out of lockdown is still being considered.
Tickets to the Brisbane screenings are on sale now, but Sydney and Melbourne moviegoers will need to check Openair Cinemas' website in the coming weeks for info about tickets and the exciting program in store.