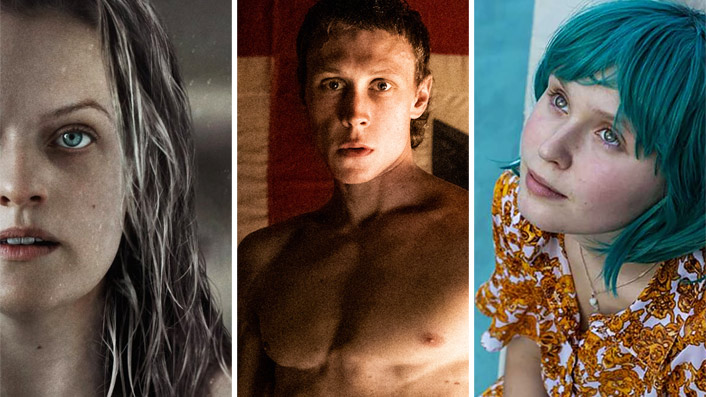 Babyteeth, The Invisible Man and the Kelly gang lead 2020's AACTA Awards

---
In a year when Australian audiences have had to rely on the comfort of film and TV more than ever before, it seems stingy that only a handful of titles can be recognised by the Australian Academy of Cinema and Television Arts Awards.
Nevertheless, there's so much great Australian stuff nominated this year that we're likely to be thrilled with whoever wins. Whether you want the moody coming-of-age romance Babyteeth to triumph, or if you got properly spooked by Relic or The Invisible Man, you'll want to read on to learn more about 2020's terrific AACTA nominees.
Sign up for Flicks updates
Beginning with TV, ABC dramas Mystery Road and Stateless lead the pack, securing seven nominations each. They're joined in the Best Drama Series and Best Miniseries categories by hits such as Bloom, Doctor Doctor, Halifax: Retribution, Hungry Ghosts, and Wentworth.
Some of the big names among nominees include Aaron Pedersen for Mystery Road, Rebecca Gibney for Halifax: Retribution and Asher Keddie for Stateless. The AACTAs will also acknowledge the diversity and sheer entertainment value of Aussie doco and competition series, including Lego Masters, Gogglebox and the COVID-19 comedy variety show At Home Alone Together.
Onto the world of Aussie film, Babyteeth is leading in nominations. It has collected 12 in total, with nods to director Shannon Murphy and performers Eliza Scanlen, Ben Mendelsohn, Essie Davis, and Toby Wallace.
Babyteeth will compete for Best Film against H is For Happiness, I Am Woman, The Invisible Man, True History of the Kelly Gang and Relic. With two horror films, two unconventional biopics, and a sprinkling of uplifting teen/tween dramedy for good measure, this category is packed with the best in Aussie entertainment for 2020, and every viewer will have their fave.
Babyteeth might be the safest bet. The film was a sleeper success in corona-era Australian cinemas, and its quirky, soulful coming-of-age story with themes of wellness and independence might perfectly represent this crazy and calamitous year in Australian screen storytelling.
For a complete list of nominations, visit the AACTA website. AACTA Awards winners will be announced across TV events, held on November 27 and November 30.