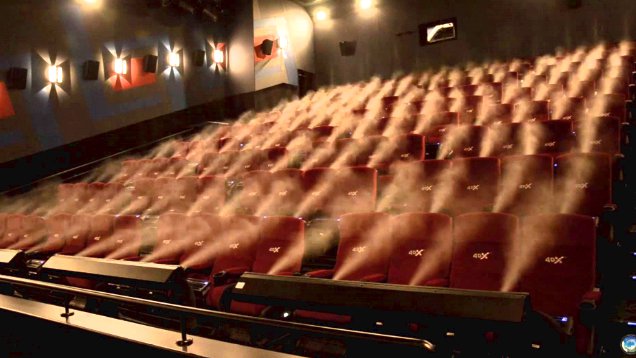 Have you been watching your films in boring old 2D? Or 'been there done that' 3D?
It's time to get up to speed and ENTER THE FOURTH DIMENSION.
Sydney's first four-dimensional cinema will open in October at Event Cinemas George Street, claiming to be Australia's largest 4DX theatre.
It pledges to allow Sydney audiences to "enjoy the world's biggest movie blockbusters in a whole new fully-immersive, sensory experience."
Sign up for Flicks updates
Which, if you've never had the pleasures of experiencing a 4D cinema before, means: vibrating seats, water jets, air jets, fans, intense strobe lighting, bubbles and a range of smells.
And in case you were wondering: yes, you will get wet.
Luke Mackey, General Manager of Entertainment for Event Hospitality and Entertainment said, "4DX is the first and leading 4D movie technology in the world. It has been hugely popular internationally and at our Village Cinemas Century City site in Victoria, so we are very excited to bring Sydney its first 4DX Cinema at Event Cinemas George Street.
"For the first time, what is seen on-screen will be complemented by what you physically feel, smell and see inside the theatre. From the smell of fresh coffee to weather effects like rain, snow or roaring thunder and lightning, 4DX takes all the elements on-screen and immerses you in the world you're watching."
4DX will launch at Event Cinemas George Street in October, with tickets on sale from September 26. Upcoming films sreening in 4DX will include Venom, Fantastic Beasts: The Crimes of Grindelwald, Aquaman and Bumblebee.
For more details and to book tickets, visit the Event Cinemas website.