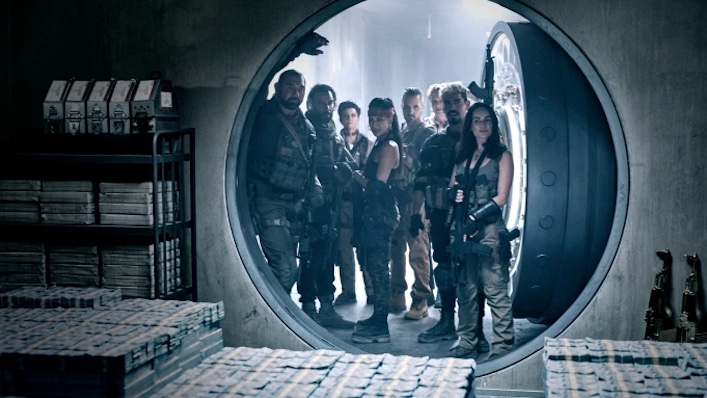 Army of The Dead crawls into Netflix's list of its top 10 most watched movies

---
Over the last decade or so, Netflix and all the other streaming services have busted the concept of 'box office' itself in more ways than one.
For one thing, streaming platforms were one of the only ways for us to watch great film and TV during the coronavirus pandemic. But it also means that these groundbreaking new services can make their own rules in reporting viewership numbers, not being required to report all their data as with traditional cinema (ticket sales) or TV (Nielsen ratings).
With that in mind, Netflix recently announced that Zack Snyder's bombastic zombie film Army Of The Dead has made it onto their list of the platform's top 10 most watched, attracting around 72 million viewers in the weeks since its release. It ties with George Clooney's The Midnight Sky at the bottom of a very action-centric, star-studded list, topped by the pulse-pounding Chris Hemsworth vehicle Extraction.
Netflix's Top 10 Most Watched Films

1. Extraction – 99 Million
2. Bird Box – 89 Million
3. Spenser Confidential – 85 Million
4. 6 Underground – 83 Million
5. Murder Mystery – 83 Million
6. The Old Guard – 78 Million
7. Enola Holmes – 76 Million
8. Project Power – 75 Million
9. (tied) The Midnight Sky and Army of the Dead – 72 Million
The list reveals a few interesting things about how subscribers interact with Netflix. Firstly, there's an obvious recency bias towards films released during the pandemic—the oldest film on here is Bird Box, with the rest coming out in 2019 or later, when we were all eager to give Originals a go from the confines of our homes. Then there's the proof that star power and personality reigns supreme. Adam Sandler, Ryan Reynolds, Charlize Theron, George Clooney and Mark Wahlberg are all huge stars, in genre films that let subscribers know just what they're tuning in for; precisely what you need when it comes to a comforting, bankable watch.
But let's get real. If more than 50 million of us have apparently seen these movies, how come I've never heard anybody I know mention the name 'Enola Holmes' out here in the real world? Or Project Power? Sure they've got ritzy celebrity casts, but four of the 10 films are Certified Rotten on Rotten Tomatoes (Spenser Confidential, Murder Mystery, The Midnight Sky and 6 Underground), and newcomer Army Of The Dead received a qualified 'meh' in our review. "The acting is passable, the action scenes workmanlike, the tone heavy but not grating", Luke Buckmaster writes. "Snyder doesn't do subtle, and yet has nothing much to say despite the setting offering ample allegorical opportunity."
One potential explanation could be that Netflix counts each viewer as anyone who has watched up to two minutes of a title. That's right; watching the equivalent of a film's trailer, or 0.95% of The Irishman if you wanna get petty, is adding to the streamer's near-triple-figure viewing metrics, massively inflating the popularity of their titles. This questionable threshold for viewership may explain the surprising numbers on films that do not seem to impact audiences or critics in a particularly positive or memorable way.
In any case, Army Of The Dead makes a suitable addition to Netflix's top 10 most watched features; it's enough brainless fun to keep you watching happily from the couch, with a slew of prequel films and 'anime TV spin-off's arriving in the near future. Why would you ever need to leave home?