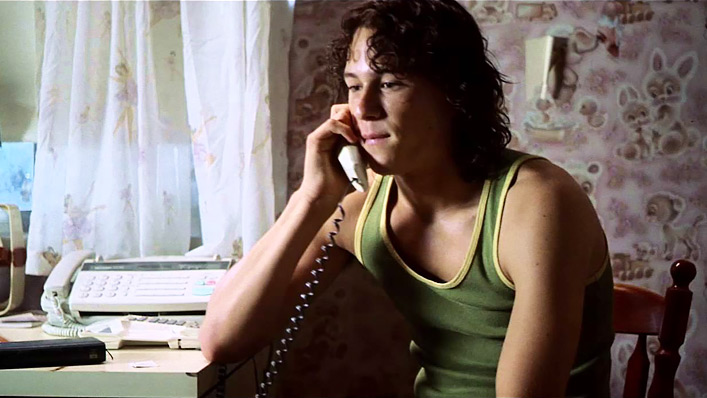 A new Two Hands TV show is in the works, inspired by the Heath Ledger classic

---
From almost 400 applications, Screen Australia has announced its final slate of funded titles for the rest of 2021, including 13 TV dramas, 12 feature films, a poignant VR experience and more. And while we can't wait for original Australian content of any kind, one upcoming title will already be familiar with fans of Rose Byrne and/or the late Heath Ledger. Let's be real: every human alive considers themselves a fan of both.
We're talking about Two Hands, the 1999 crime-comedy that's been getting plenty of nostalgic love lately after emerging onto Netflix amongst a slew of other Aussie classics. From original director Gregor Jordan, a television series "inspired by" the original film is in the works, pitching itself as "an action-charged comic revenge thriller".
If you haven't caught the movie yet, it stars sweet baby Ledger as Jimmy, a Kings' Cross bouncer who bounces into trouble after misplacing $10,000 from a merciless gangster (Bryan Brown).
Jordan's first film has its gritty moments, such as a botched bank robbery and a heartbreaking subplot involving teen runaway revenge. But Two Hands also has a lot of heart. In the memorable scene of Byrne and Ledger meeting-cute below, you can feel a moviegoing audience falling in love with them too. Perhaps in the next year or so, we'll get that same chance at love at first sight on a smaller screen, with whatever the Two Hands TV series turns out to be.
We'll wait with bated breath to see who steps into Byrne and Ledger's shoes in the upcoming, Screen Australia-funded Two Hands series. With writers from Shameless, The Heights and Glitch but no concrete cast or story announcements yet, this will be an Aussie crime story worth keeping an eye out for.
Other titles on Screen Australia's most recent approved slate sound promising, too, including a family feature film from the creators of Bluey, an eight-part horror dramedy about a couple investigating their new home's bloody history, and Goo Zoo, a children's series set in a petri dish populated by musical amoeba.
There's also an emotive anthology film produced by Tony Ayres, in which ten different directors (one of whom being past Flicks contributor Neil Triffett) will interpret key moments in one beautiful relationship. And Remembrance, an immersive VR project bringing audiences into the long-held trauma of World War I.
Until we learn more about these all-exciting, all-Australian stories, you've got plenty of time to get caught up on just what makes Two Hands so enduringly badass. Check out the film on Netflix, or even better, nab tickets to MIFF's Hear My Eyes screening of the film, where Melbourne garage-rock band The Murlocs will perform a brand new live soundtrack to the film. They better include a cover of Powderfinger's 'These Days' at that climactic moment, goddamnit.