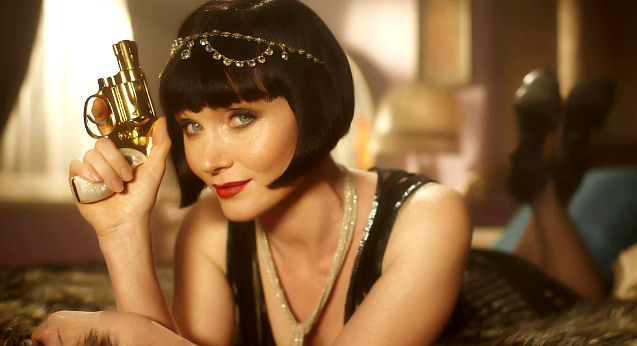 Miss Fisher & the Crypt of Tears, the feature film version of the massively successful television series and murder mystery books, will commence shooting in October. The filming will take place in Morocco and Melbourne.
The beloved star Essie Davis will play the titular role, as she did in the TV show. Davis' other iconic roles include the traumatised mother in the cult classic The Babadook, and Lady Crane in Game of Thrones.
The producers of Crypt of Tears have described the plot as follows:
"The film opens with the Honourable Miss Phryne Fisher rescuing Shirin Abbas, a young Bedouin woman, who has been thrown into jail in British Mandated Palestine, for making trouble at a time of colonial unrest. After a perilous escape from Jerusalem, she rejoins Shirin as a fellow guest in the home of Lord and Lady Lofthouse, for the London 'season' and she pledges to help her right a wrong and discover the truth about the Crypt of Tears – an ancient crypt rumoured to lie somewhere beneath the rolling sands of the Negev Desert."
The Crypt of Tears will be directed by Tony Tilse, whose credits include the Wolf Creek TV series and Ash vs Evil Dead.
Writer Deb Cox has said: "Both new fans and old are in for a ride full of twists and turns as Phryne's Middle Eastern adventures find her hunting for missing treasure, racing the clock on an apocalyptic ancient curse – and still finding time for romantic dalliance – in the sweeping deserts and sumptuous mansions of this exotic big screen production."
Miss Fisher's Murder Mysteries is a hugely successful brand. The television series has proven highly popular in Australia as well as UK and North America. It has been sold to 179 other territories around the world, indicating strong international potential for the feature film.
The producers of Miss Fisher & the Crypt of Tears, which was budgeted at $8 million, reportedly ran out of money last year. They took to Kickstarter to crowd source extra dosh, with their initial target being $250,000.
They reached that number in only two days. They then revised their target to $300,000 (which they hit) then $400,000 (which they hit) then $500,000 (which they hit) then 600k. Guess what? They hit that too.
All of this bodes very well for the upcoming movie, which has yet to be given a release date.