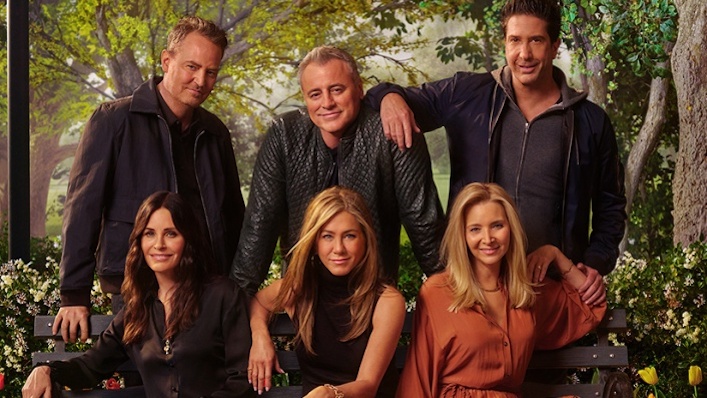 27 years and 10 seasons later, here's how to watch the Friends reunion

---
Friends is undeniably one of the most popular sitcoms in the format's history, rocketing all of its lead cast to global fame. The only problem is, then, that it's kind of tricky to bring the whole gang back together with six celebrity schedules to co-ordinate.
Luckily for us, the long-awaited Friends reunion is finally coming to our screens, an unscripted celebration of the 90s sensation that first gave us Rachel, Joey, Monica, Chandler, Phoebe and Ross.
Check out the tear-jerking nostalgic trailer below for this can't-miss event, which sees our fave Manhattanites re-reading the show's most iconic scenes and confessing some backstage and personal history to host James Corden.
It's all taking place on the same Warner Bros. Stage 24 soundstage where the show's sets originally resided, and will be available to BINGE subscribers from May 27.
A truly bizarre and diverse selection of famous Friends superfans will appear to give thanks to the series. Seriously, where else are you going to see David Beckham, Justin Bieber, BTS, James Corden, Cindy Crawford, Cara Delevingne, Lady Gaga, Elliott Gould, Kit Harington, Larry Hankin, Mindy Kaling, Thomas Lennon, Christina Pickles, Tom Selleck, James Michael Tyler, Maggie Wheeler, Reese Witherspoon and Malala Yousafzai in the same place? Goddamn Malala Yousafzai??
BINGE is the home of Friends' original 10 seasons and 236 episodes, so it's only fair that they screen the reunion on May 27 at exactly 5:02pm, the same time as the reunion's US premiere.
If you haven't subscribed to BINGE yet, this could be the friendly push you need; make the 'PIVOT' to BINGE before May 27.