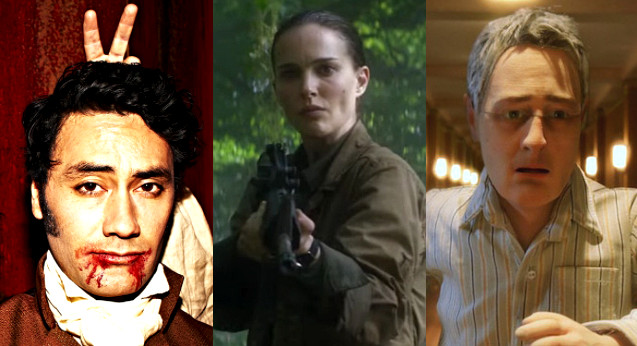 Every month a heap of new films arrive on Netflix and Stan. This month is no different. But we reckon a particularly good crop of flicks are hitting the services on March. Here are our 10 picks.
An utterly hilarious vampire mockumentary, co-directed, co-written and co-starring Taika Waititi and Jemaine Clement. As the official synopsis puts it: "The film introduces a world where friendship and camaraderie are just as important as feasting upon the flesh of mortals."
Super Troopers (Netflix, March 1)
This 2001 crime comedy, about five idiotic state troopers in America, got a mixed response from critics. But it's a zany film that's built a significant fanbase, with a sequel arriving next month.
"You can't handle the truth!" Those immortal words belong to this classic court room thriller, featuring an epic performance from Jack Nicholson (opposite Tom Cruise) as the monstrous Colonel Nathan R. Jessup.
Anomalisa (Netflix, March 8)
From the wacky genius of Charlie Kaufman (writer of Eternal Sunshine of the Spotless Mind and Being John Malkovich). Kaufman wrote and co-directed this absurdist stop-motion animated drama, following a self-help "guru" who can't seem to help himself.
Natalie Portman is a biologist who signs up for a dangerous, secret expedition into a mysterious zone where the laws of nature don't apply. Annihilation is the highly anticipated new film from writer/director Alex Garland.
Spotlight (Netflix, March 17)
The riveting true story of the Pulitzer Prize-winning Boston Globe investigation's into abuse in the Catholic Church. Spotlight won Best Picture at the 2016 Oscars.
Philadelphia (Stan, March 17)
The first big-budget Hollywood film to tackle the medical, political, and social issues of AIDS. Features one of the pedigree performances from Tom Hanks, who deservedly won an Oscar for it.
Geoffrey Rush, Sam Neill, Ewen Leslie, Odessa Young, Miranda Otto and Paul Schneider lead this family-feuding drama from Australian theatre wunderkind Simon Stone. The critics loved this classy local drama.
The White House is under siege in this action-thriller from director Roland Emmerich. Who's gonna save the day? Why, Channing Tatum of course! Don't go in expecting a drama about the human condition.
In this animated family comedy, Adam Sandler is the voice of Dracula, owner of the finest 'five stake' monster resort outside of the human world. The kids know it, and they love it.