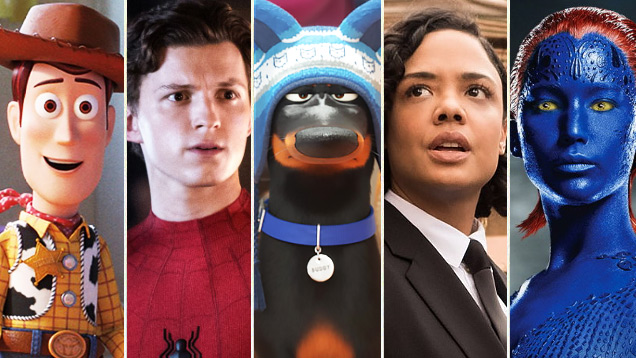 Your guide to the best and worst films in cinemas these school holidays

---
Want to know what to take the kids to these school holidays? Here's Sarah Ward's guide, with films listed from best to worst.
These school holidays, heading to the cinema resembles shopping at a toy store, with familiar names reigning supreme. Perusing the winter lineup, you could be forgiven for thinking it was two decades earlier. Four out of the six school holiday viewing choices outlined in this guide had earlier installments released between 1995 and 2002.
That's what happens when Pixar's playthings return, friendly neighbourhood superheroes sling webs again, alien-hunting secret agents come back to save the world and caped crusader crews keep doing the same thing. They're joined by two similarly familiar but more recent properties, involving animated talking pets and teen fan fiction.
From the best to the worst, here's our guide to the current school holiday lineup.
Sign up for Flicks updates
Once again, audiences have a friend in Pixar's original franchise – and while this nine-years-later effort needn't exist, it's among the series' best films. As well as rounding out the adventures of Woody the kindly cowboy (voiced by Tom Hanks) and his pals, Toy Story 4 proves a clever contemplation of pop culture's ever-evolving and yet always nostalgic cycle, an astute exploration of letting go, and a moving musing on change, loss and mortality. It's a poignant farewell to a beloved saga.
As always, Woody leads the charge. Passed down to pre-schooler Bonnie in Toy Story 3, he no longer rules the toy box, which is even more apparent when the homemade Forky (Tony Hale) becomes the new favourite toy. After the plastic spork escapes during a family road trip, Woody attempts to bring him back, but finally discovers the world outside – as well as delightful new characters voiced by Jordan Peele, Keegan-Michael Key and a scene-stealing Keanu Reeves.
After Avengers: Endgame's universe-in-peril action, the Marvel Cinematic Universe wraps up its third phase with the smaller-scale Spider-Man: Far From Home. The world is yet again under attack, this time from new elemental threats, with newcomer Mysterio (Jake Gyllenhaal) on hand to help. Alas, Tom Holland's version of Peter Parker is still struggling to juggle his superhero responsibilities with being an ordinary teenager and chasing his crush, MJ (Zendaya) – especially following Tony Stark's death.
Two stand-alone films into the third iteration of Spider-Man in two decades, this Jon Watts-directed Spidey story takes the masked hero's 'friendly neighbourhood' label to heart, not only in its story and themes but its tone. This franchise is gleefully goofy, affectionate and teen-centric, and it works. Far From Home is at its best when it's dialling up the humour and heart, with its CGI-heavy battle scenes far less memorable.
The Secret Life of Pets and its sequel will always boast a relatable premise, pondering what humanity's domesticated animals get up to when we're not looking. Sadly, fleshing out a great idea with a stock-standard splash of bright animation and a few celebrity voices isn't the same as spinning an involving or enjoyable story.
This time around, Jack Russell Terrier Max (Patton Oswalt) has adjusted to sharing his owner's affection – and to a human baby in their apartment. But he's now a helicopter surrogate parent, fretting about young Liam's every move. The panicked pooch's journey of discovery, learning to loosen his paws, is a by-the-numbers affair enlivened only by Harrison Ford's voice work as a gruff farm dog. Subplots involving freeing a taunted circus tiger and navigating an apartment filled with cats are similarly underwhelming.
Both together and apart, Chris Hemsworth and Tessa Thompson exude charisma, as Thor: Ragnarok, Ghostbusters and Creed have shown. However they aren't enough to save Men In Black: International. The pair play suitably dark-dressed secret agents – a smooth-talking star and a super-smart newcomer – who team up against an intergalactic threat. But if you've seen a MIB film before, you know where this is going.
Directed by F. Gary Gray (Straight Outta Compton, The Fate of the Furious), MIB: International never exceeds its boilerplate confines. With routine action scenes and flat jokes, its never as energetic, amusing or necessary as it thinks it is. And, while Hemsworth, Thompson, and fellow cast members Emma Thompson and Liam Neeson remain the movie's biggest assists, they're all better than this run-of-the-mill excuse to keep a tired brand alive.
If the X-Men franchise fades out of existence after Dark Phoenix, few tears would be shed. How things have changed since the original trilogy reminded cinemagoers of the joys and thrills of big-screen superheroes. The time is right to wrap up the mutant saga, with the prequel series now meeting up with its predecessors. But it's inertia, rather than the timeline, that's X-Men's biggest trouble.
From its high-profile cast to its bland narrative to its uninvolving fight scenes, everything in Dark Phoenix feels like it's going through the motions just to add another movie to the saga. That's a common feeling across big-name franchises of late, but it's particularly pronounced here – especially when the underlying story, focusing on Jean Grey (Sophie Turner) grappling with her past and powers, deserves better. So do Michael Fassbender, James McAvoy, Jennifer Lawrence, Nicholas Hoult and Jessica Chastain.
Leaving her mother (Selma Blair) and childhood boyfriend (Dylan Arnold) behind to head off to college, Tessa Young (Josephine Langford) finds her life forever changed when she falls for campus bad boy Hardin Scott (Hero Fiennes Tiffin). He's brooding, moody and mysterious. She's sweet and innocent. And when After starts their story with narration that trades in clichés, explaining that some moments truly define one's life, it signals how it intends to go on.
Calling After the teen version of 50 Shades of Grey does the latter a disservice. They're both inspired by popular entities – One Direction rather than Twilight, in After's case. They both promote unhealthy relationships and power imbalances as a romantic ideal. They're each also filled with generic protagonists, silly character decisions and soapy dramas. But After always feels like a flavourless facsimile of its fellow fan-fiction predecessor, with a little Nicholas Sparks thrown in. Yes, it's as dismal as it sounds.