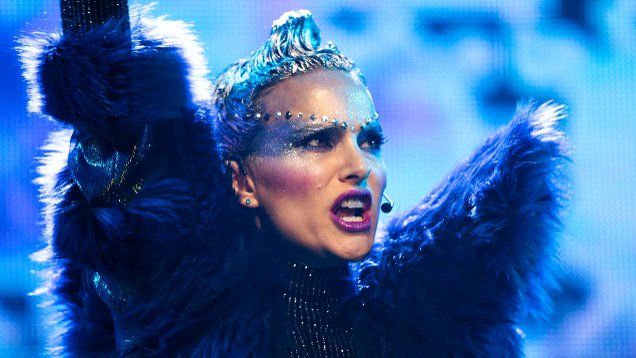 Why the Academy Awards wouldn't dare to recognise the greatness of Vox Lux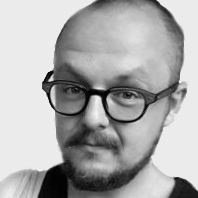 ---
Why did the Oscars not give any nominations to Vox Lux, despite it featuring one of Natalie Portman's most memorable performances? Critic Luke Buckmaster says the film speaks a dangerous amount of truth about certain aspects of the entertainment industry. 
There's a simple reason why Vox Lux, a better film than any of the productions nominated for Best Picture at this year's Academy Awards, will not receive any love from Hollywood's greatest infomercial. A work of art of this calibre undermines the entire system, explores the vacuity of celebrity culture, exposes the inhumanity of the PR machine. It is critical of the hoi polloi for looking up to the stars – the human ones, that is, who are in effect politicised institutions, crisis-managed and branded and re-branded and crisis managed again.
This deeply compelling film bears some similarity, in the complicated way it gives the brutal lowdown on a high-muck-a-muck, to the original A Star is Born, the 1937 melodrama that left a terrible pinch on the palate and unwittingly created a mini institution/franchise of its own. The premise of these two films reflect each other in reverse: Vox Lux is centered around a musician while the first A Star is Born is about an actor – although subsequent A Star is Born films became about musicians, and Vox Lux might as well be about an actor.
Contributing one of her most memorable performances – a compulsively watchable outburst of imperiousness and ostentation – Natalie Portman plays superstar musician Celeste, a flaky prima donna with unusual origins. At the beginning of the film, written and directed by Brady Corbet, Celeste (played in her younger years by Raffey Cassidy) survives a devastating Columbine-like high school shooting. In hospital she and her sister (Stacy Martin) fumble around writing a song to reflect on the experience, which they perform at a night-time vigil. Could it become a hit?
Vox Lux is divided into chapters assigned biblical-sounding titles, i.e. 'Genesis' and 'Regenesis'. Willem Dafoe's narration reflects on events as if they belonged to dynasties, legends, religious doctrines from long ago. These elements give the drama ironic largesse. When Celeste and her manager (Jude Law) shop around the song, Dafoe informs us that – at the producer's request – a lyric was changed from "I" to "we" and the song became a huge hit. "No longer her experience," Dafoe says, "they (the country) reclaimed it as their own."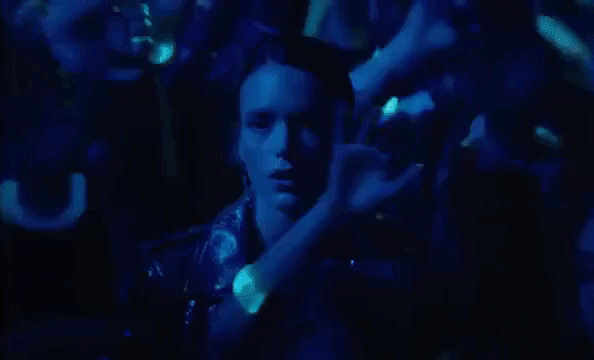 Portman turns up about halfway through the running time; in true rock star form she is late to her own gig. Now Celeste's entire professional life is a performance and she feels like a victim – of her own success, and of the system that allowed her to succeed in the first place. When a terrible event occurs potentially linked to her past, Celeste's manager provides the kind of spin-doctoring we expect of a political setting or an Armando Iannucci comedy, placing various restrictions on her statements to the press then telling her to simply speak from the heart.
If this analysis of Vox Lux is definite in its identification of key themes, the film itself is ambiguously circumspect, favouring long, philosophical, echoing chords over single sharp notes. The director, marking a significant step up from his debut feature The Childhood of a Leader – a curious film about the coming-of-age of a dictator – rarely instructs audiences how to think or feel, and prefers using slabs of running time rather than key moments to evoke connections. Unlike the stupidly popular Freddie Mercury biopic Bohemian Rhapsody, a concert spectacle in the closing act is not used to embellish a real-world legend but to further question the merit of a fictitious albeit deeply nuanced one.
Sign up for Flicks updates
Vox Lux arrived last year in American cinemas, making it eligible for the Oscars. Academy members presumably balked at the very idea. Hollywood's annual backslapping ceremony is drawing attention to films it deems superior – including an idiotic biopic that mistakes energy for feeling (Bohemian Rhapsody) and a glib road movie that reduces historic systematic racism into greeting card messages (Green Book).
Vox Lux on the other hand is the most interesting portrait of American celebrity since I'm Still Here (released nine years ago, Casey Affleck's documentary about Joaquin Phoenix pranking the entertainment industry already seems to belong to a much simpler time, before Trump rejected even the art of lying, treating the concept of truth in ways too stupid to be called Orwellian – and too nefarious not to). David Cronenberg attempted a similar cynicism as Vox Lux in his 2014 film Map to the Stars but the intellectualism of that production was cold, hard, inaccessible, flavoured with the tang of snobbishness.
In its probing of an infrastructure in which fame always outranks humanity, the boldest question Corbet asks is whether mass shootings and superstar celebrities could possibly be products of the same thing. That is dangerous territory to say the least. Seeing the director navigate it so cunningly – leading us to believe we, not he, might be making these kinds of connections, which will linger long after the closing credits – could well turn out to be one of the greatest dramatic achievements in Australian cinemas this year.