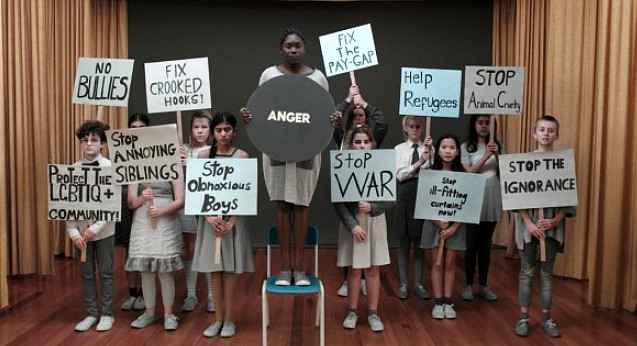 While normal people enjoy partaking in sensible activities such as visiting national parks and spending time with loved ones, film critics prefer more pressing matters – such as debating the symbolic significance of the curtains in Phantom Thread, or analysing the political subtext of Geostorm. Diverging opinions are never in short supply, but there is at least one thing every reviewer can agree on: there are simply too many movies in the world for anyone to keep up with them all.
If there are too many movies to watch, there are way way too many short films. This is the main reason some great, non-feature-length work is often overlooked. But not this week. Or at least, not today.
Australian actor Tilda Cobham-Hervey's joyous directorial debut, a 20 minute short called A Field Guide to Being A 12-Year-Old Girl, is currently available on ABCiview – and you absolutely should watch it. This week the film received a prestigious award at the Berlin International Film Festival, following a simultaneous premiere last year at Adelaide Film Festival and on ABC ME.
A Field Guide to Being A 12-Year-Old Girl (narrated by Cobham-Hervey) is a hybrid documentary/narrative short starring twelve 12-year-olds, who discuss their lives and ponder questions large and small. It is an affecting picture of a time most of us can only vaguely remember, on the cusp between childhood and adolescence: when we were young enough to have idealism without cynicism, and old enough to feel wariness towards adults and issues of the wider world.
The director introduces us to her various youngsters, discussing matters such as how much they love their pets and what they fear about the future. Their responses register in multiple keys, from the cute frivolousness of throwaway entertainment like Kids Say the Darnedest Things, to observations that have a ring of poignancy about them – such as those in the films of Adam Elliot or the books of Roald Dahl. These ruminations become more serious as the film evolves, but levity and humour imbue everything.
The group are ethnically diverse, from a range of backgrounds and experiences. But "all remain 12-year-old girls," as the narrator reminds us. Universality is established as a key theme from the outset, like the 2012 Australian documentary I Am Eleven, which followed kids around the world aged a year younger.
Where A Field Guide to Being A 12-Year-Old Girl achieves greatness is in the style and grace of its compositions. Billed as "a cross between a documentary and a theatre piece", all the action takes place on an uncluttered stage (the kind you might find in a community or school hall) with polished floorboards and faded gold curtains. In this physically restricted field, Cobham-Hervey demonstrates a grasp of visual clarity rare not just in debut directors, but across the board.
The director, an established actor, appeared in the enchanting 2015 coming of age dramedy Girl Asleep, perhaps drawing some inspiration from its diorama-esque and Wes Anderson-ish aesthetic. Cobham-Hervey and cinematographer Bryan Mason don't break the 180-degree rule, alternating between long shots of the curtain-flanked stage, to mid-shots of the girls holding props and signs, to close-ups of them talking.
A film as visually well crafted as this (which are rare, sadly) look simple at first blush, but are beautifully disciplined and innovative. Lazy filmmakers often ramp up motion and movement to arouse the viewer's attention, while the more disciplined tend to understand that manipulation of the frame is profoundly territorial: about space and depth, and the subject and viewers' relationship to both.
The classical style embraced in this film is almost literally boxed in. Like the frame of a painting, there are clear visual boundaries, the director's approach informed by an understanding that what is left out of the frame is as important as what is included.
If this sounds dry or academic, the execution comes across as utterly charming and effortless. One might assume the film's target audience could be too young to appreciate A Field Guide to Being a 12-Year-Old Girl on this kind of visual level. The jury at Berlin who awarded it, however, was made up entirely of children – so, perhaps, their understanding of visual literacy is greater than many of us might think.