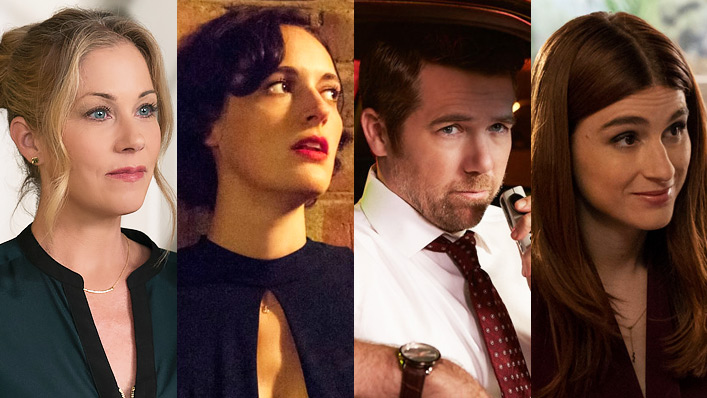 Top 5 black comedy series to stream

---
A black comedy makes us laugh at what we can soberly discuss. Putting the humour into the unspeakable stretches back as far as famous last words, but in the streaming age it's become a fascinating, rewarding genre, as the one-size-fits-all television comedy has thankfully splintered into specific takes.
Here are five varied black comedies you should put on your streaming list.
Sign up for Flicks updates
The foibles and flaws of friendship are vicariously unravelled in this sardonic thriller. The newly widowed Jen (Christina Applegate) is befriended by Judy (Linda Cardellini), who proves to be the first person who can offer the anger-afflicted Jen genuine solace, even if Judy isn't quite who she claims to be.
Bathed in affluent Californian sunshine and lined with the concentric circles of family entanglement, Liz Feldman's series (which has a second season commissioned) has tight, engaging episodes and a knack for twists that jolt both the plot and your perception of the various characters. When a loss occurs we fill the aching void with strange substitutes, and both Applegate – who's never had a role this juicy – and the always estimable Cardellini find recognisable truths in the duo's travails. Bonus performance: perpetual ensemble contributor James Marsden excels as Judy's sketchy ex-boyfriend.
Fleabag (Amazon Prime Video, 2 seasons)
It's not fair to narrow Phoebe Waller-Bridge's tour-de-force of modern life down to a single genre: the cascading story of an unnamed Londoner (played by Waller-Bridge) feels alive moment to moment in ways that most shows can only hopelessly aspire to. Nonetheless, black comedy is one of its foundation stones as the emotional distress of the sardonic and somewhat shattered central character paves the way for scalding exchange, telling gestures and revelatory concessions.
With Olivia Colman (The Crown, The Favourite) as a passive-aggressive stepmother, the first season peels back the hastily applied bandages covering Fleabag's guilt, before the second has her trying to aid – in deeply unconventional ways – her sister Claire (Sian Clifford), who is marooned in a failing marriage. If you've wondered where all those "hot priest" references originated, Andrew Scott's man of the cloth is the answer in season two, but there's barely a wrong note to be found in this extraordinary show.
Flowers (Netflix, 2 seasons)
Need more Olivia Colman? This is the show for you. The best example you could cite of how streaming services, in their admitted hunger for content, can salvage and relaunch an underappreciated television network series, this idiosyncratic British comedy (which debuted in 2016) is about a deeply eccentric English family that is falling apart, even as its members try to hold everything together.
Colman and Julian Barratt – an inspired pairing – play Deborah and Maurice Flowers, whose English reserve extends to tolerating a love-struck builder, two deeply eccentric adult children who won't leave home, and Maurice's increasingly debilitating depression.
Creator Will Sharpe, who also plays the frustrated Japanese illustrator of Maurice's children's books, frames the bittersweet antics with exaggerated set-ups or offbeat atmospherics, as if imaginary states are more powerful than the family's reality. The tone can build all the way to psychotic slapstick, but at the core of this black comedy is wrenching sadness and true tenderness.
Rosencrantz and Guildenstern are on a stakeout. The first original Australian production that Stan aired, No Activity remains one of the best. It is a sit around show; a 'talk because there's nothing else to do' series of two-handers, in which bored bystanders just happen to be police officers monitoring a possible crime locale and underworld figures waiting to go to work.
The only expensive thing about the show is its credit sequence, but Trent O'Donnell's conceptual comedy is perpetually funny. It takes the tension out of police work, so that personality kinks and petty concerns take over as the long hours unwind.
Detective Hendy is a signature role for Patrick Brammall, and the ensemble cast is a delight: Darren Gilshenan, Genevieve Morris, Daniel Wyllie and David Field all feature in the first season, while Damon Herriman and Rose Byrne join as a feuding married couple in the second (note that Stan also has the American remake of No Activity, which also stars Brammall).
Gretchen (Aya Cash) and Jimmy (Chris Geere) are by any reasonable measure terrible people. A self-destructive hellion and a narcissistic British writer, they meet at a Los Angeles wedding they've both attended with the sole aim of sabotage. When they two compare notes out the front – Gretchen has stolen a gift, Jimmy has been ejected – they form a sardonic bond that for some reason they can't break.
Of course, what's happened is love, but in this scything clash of carelessness neither can understand why they're together. You're the Worst is full of acerbic retorts and selfish statements, but it makes great use of the passing of time to open up the connection between the protagonists and explore the lives of their friends and frenemies. The full five seasons actually play as a complete whole that turns the romantic comedy inside out.