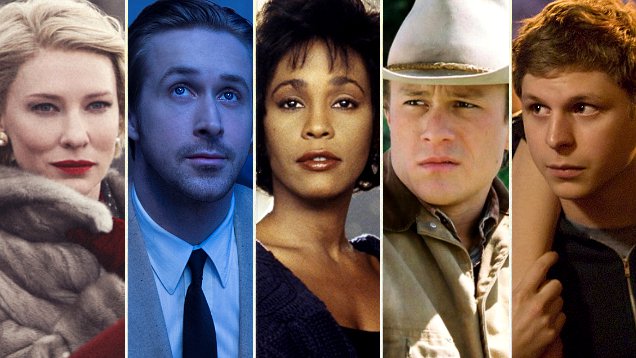 Top 20 romantic films on Netflix and Stan

---
Romance has been integral to the cinema since the medium began, and as movies have changed so has the notion of what a movie romance can be. As much as two film stars in love remains irresistible to watch, the romance genre's breadth can encapsulate joy, tragedy and everything in between.
Here – with romantic-comedies put aside for another month – are the best 20 romantic films currently available to stream on Netflix and Stan.
Sign up for Flicks updates
Netflix
The Tunisian-French filmmaker Abdellatif Kechiche draws down on the domestic detail in relationships of all kinds, and it turned this lesbian romance between a student (Adele Exarchopoulos) and a young woman (Lea Seydoux) into a dissection of class, control and explicit physical desire. The shoot was fractious, but the finished film is an epic built around personal need.
Lawrence Kasdan initially wrote this film for Steve McQueen and Diana Ross, but it was Kevin Costner and Whitney Houston who eventually played the former Secret Service agent and diva pop star, who fall in love when he's hired to protect her from an unknown assailant. Director Mick Jackson hits every note before Houston's take on Dolly Parton's "I Will Always Love You" seals the idea that some romances can only endure in painful separation.
As a young woman from cloistered, conservative 1950s Ireland flung across the world to New York City, Saoirse Ronan gives a deeply felt performance as Eilis Lacey, a lonely immigrant who slowly defines who she is. A budding relationship with an Italian-American plumber Tony (Emory Cohen) is integral to that. The first hints of love are played with naturalistic charm and looming possibility.
When two young women – co-writer Ali Shawkat's Naima and Laia Costa's Sergio – decide to spend 24 hours together, punctuating the day with sex every 60 minutes, the concept in director Miguel Arteta's low-budget drama appears doubtful. But the intimacy and exhaustion of the duo's venture wins through, and even without a concrete resolution there's much to admire in how the camera depicts their sexual pleasure instead of annexing it.
The Yorkshire moors are windswept and unforgiving in Francis Lee's debut feature, and so is the outlook of Johnny (Josh O'Connor), a young man running his ailing father's sheep farm and allowing no hint of connection in his brief assignations with local men. That changes when Romanian farm worker Gheorghe (Alec Secareanu) arrives, and the harsh lives make for a difficult but vital connection that renders an illuminating romance.
Look beneath the sweeping direction and luminous fantasy that lifts Damien Chazelle's celebrated modern music aloft and there's a love story for the ages between Emma Stone's aspiring Hollywood actor and Ryan Gosling's jazz musician. Their bond has to take shape in a city defined by professional rejection, so that instilling belief in someone you love is a heartfelt act that can nonetheless lead to their departure. That's a bittersweet melody.
Love does not always conquer all. In this unrelenting drama, shot on 16mm film as part of a shoestring production, Nicolas Cage's alcoholic screenwriter and Elisabeth Shue's Las Vegas sex worker forge a connection that nonetheless can't overcome his self-destructive addiction. In turn soulful and brutal, with the two leads turning familiar outlines into vivid, insightful roles that contain harsh and exhilarating truths.
Imbued with a passionate sustenance, the marriage of Michael Fassbender's traumatised World War I and Alicia Vikander's young woman from Western Australia saves him. But in Derek Cianfrance's film, love also makes him indebted, leading to a desperate decision to claim a lost baby as their own. Set against the impressionistic locations, this a more emotionally demanding movie than it appears to be.
An update of Richard Linklater's Before Sunrise with an indie-rock soundtrack, this nocturnal journey through downtown Manhattan draws together Michael Cera's budding musician and Kat Denning's scene queen. Their feelings for each other make them suspicious of what might eventuate, but Strokes-laced charm wins out over bleak realities.
When your stars are Jane Fonda and Robert Redford, there's no need to crowd them out. Set in a Colorado town, Ritesh Batra's film makes the celebrated duo widowed neighbours whose nodding acquaintance ends when she proposes to him that they spend their nights together – sharing a bed so that they both sleep with contentment. The idea naturally brings complications, but the actor's divergent styles play off each other exceptionally well.
Stan
Heath Ledger will forever be heartbreaking as Ennis Del Mar, a 1960s cowhand who remains closeted, unable to commit to his surreptitious love with Jack Twist (Jake Gyllenhaal). Ang Lee's film is powerful and poetic, but also tragic and uncompromising. It's made with such clarity and space, for the landscape and male intransigence, that you're compelled to see it all the way through.
Words unsaid are tender and mere glances devastating in Todd Haynes' heart-wrenching gay romance from the epicentre of 1950s America. Connecticut housewife Carol Aird (Cate Blanchett) draws department store clerk Therese Belivet (Rooney Mara) into her life, but in this romance, which has a pulse crafted from the grip of unquenchable desire, that can't last. Trying to hold on to what must be lost underpins every moment.
The desert epic was a genre that seemingly belonged to David Lean, but Anthony Minghella's adaptation of Michael Ondaatje's celebrated novel lent the passion and demanding fear of an illicit love affair – between Ralph Fiennes' Hungarian explorer and Kristin Scott Thomas' married English friend – to the vast landscape. Told in flashbacks with side stories, it's a tragically grand canvas where each brushstroke can be appreciated.
A tragedy that never forgets the youthful optimism that raised it upwards, Neil Armfield's take on Timothy Conigrave's memoir of growing up gay in 1970s Australia and the horrific loss that came with the HIV virus in the 1980s is explicitly about remembering love's worth. The struggles of Tim (Ryan Corr) and John (Craig Stott) bring a secret history to light with a frank, distinctly Australian tone.
A riveting drama keyed to unwavering humanity, Barry Jenkins' Academy Award winner for Best Picture is a work of incisive filmmaking, which draws on three ages in the life of Chiron, a boy and later young man from inner-city Miami. As Chiron struggles to come to terms with an abusive mother and his own sexuality, the constant is his connection to neighbourhood friend Kevin, which reaches a lyrical finale.
The only Nicholas Sparks adaptation worth considering. This period romance about unrequited longing that follows a rich young woman and a working class man is elevated by the performances of Rachel McAdams and Ryan Gosling, the candid strength of Gena Rowlands and James Garner's framing roles, and the comparative discipline of Nick Cassavetes' direction. They make the film work on its own terms.
Warwick Thornton's debut feature about two teenagers – Samson (Rowan McNamara) and Delilah (Marissa Gibson) – who live in an isolated settlement in central Australia before fleeing together to Alice Springs is devastating as a work of social realism. But it wouldn't have such strength if it wasn't for their shared love, which is detailed with comic gestures, unwavering dedication and harsh endurance.
The physical and the philosophical have rarely been so intertwined as in this 1970s-set French drama about a young woman from a farming family, Delphine (Izia Higelin), who goes to Paris to study and falls in love with a women's right activist, Carole (Cecile de France). Their values and their love is tested when Delphine returns home, and director Catherine Corsini is scrupulous in respecting every character's outlook.
Love is both a gateway to misdeeds and a barrier to fulfilment in this riveting Henry James adaptation of an Edwardian romantic triangle forced upon a privileged young woman without wealth (Helena Bonham Carter), who instructs the journalist (Linus Roache) she's in love with to seduce an ailing American heiress (Alison Elliott) for her money. With passion and regret overwhelming restraint, it's an intricate, haunting film.
Partially improvised and shot in just 12 days, Lynn Shelton's independent drama has the deadpan wit of a screwball comedy in creating an unorthodox romantic triangle out of a grieving man (Mark Duplass), the family friend who secretly loves him (Emily Blunt), and her lesbian sister with her own post-break-up needs (Rosemarie DeWitt). Love makes difficult demands here, but it's couched in farce before the ramifications take hold.