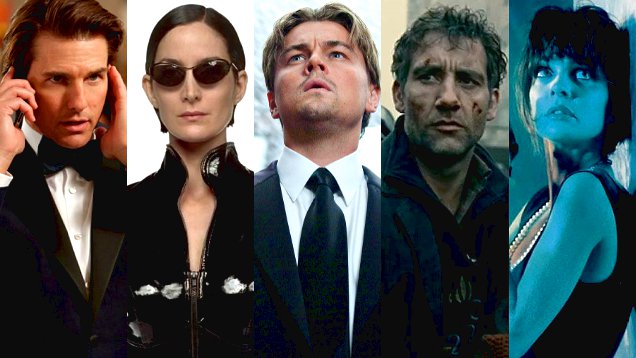 Before there were action movies there was the action scene: a flickering 1920s Hollywood delight of physical expressiveness or heroic daring conjured up for a backlot western or a costumed period adventure. Eventually, with bigger budgets and dedicated filmmakers, the action film became a kinetic genre unto itself. But even now the fight scene, car chase, and shoot-out still prosper in the hands of innovators.
What do the features on this list of the best action films currently streaming on Netflix and Stan share? A desire to go beyond the accepted boundaries. Here they are, presented in alphabetical order.
Netflix
When English director Paul Greengrass took over from Doug Liman for the second film about Matt Damon's former cover operative he upped the ante with jagged, intimate fight scenes and pursuits that had a physical heft. It's a propulsive movie, yet the underlying theme is of a sinner seeking to atone.
Alfonso Cuaron's dystopic masterpiece – set in the remnants of a world without babies – is an immersive experience, primed by the production design and then undertaken through a trio of long, intricate single takes. Whether set inside a moving car or traversing an urban battlefield, the risk and ramifications is documentary-like.
More Cuaron mastery. This time the Mexican filmmaker, mixing soundstage shoots and immaculate digital layers, creates a survival quest in outer space where the basic tenets of humanity's presence – oxygen, balance, cover – are absent. Sandra Bullock's first-time astronaut faces the inexplicable, like a flourishing zero-g fire.
Kathryn Bigelow's finely honed mastery of action scenes has been apparent since Point Break, but here she uses suspense to slow the narrative so that instead of a heady rush there's existential acknowledgment. The peak is a lengthy long-distance gun battle involving U.S. troops, British mercenaries, and Iraqi insurgents that is geographically precise and terrifyingly uncertain.
Christopher Nolan made a James Bond heist flick set inside the human mind, allowing him to forge action sequences where the laws of science no longer have primacy. What sells it is the use of practical effects shot in-camera: a hotel hallway fight featuring Joseph Gordon-Levitt's Arthur is underpinned by a centrifuge designed and built by engineers.
Graceful Hong Kong actor Donnie Yen, who featured prominently in Rogue One: A Star Wars Story, is a superstar in Asia thanks to martial arts movies such as this fictionalised 1930s account of the Chinese Wing Chun grandmaster facing Japanese occupiers. With choreography by Sammo Hung, the hand-to-hand combat is precise, inventive and immaculately executed.
The Kingdom (2007)
Hollywood filmmaker Peter Berg has chased blockbuster status with the likes of Battleship, but his best movie remains this vigorous drama about American investigators (Jamie Foxx, Jennifer Garner, Jason Bateman) pursuing terrorists in Saudi Arabia. The finale is a concussive firefight that wends through street and building with ripping velocity.
Voted Flicks' best Australian film of the 21st century, George Miller's post-apocalyptic pursuit is already a classic of action cinema: impeccably made, classically famed, and keyed to the roar of engines and beating of hearts. In it you can find the genre's very building blocks, from Buster Keaton's humble precision to Steve McQueen's driver's seat reticence.
The current model for the M:I franchise – international plotting, high-octane pursuits, risky Tom Cruise stunts – was established by director Brad Bird (The Incredibles) with the fourth instalment, which goes from destroying the Kremlin to a vertigo-inducing ascent of a Dubai skyscraper set to a stopwatch schedule and fierce-fisted sideshows.
As if this list could exist without Steven Spielberg. The director has such an instinctive sense of visual storytelling that's easy to forget just how good his action set-pieces are. Raiders has iconic assemblages, such as the bar fight in Nepal and the airfield scrap, that are both physically thrilling and clockwork delicious – the elements intertwine for the perfect pay-off.
Stan
The revered Taiwanese arthouse filmmaker Hou Hsiao-hsien may have appeared an unlikely director for a wuxia martial arts movie, but he instilled a contemplative grace on this 9th century Chinese tale of an assassin (Shu Qi) ordered to murder the lord (Chang Chen) she was once betrothed to. The clash of swords has a spectral elegance, with terrific use of silence and space to open up the fight scenes.
Black Hawk Down (2001)
The Napoleonic Wars were the backdrop for Ridley Scott's debut feature, 1977's The Duellists, but he made modern-day combat into an overwhelming experience – random, deadly, endless – in this vast recreation of a failed U.S. military operation in Somalia. The camera rallies from one firefight to the next, capturing the sensation of being under fire.
By my count Keanu Reeves' retired assassin kills 76 people as an act of revenge after his beloved puppy is murdered by a crime lord's arrogant son. But what's notable is how stunt men turned directors Chad Stahelski and David Leitch eschew jump cuts for lengthy track shots. The head shots and vicious stabbings are as choreographed as a Busby Berkeley routine.
Kill Bill: Vol. 1 (2003)
Quentin Tarantino's grindhouse cinema upbringing had included a slew of martial arts B-movies, and he paid bloody homage with the first (and far better) instalment of a revenge tale built around The Bride (Uma Thurman). With loquacious dialogue, the action escalates from kitchen killings to the massed Yakuza combat at a Japanese restaurant that has a thrilling fury.
Hugely influential in Hollywood, where its sleek surfaces, razorish editing, and female protagonist offered an alternative to the macho 1980s action hero, Luc Besson's action thriller about a street junkie trained as a covert assassin (Anne Parillaud) made a woman's struggle with male expectations into jagged conflict.
The Last of the Mohicans (1992)
The period epic had never been told with the vivid momentum that filmmaker Michael Mann and cinematographer Dante Spinotti brought to the frontier wars in 18th century North America. Adopted by Native Americans, Hawkeye (Daniel Day-Lewis) is a force of nature moving through the immaculate widescreen compositions and massed battles.
A game-changer. Made both about and with technology's power, The Wachowski's science-fiction blockbuster set in a machine-run future alternately accentuated and abbreviated the action scene's traditional narrative. Neo (Keanu Reeves) could defy gravity and human reflexes, and the film made his insurrectionary feats into intricate chamber-pieces that still dazzle.
The Raid (2011)
Bruising but never bewildering, the choreographed fight sequences in this cult hit are an exacting combination of expatriate Welsh filmmaker Gareth Evans and Indonesian martial arts technicians. A lone surviving police officer (the indomitable Iko Uwais) has to fight his way out of a Jakarta high rise estate, and the film uses exemplary master shots and set decoration to create spaces that nurture the crunching combat.
Ronin (1998)
Veteran Hollywood director John Frankenheimer (The Manchurian Candidate) got a second chance with this Robert De Niro-led action-thriller about Cold War warriors gone freelance, and he put everything into the action sequences, particularly the extended car chases. Safe to say, the stunt drivers really earnt their money on this one.
The South Korean master Bong Joon-ho (Okja) charged his dystopic metaphor for capitalism's innate inequality with startling action sequences as oppressed serfs, led by Curtis (Chris Evans), fight their way through a billionaire inventor's lengthy train. A pitched battle is plunged into murderous darkness, at least until fire arrives in a revolutionary triumph.