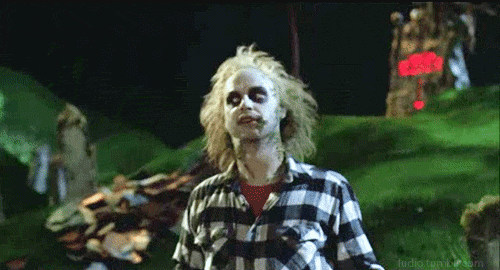 The phantasmagoric career of Tim Burton, the mop-headed master of the macabre

---
Tim Burton's career has offered many different kinds of experiences – from the brilliant to the bloody awful. He has unquestionably produced a spectacular body of work, which critic Travis Johnson revisits as the director's latest film, Dumbo, arrives in Australian cinemas. 
It is tough sometimes, being a Tim Burton fan. Hollywood's mop-headed master of the macabre has walked an erratic path over the course of his career. The dark bulb around which so many moody moths circle, Burton has produced some of the most singular on-screen phantasmagorias ever to come out of major American studios. However, early triumphs like Beetlejuice and Ed Wood later gave way to self-parodic offerings like Charlie and the Chocolate Factory and (shudder) Dark Shadows.
It presents us with a conundrum: what is the Burton n00b to do? We're glad you asked. Let us take you by the hand and lead you down this narrow path that winds, in increasingly tight spirals, though the darkly wooded directorial filmography of Timothy Walter Burton…
Portrait of the Artist as a Young Weirdo (1979 – 1988)
From humble beginnings in suburban Burbank, California, young Tim massaged a youthful penchant for drawing and horror movies into a career in animation, joining Walt Disney's studio in 1979 and doing various below-the-line jobs on films such as The Fox and the Hound, Tron, and The Black Cauldron. Burton's darkly whimsical designs never made it onto the screen in those projects, but he honed his skills to the point where could pull the trigger on a couple of well-received short films: the stop motion animation Vincent (1982) and the live action Frankenweenie (1984), both of which are excellent.
In this period, he also made the TV movie Hansel & Gretel, a Japanese-themed riff on the old fairy tale, for The Disney Channel.
What's fascinating about Burton's early work is that his signature style is intact from his very first efforts: the stark, German Expressionist stylings, the Edward Gorey whimsy, the mistrust of pastel suburbia, and the obsession with outsiders and old monster movies are all present and correct.
What made Burton a pariah at Disney struck a chord with outcasts and oddballs elsewhere, though, and while it was the 1985 TV spin-off Pee-wee's Big Adventure that marked his first feature, Burton really found his tribe when he unleashed the oddball supernatural comedy, Beetlejuice, in 1988.
Starring Michael Keaton as the titular "bio-exorcist", a ghost hired by other ghosts to rid them of troublesome humans, Beetlejuice set the template for Burton's work going forward: outrageous, impressionistic production design, playfully dark humour, outlandish characters, and the beginnings of a cadre of actors he would re-use again and again. However, the big time was just around the corner.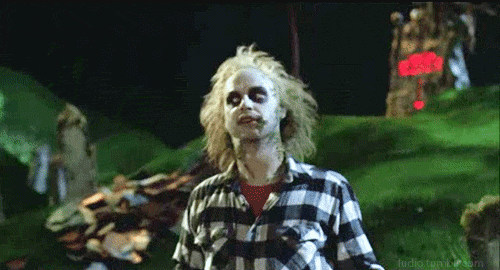 The World's Weirdest A List Director (1989 – 1999)
This is a tale often told, so let's hit the highlights quickly. There were few superhero movies prior to 1989 and nobody took Batman very seriously after the (now rightfully regarded as classic) campy TV series of the '60s. Tim Burton was a relatively unseasoned creator, and everyone thought Warner Bros were out of their minds for throwing so much money at a project about a guy who dresses up as a bat. Yet 1989's Batman was a monster hit, putting both Burton and his leading man, Michael Keaton (and boy were people not happy he was cast) firmly on the A-list alongside veteran Jack Nicholson, whose turn as The Joker remains a landmark portrayal of the character.
Batman proved that Burton's dark whimsy had blockbuster clout, and the director capitalised on this immediately. It's safe to say that if anyone else had pitched a pastel-gothic fairytale about a scarred, mechanical man with scissors for hands they'd be shown the door. But 1990's Edward Scissorhands, starring Johnny Depp as the titular mannequin and Winona Ryder, reteaming with Burton after Beetlejuice, as his love interest, stands as one of Burton's best and most personal films.
The next decade was Burton's Golden Age. 1992 saw him return to Gotham City for the even darker, more surreal Batman Returns. It was actually transgressive enough to get him booted from the franchise, but is widely regarded as the artistic high point of the original Batman quartet. Then came 1994's Ed Wood, a biopic of the man widely regarded as the world's worst director; 1996's Mars Attacks, a delirious, all-star alien invasion extravaganza based on the gory Topps trading cards; and 1999's Sleepy Hollow, which saw Burton reteam with Depp for a decidedly gruesome take on the old Washington Irving ghost story.
This period also saw Burton turn to producing, helping midwife into the world such films as the beloved 1993 stop motion animation The Nightmare Before Christmas (actually directed by Henry Selick), 1994's cult oddity Cabin Boy, 1995's Batman Forever (an "in name only" gig), and 1996's James and the Giant Peach (again directed by Henry Selick).
Something's Gone Horribly Wrong (2000 – 2012)
Planet of the Apes (2001) marked Burton's first major creative fumble. The film for which the term "re-imagining" was literally coined, this update of the venerable sci-fi franchise saw Mark Wahlberg manfully try to anchor a confused, lurching and, sad to say, ugly movie that did well at the box office but impressed few viewers or critics.
Big Fish, released in 2003, marked a return to form. A freewheeling patchwork of tall tales and Americana centered on a storyteller played by both Ewan McGregor and Albert Finney, Burton made it in the wake of his own father's death, and its themes of family, fatherhood, regret, and reconciliation seemed to indicate a newfound maturity in the director's work.
It was not to last, and the next several years were largely defined by a series of beautiful but hollow creative misfires, such as the ill-conceived Roald Dahl adaptation Charlie and the Chocolate Factory (2005), and the by-the-numbers and seemingly inevitable live action Alice in Wonderland (2010).
To be fair, the 2007 musical Sweeney Todd: The Demon Barber of Fleet Street is not without its macabre charms. The same can be said for Corpse Bride (2005), Burton's first directorial foray into feature animation. But any good will is undone by the mere existence of Dark Shadows (2010), a self-parodic update of the old gothic soap opera that is unarguably the worst film of his entire career.
Return to Form (2012 – Now)
Happily, the last few years have seen Burton on an upswing. 2012's Frankenweenie, a stop-motion animated expansion and revision of his early live action short of the same name, is straight-up charming, a recapitulation of all the themes, obsessions, and stylistic tics that have driven Burton's best work.

Big Eyes (2014), a biopic of cult artist Margaret Keane starring Amy Adams and Christoph Waltz, saw Burton tamp down his obvious visual flourishes to tackle a more mature but still quirky story of art, integrity, and self-actualisation. Then came 2016's YA adaptation, Miss Peregrine's Home for Peculiar Children, a kind of gothic-lite superhero movie in the vein of X-Men, which let Burton indulge his visual eccentricities to their fullest, even if the story itself wasn't anything too distinct from the rest of the YA pack.
Burton's next film sees him reteaming with Disney for yet another live action adaptation, this time of Dumbo. Early word is exceedingly positive, so with any luck we'll be in for plenty more manic and morbid movies from Mr. Burton for years to come.