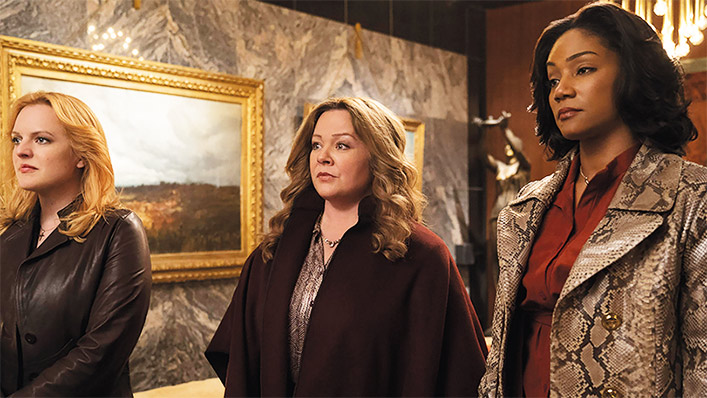 The legacy of female crime films … or lack thereof

---
Crime films have been one of the most popular and enduring sub-genres in cinema. They've also largely excluded the female narrative, writes Maria Lewis.

The Godfather. The Town. Scarface. Heat. Goodfellas. American Gangster. The Untouchables. City Of God. Snatch. The Drop. Once Upon A Time In America. There's no shortage of great, critically acclaimed crime films. Most of these have been commercially successful too, if not immediately than in the decades following as they've transitioned from cult to classic.
What is in short supply when it comes to the examination of crime on the big screen, however, is the female narrative. Women, if they're present at all, have fleeting screen time. They're the garnish, often taking a backseat to whatever the male characters are doing. If they have to occupy a large space, they're often underground or underdressed. In what is one of the most popular and enduring genres in film, it's almost bizarre the female narrative remains largely untapped.
For Andrea Berloff, writer and director of 70s period crime film The Kitchen, she wanted to start her story where most crime films end. "If you look at The Godfather, which is one of my very favourite movies, The Godfather ends with everybody coming in to kiss Michael's ring and make him The Godfather," she says. "Then the final shot is the door closing in his office and his wife standing out in the hallway. Kay is watching a closed door. And that's where mafia movies have always left women: out in the hallway, staring at a closed door."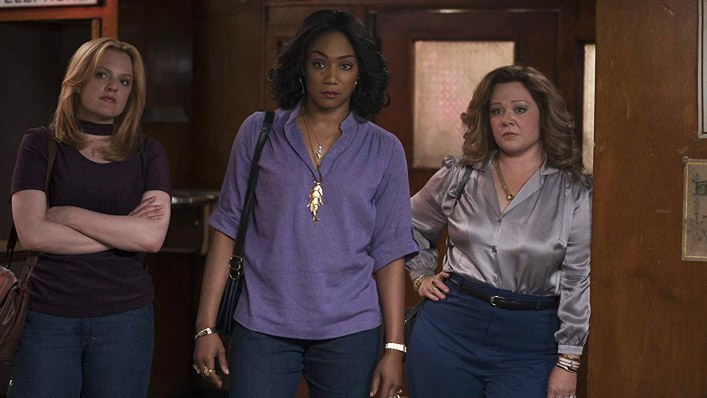 The Kitchen is based on the award-winning graphic novel of the same name from Ming Doyle and Ollie Masters and follows three women as they take over the Irish mob after their husbands go to jail. The trio is played by Melissa McCarthy, Tiffany Haddish, and Elisabeth Moss. Instead of the wives taking a backseat in the narrative, they're at the forefront.
"My movie opens with the men heading out to work, Kathy (McCarthy) watches her husband close the door, same with all of them: Claire's (Moss) husband closes the door, Ruby's (Haddish) husband closes the door," says Berloff. "I wanted my movie to begin where the other movies end: inside with the women as those doors close. What's the real story with those women who stay behind? Nobody has made that comparison yet, but I did want to say something like 'this begins where the other stories end'."
The Kitchen, which is now playing in cinemas, is one of few exceptions to the rule. There are others, however, albeit depressingly few. Last year Widows – based on the eighties British TV series of the same name – was one of the most critically acclaimed films of 2018. It didn't earn nearly as much commercial love as it should have, but it's likely a grower not a shower: something audiences will find in time, as word of mouth spreads and women are drawn to it for the opportunity to see a version of themselves represented in a story where they so rarely feature.
Much in the same way its predecessor Set It Off did, more than 20 years after the fact. A significant box-office hit in 1996 – it earned $41M off a $9M budget – F. Gary Gray's follow up to Friday did something groundbreaking at the time: it had four, black women at the centre of a crime movie. It was so groundbreaking it hasn't been done on that level since. The fact Jada Pinkett, Queen Latifah, Vivica A. Fox and Kimberly Elise were seminal actresses of the time is almost besides the point.
Sign up for Flicks updates
There's barely more than a handful of other instances, with most needing an element of another genre to 'sell' themselves: Thelma and Louise is partially a crime film, partially a road trip movie. Same with The Bling Ring, Spring Breakers and Jawbreakers, which were sold harder on their teen element rather than the crime one. Usually the best women can hope for is a colourful supporting role that often lingers longer in the memory of the audience than the film itself. "I mean, Salma Hayek played a real gangster character in Savages – remember that movie?" asks Tiffany Haddish, one of the stars of The Kitchen. "She ran the whole damn drug cartel."
A frustrated lover of crime movies due to the lack of "meaty" parts for women and people of colour, Haddish thinks the trend might be shifting … finally. And not just because of The Kitchen or one of her and Berloff's other favourites, Widows. Last year gave us both the latter, a much more serious take, and Ocean's 8, a lighter and brighter female spin-off to Steven Soderbergh's successful caper franchise. Then there's the upcoming Hustlers, based on the true story of strippers who conned Wall Street bankers for financial gain.
"Whether you believe it or not, these women really pulled it off," says Keke Palmer, who stars in the
film. "A lot of times what's real is more interesting." Palmer – who names Set It Off as a seminal entry in the female crime film oeuvre – has been working professionally in Hollywood since she was 10-years old and knows what's trendy now, might not be trendy in ten minutes. Female crime, however, is one that she hopes will endure.
"I mean, there are that many Snapped episodes," she laughs, referring to popular true crime show about women murdering their spouses. "I think Hollywood always goes through trends or ebbs and flows. But we do get better stories when we talk about life … even when you look at this
movie, Hustlers: it's real, it's interesting."
Like their male counterparts in the genre, Hustlers relies on the combined star power of an ensemble: yes, there's bonafide A-listers like Jennifer Lopez and Cardi B in the cast. But there's also those on the come up with specific, dedicated followings: Constance Wu, Lili Reinhart, Lizzo and Palmer herself. Are we likely to see a future where there's as many female crime films as there are just straight up crime films starring Robert De Niro? The answer to that is uncertain because ultimately it comes down to money.
Set It Off was commercially successful and culturally important. So where were its legion of imitators
pushed through by competing studios? Why hasn't there been another film like it in 23 years? Widows was critically acclaimed, but many commentators considered it only a mild success given its $75 million haul off a $42 million budget and lack of expected love at the Academy Awards.
Hustlers will have its world premiere at the prestigious Toronto International Film Festival, yet will that translate to butts in seats at local theatres? The Kitchen had Oscar buzz heading into the season, but is struggling at the US box-office before opening overseas. The answer, much like storylines of the films within this genre, seems to be money and right now the people in control of it are still men.