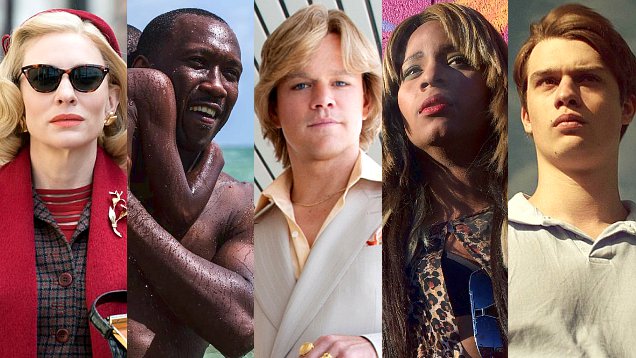 The best LGBTQ films on Netflix, Stan and SBS on Demand

---
Cinemas can feel like a wasteland for LGBTQ audiences wanting to see their stories on the screen. LGBTQ films are often relegated to festivals, or in limited release. But the popularity of streaming services has allowed these films to reach audiences all over the world. Glenn Dunks picks the best LGBTQ films currently available in Australia on Netflix, Stan and SBS on Demand.
NETFLIX
This Irish drama set at a rugby-mad boarding school stands out, because it's not about a young gay man coming out or even about him falling in love with the footy star. Rather it's about friendship and how much it can mean at those most vulnerable times of our lives. This is a remarkably rare dynamic in queer cinema, but an appreciated one especially for younger audiences.
Paris is Burning
The library is open, and reading is what? Fundamental! Time to get an education with Jennie Livingston's enduring and award-winning classic hit documentary from 1990. Following the New York ball scene of the African American and Latinx communities, Paris is Burning is one of the definitive queer films. Its influence spread from Madonna to RuPaul, from fashion magazine covers and talk shows.
Duck Butter
Alia Shawkat (Arrested Development, Search Party) and Laia Costa (Victoria) are two young women who hit it off and decide to concoct a romantic experiment aimed at eliminating the dishonesty and deceit that comes with modern relationships. However, their plan to spend 24 hours together and be completely honest with one another has its own fraught consequences.
British newcomer Harris Dickinson is Frankie, a Brooklyn dude whose macho charisma covers up a questioning identity. In private, Frankie experiments with video chats with men online and quickly learns how to use his impressive physique to his advantage. But as he begins to reveal his true self, destructive forces threaten to take hold in Eliza Hittman's scorching take on teen sexuality.
Mala Mala
The transgender, queer and drag communities of Puerto Rico are put into stark focus in this colourful and dynamic documentary. As they struggle to fight for equality while working in club shows and as sex workers, the nine individuals of Mala Mala highlight the need for global change and the resilience of the LGBTQ community.
SBS ON DEMAND
Homophobia morphs into body horror in this Canadian coming-of-age drama that blends Xavier Dolan with Buffy the Vampire Slayer and a pet rat voiced by Isabella Rossellini. A compelling debut from director Stephen Dunn starring Connor Jessup (American Crime) that is a visceral and confronting take on teen sexuality.
The finest romance of the modern era – don't even try to convince me otherwise – is Todd Haynes' sublime Carol, starring Cate Blanchett and Rooney Mara. Upending the typical narrative for same-sex love on screen, this exquisitely crafted period drama is destined to become a time-honoured classic.
Gerontophilia
Canadian enfant terrible Bruce La Bruce is known for giving us gay zombies, horny terrorists and pornographic skinheads. But this cross-generational comedy was wholly unexpected. Non-judgemental and with surprisingly subtle sweetness, it's La Bruce at his most accessible.
Little-seen sexual and social rebellion thrive in Tehran where Atafeh (Nikohl Boosheri) and Shireen (Sarah Kazemy) experiment with sex, drinking and drugs at underground parties. But when Atafeh's brother comes under scrutiny, their burgeoning relationship is threatened. Circumstance won the Sundance Film Festival's audience award.
When Tom at the Farm premiered in competition at the Venice Film Festival, writer-director-star Xavier Dolan was only 24 years old. This Hitchcockian thriller about a man visiting the family of his deceased lover only to discover their unnerving homophobia – and sinister homoeroticism – confirmed his extraordinary talent.
STAN
In the 90 years that the Oscars have been handing out awards, it's remarkably rare to have a film of such power be justly rewarded as Best Picture of the year. Barry Jenkins' coming-of-age triptych follows Chiron through childhood, as a teenager, and a young man as he navigates his sexuality and his identity as a product of his upbringing in impoverished Florida.
Uproariously funny, endlessly quotable and surprisingly heartfelt, this groundbreaking movie filmed entirely on an iPhone unfolds over one crazy Christmas Eve on the streets of LA. Sin-Dee (Kitana Kiki Rodriguez), fresh out of prison, is on the hunt for her cheating boyfriend and BFF Alexandria (Mya Taylor) prepares to sing on stage for the first time. Taylor became the first transgender actor to receive a major awards campaign, winning Best Supporting Actress at the 2015 Independent Spirit Awards.
Peter's Friends
This British spin on The Big Chill is directed by Kenneth Branagh and full of stars including Branagh, Emma Thompson, Stephen Fry, Hugh Laurie and Imelda Staunton. With a soundtrack of '80s classic rock, it has a poignant celebratory note at a time when stories about HIV and AIDS were full of tragedy and heartbreak.
Steven Soderbergh's retirements don't last long and thank heavens for that. It meant we got this delightfully over-the-top biopic of flamboyant showman Liberace (Michael Douglas) and his younger lover Scott Thorson (Matt Damon). Behind the Candelabra is wonderfully entertaining, full of garish costumes and ridiculous plastic surgery, plus the final performance by Debbie Reynolds.
Concussion
Robin Weigert, so impressive as the therapist in Big Little Lies, is Abby, a woman who leads two lives. Disillusioned by her domestic life in the suburbs with a wife and kid, Abby becomes Eleanor, a lesbian sex worker. Concussion won the most prestigious award in the world for queer cinema, the Teddy Award.