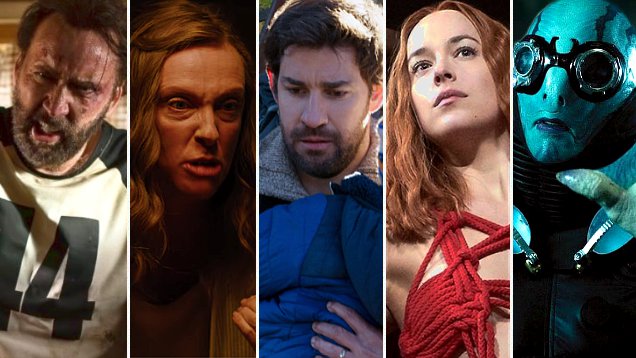 The best horror films released in Australia in 2018

---
From Nicolas Cage fighting with a chainsaw to Tilda Swinton choreographing dancing witches – here are the best horror films released in Australia this year, picked by critic and horror guru Alexandra Heller-Nicholas.
With its contemporary roots entrenched in low-budget independent filmmaking, perhaps more than any other film genre many of the best horror movies still frequently fall beyond mainstream distribution and exhibition. As any serious horror fan will tell you, what hits the multiplex is the tip of the iceberg, and it is often home entertainment releases, film festivals and streaming services that hold the real treasures.
In the case of the latter, this year Netflix served up three notable genre successes: Alex Garland's Annihilation, Gareth Evans's Apostle, and the home-grown zombie film Cargo, directed by Yolanda Ramke and Ben Howling. One of the years finest horror films – Shinichirou Ueda's surprisingly touching One Cut of the Dead – received some play at the Adelaide Film Festival and toured with the Japanese Film Festival. But even in more mainstream horror there were pleasant surprises: the decision to make horror icon Lin Shaye more central to Insidious: The Last Key make it one of the rare horror franchises that's improving over time.
Sign up for Flicks updates
Here's ten of the best horror movies released in Australia in 2018.
No-one loves a monster movie more than Guillermo del Toro and with the multiple Oscar-winning The Shape of Water he proved it. Placing long-underrated acting legend Sally Hawkins at the centre of a Cold War love story inspired as much by Douglas Sirk as The Creature From the Black Lagoon, del Toro revealed like few others how much heart the monster movie can pack into it.
Quietly but steadily, Justin Benson and Aaron Moorhead have been establishing a career as two of the most original American indie genre filmmakers working today. The Endless is their smash-hit surprise follow-up to 2014's Lovecraftian horror-romance Spring and their collaborative debut, 2012's Resolution, of which The Endless is a sequel of sorts. Starring the filmmakers themselves as recovering cult members, their journey back to the camp where they grew up reveals astonishing secrets.
Frequently reduced to critical shorthand as Ingmar Bergman meets Brian De Palma's Carrie, while technically accurate Joachim Trier's taut Norwegian supernatural thriller Thelma is its own unique beast. Starring Eili Harboe in the title role, this is a queer coming-of-age film with a telekinetic twist as the young woman is torn between her strict religious upbringing and the freedoms her new independent life at university affords her.
The sophomore feature from Beyond the Black Rainbow director Panos Cosmatos, Mandy initially lured audiences with a promise of Nicolas Cage wilder than we've ever dreamed possible, but it delivered so much more. An 80's-metal inspired nightmare vision of love lost, we might have come for Cage but as its title suggests, Mandy is all about the world-building centrality of Andrea Riseborough's extraordinary title character.
The much-hyped remake of Dario Argento's seminal 1977 Eurohorror classic had horror fans divided; some, wooed by the combination of Tilda Swinton with art house darling Luca Guadagnino couldn't be more optimistic, while others maintained an understandable scepticism about remakes in general. The results were just as divisive, but in its updating of Argento's original to Berlin in 1977 and adding a strong historio-political dimension, there is no doubt that with his Suspiria, Guadagnino has made his own imprint.
Now 54-years-old, it's not as yet clear at what point Argentine-born filmmaker Gaspar Noé stops being called the 'bad boy' of French cinema. Climax is a tale of a dance troupe on LSD run amok, but as is typical of Noé it's all in the spectacle, not the story. While an engrossing and at times shocking body horror film, Climax reveals the fascinating development of director who can make an impact in ways audiences might not typically expect of him.
Throwing the long-term canon of the Halloween universe to the wind, filmmaker David Gordon Green rejected one of the central assumptions of the decades-long franchise sparked by John Carpenter's 1978 original. By jettisoning the theory that Jamie Leigh Curtis's final girl Laurie Strode and masked serial killer Michael Myers were brother and sister, Green instead turned towards generational trauma. Halloween is therefore a surprisingly poignant exploration of how pain and paranoia is handed down from mothers to daughters to granddaughters.
Despite a bounty of woman-directed horror films making waves internationally – from Emma Tammi's horror-western The Wind to Aislinn Clarke's found footage horror film The Devil's Doorway – women-made horror films have been thin on the ground in Australia this year beyond the film festival circuit. This alone makes Melbourne filmmaker Donna McRae's Lost Gully Road, a feminist horror film that blends The Babadook with The Entity to chilling effect, such a treasure, much deserving of its awards and nominations both here and abroad.
Heralded as the cutting edge of the patronizingly named so-called phenomenon of "elevated horror", the emphasis in John Krasinski's A Quiet Place on sound rather than visual spectacle to create its impact has long heritage in horror. Silence was key most recently to films like Andrew Leman's The Call of Cthulhu and Guy Maddin's Dracula: Pages From a Virgin's Diary, but in A Quiet Place here the decision to make a largely silent contemporary horror film has more to do with fright mechanics than retro aesthetics, shocking audiences around the world.
How dark is too dark? Ari Aster's Hereditary thundered into the box office and forced us to ask exactly that. With the first half of the film rendered almost intolerable with its depiction of family trauma and loss of near-unbearable proportions, the revelation of its supernatural twist comes as a relief. With extraordinary performances from Toni Collette and Gabrielle Byrne and a career-launching turn by teenage Milly Shapiro in her feature debut, Hereditary left audiences gasping for air.