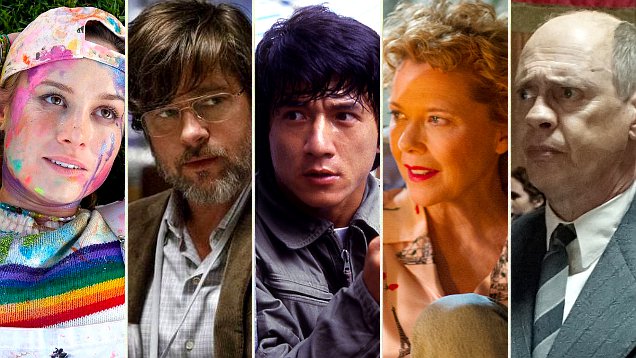 What are the best titles coming to Netflix, Stan and SBS on Demand in April ? Streaming guru and film critic Craig Mathieson picks his highlights.
NETFLIX
Fresh from Captain Marvel, Brie Larson directs herself and blockbuster co-star Samuel L. Jackson in a glitter-flecked tale where she plays a despondent young artist who gets a second chance when Jackson's eccentric salesman offers to validate her childhood fantasy. It's a whimsical comedy lined with magic realism and sturdy foundations – Joan Cusack and Bradley Whitford play the parents of Larson's dreamer.
Turns out the guy who made Anchorman and Talladega Nights is now the chronicler of American excess and the power it wields. With the political perversion of Vice still vivid, rediscover Adam McKay's acerbic dissection of the Global Financial Crisis. Following the outliers – played by the likes of Christian Bale, Steve Carell and Brad Pitt – who foresaw the devastating collapse of credit markets, it's an incisive black comedy.
This science-fiction thriller is eerily similar to John Krasinski's 2018 hit A Quiet Place. A family – with a deaf daughter, no less – tries to survive in a post-apocalyptic world where unknown creatures hunt by sound. Mad Men's Kiernan Shipka is the daughter, Stanley Tucci her father, with a creepy cult for differentiation. Both films undertook principal production in 2017, but now The Silence has to prove itself equal.
Netflix's campaign to bring the romantic comedy back to prominence continues with this New York-set ode to female friendship. When a cross-country work move causes her boyfriend (Lakeith Stansfield) to break up with her, an aspiring writer (Gina Rodriguez) gets consolation, affirmation and booze from her best friends (DeWanda Wise and Brittany Snow). Expect tears for her fears.
Also: Grimsby (April 1); Sense and Sensibility (April 1); Gladiator (April 2); The Perfect Date (April 12); American History X (April 15); The World's End (April 17); Spy Game (April 17); Savages (April 17); The Beguiled (April 25); The Nice Guys (April 30).
STAN
Armando Iannucci's fascination with the comically inept dereliction of democracy on either side of the Atlantic has led to The Thick of It and Veep. But this period comedy finds head-turning farce in the 1953 death of monstrous Soviet dictator Joseph Stalin, leaving his underlings – expertly played by Steve Buscemi, Jeffrey Tambor, and Michael Palin – to grasp for control. Enjoy Jason Isaacs stealing every scene he's in.
Whether social, cultural, or political, Europe's failings have long been explored by uncompromising Austrian filmmaker Michael Haneke. With beautifully contrasted black and white cinematography, the inexplicable crimes in a German village prior to World War I reveal how constrictive tradition and conservative hierarchy would eventually give birth to fascism. It's a horror film about ideology.
Annette Bening has always been a fine screen actor, but in recent years she's become exceptional with The Kids are All Right, 20th Century Women, and now this bittersweet 1950s biographical romance. Bening plays the ageing Hollywood star Gloria Grahame, the versatile Jamie Bell her younger English boyfriend. The two find a genuine connection that illuminates the era but disperses nostalgia.
A War (April 14)
Roles in Games of Thrones (as Euron Greyjoy) and Ghost in the Shell have demonstrated how forceful an actor Pilou Asbaek can be, but it's in features from his homeland that this Danish actor's compelling shading of conflicted characters becomes apparent. In Tobias Lindholm's unvarnished and morally complex study of modern warfare, Asbaek play a torn field commander in Afghanistan charged with the killing of civilians.
Also: See You Up There (April 8); Dust in the Wind (April 9); Potiche (April 9); Overboard (April 17); Boys in the Trees (April 17); Killing Ground (April 20); Wayne (April 23); Wet Woman in the Wind (April 24); Sheitan (April 30).
SBS ON DEMAND
There's a slew of vintage Jackie Chan Hong Kong action films debuting on SBS on Demand at the start of April. If you had to pick one as emblematic of the era it's this franchise-launching action epic from 1985, directed by Chan, which features set-pieces whose clockwork ingenuity and sheer physical risk have made legendary. Some of the stylistic touches have dated, but Chan is the Gene Kelly of stunt choreography.
Acclaimed internationally in 2013, but never cleared for release in his homeland, Jia Zhangke's corrosive quartet of stories depict a contemporary China where the inadequacies of a vast state commercial system and the lack of alternative solutions leads to the embrace of violence, whether against others or self-inflicted. Social critique and sudden, shocking violence are twinned by a crucial contemporary filmmaker.
Also: The Ice Storm (April 1); Churchill (April 5); Orgazmo (April 6); Breaking the Waves (April 19); Dancer in the Dark (April 19); Maudie (April 19); Weiner-Dog (April 19); Last Days in the Desert (April 21); The Man Who Knew Infinity (April 30).