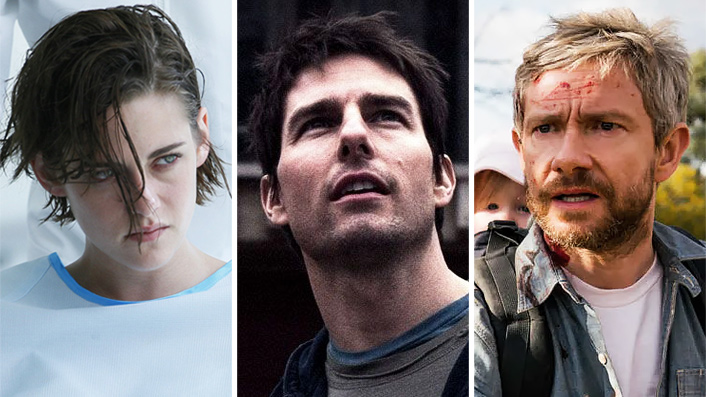 The best 25 science fiction films on Netflix Australia

---
Need a break from this world? Science-fiction offers visions of the future—and increasingly today—that can alter your perceptions. Critic Craig Mathieson has scoured Netflix for the 25 best science-fiction movies.
See also
* All new movies & series on Netflix Australia
* All new streaming movies & series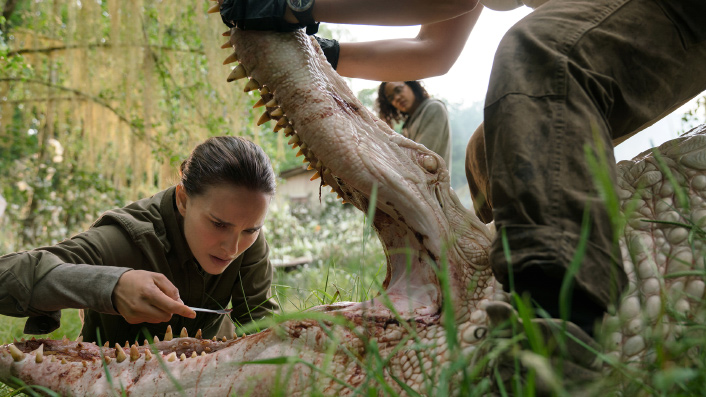 Full of inexplicable mysteries never quite matched by their explanations, Alex Garland's follow-up to Ex Machina stars Natalie Portman as a biologist who joins an all-female mission into the unknown zone that previously consumed her soldier husband (Oscar Isaac). With the laws of science distorted, nightmarish transformations tear at the team's psychological underpinnings.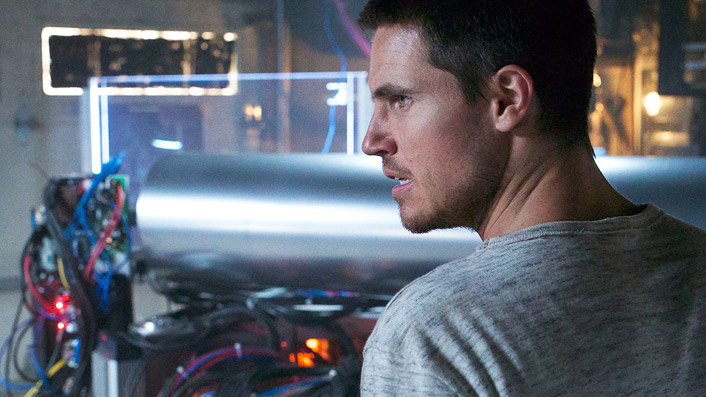 ARQ (2016)
In this knotty time loop thriller, Rachael Taylor (Jessica Jones) and Robbie Amell (Upload) play a couple whose home invasion experience keeps rebooting when one of them dies. Tony Elliott's film is a gruesome variant of Groundhog Day, with each iteration offering new information and old failings.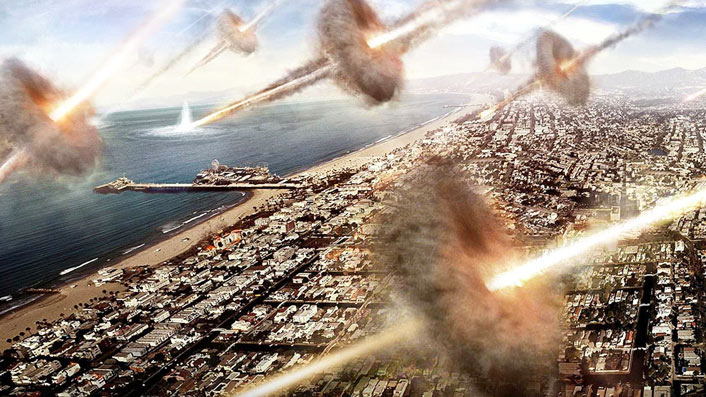 The aesthetics of Saving Private Ryan—handheld intimacy, a small unit on a mission, moment to moment risk—are applied to an alien invasion war film, with Aaron Eckhart as the veteran marine leading a unit through skirmishes with extra-terrestrials in the streets of Los Angeles. Duty, sacrifice and freaky enemies come to the fore.
The original Skyline—also set during an alien attack on L.A.—is a claustrophobic survival thriller. But this bonkers sequel goes for broke, with action movie mainstay Frank Grillo playing a survivor whose battles against the aliens span continents and allow martial arts legend Iko Uwais to throw down on the occupants of interplanetary craft.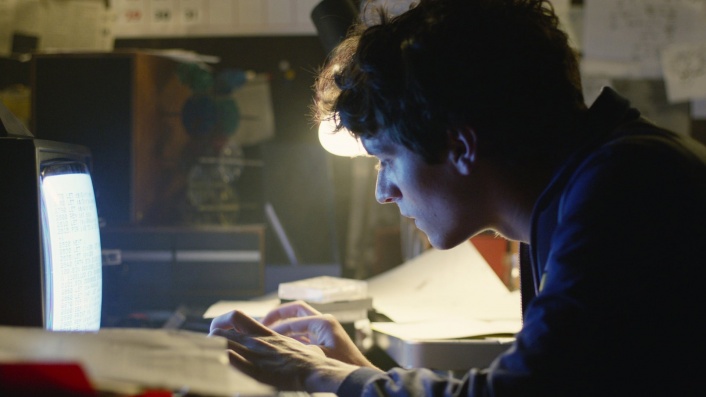 Charlie Brooker's celebrated science-fiction anthology series took the interactive path for this stand-alone movie about a young programmer (Fionn Whitehead) at a 1980s video games studio who starts to lose his connection to reality. The free will debate is overly familiar, but the story's black humour gives the narrow choices a bitter spark.
Whatever the edition, Ridley Scott's dystopian noir about a former police detective (Harrison Ford) looking to terminate a group of escaped androids through 2019 Los Angeles is a science-fiction masterpiece. This cut brings the storytelling full circle, taking cinematic wonder into inescapable tragedy.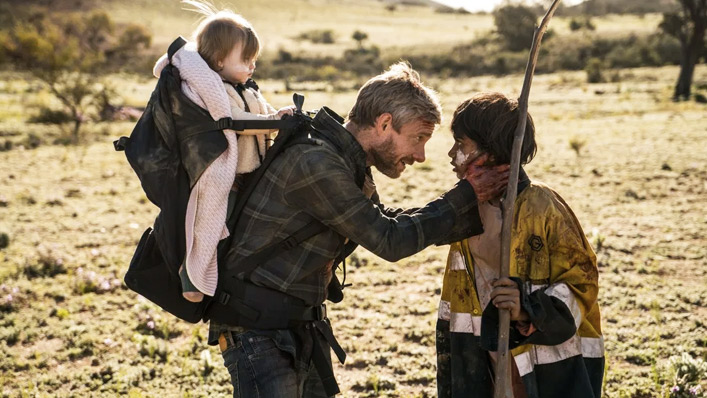 For once an Australian genre film—in this case society's collapse after a zombie apocalypse—makes more use of this country than just the landscape. On the run with his baby daughter, Andy (Martin Freeman) finds himself in a perilous world starting anew, with Indigenous history and the crimes against it to the fore.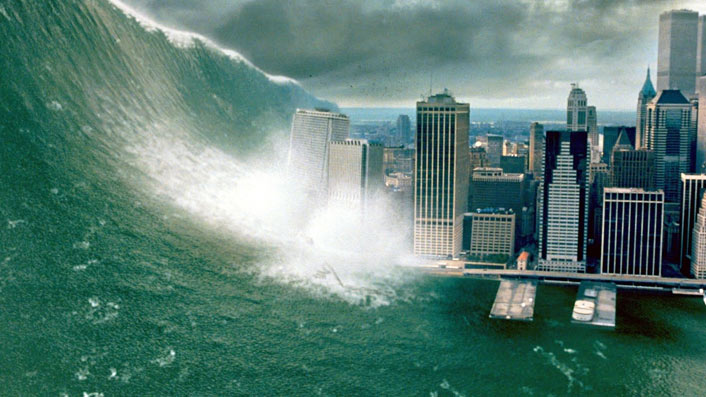 The first of two rival Hollywood sci-fi disaster films about comets heading for extinction-level events on Earth—it beat Michael Bay's Armageddon to cinemas by seven weeks—Mimi Leder's considered drama moves between a space mission to save the planet, estranged families and teenage lovers. The visual effects tragedy comes with genuine compassion.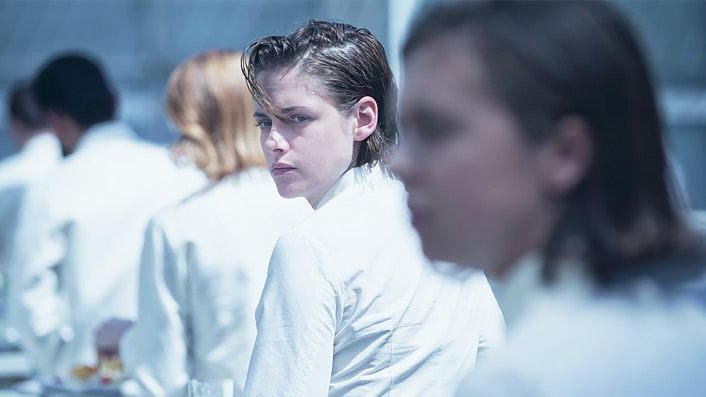 Set in a sombre future dystopia where feelings have been controlled and eradicated—there's an obvious debt to Aldous Huxley's—Brave New World—this low-key drama stars Kristin Stewart and Nicholas Hoult as workmates who realise that they're starting to experience emotional responses. The stakes for love are high when it's a criminal offence.
Science-fiction and magic realism are interwoven in Michel Gondry's tender and tragic masterpiece. When Kate Winslet and Jim Carrey's couple break up, they decide to have all trace of each other wiped from their memories. When he reconsiders, they go on the run in his fertile subconscious.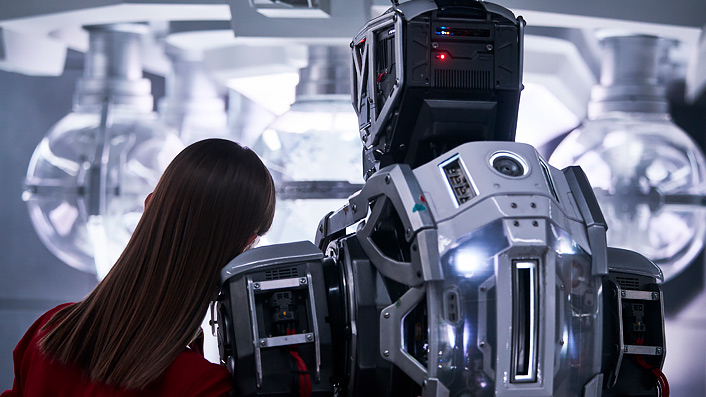 This tidy Australian post-apocalyptic chamber play mainly unfolds in a bunker where the teenage Daughter (Clare Ruggard) has been raised in pristine isolation by the robotic Mother (voiced by Rose Byrne). Once a human survivor (Hilary Swank) joins them, allegiances are tested and the truth drawn out with boilerplate themes given a menacing update.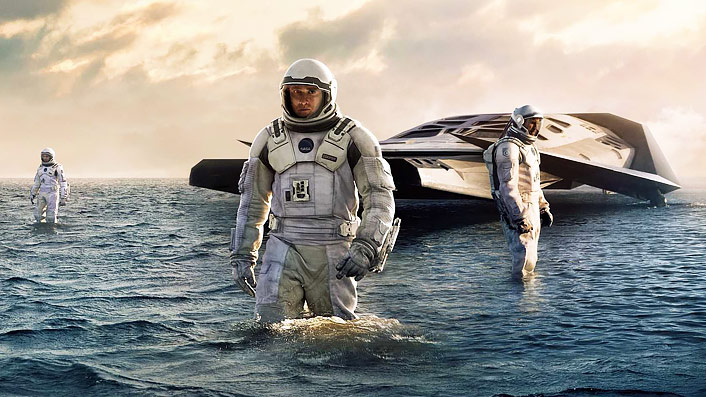 Christopher Nolan's Interstellar is a vast science-fiction epic, balancing—sometimes—humanity's survival in the stars, theoretical quantum physics, a father's unstoppable love for his daughter, and a really cool robot. Matthew McConaughey is the astronaut who leaves his family behind on a ravaged Earth to search for mankind's new home, allowing for many dimensions where wonder is overwhelmed by sentiment.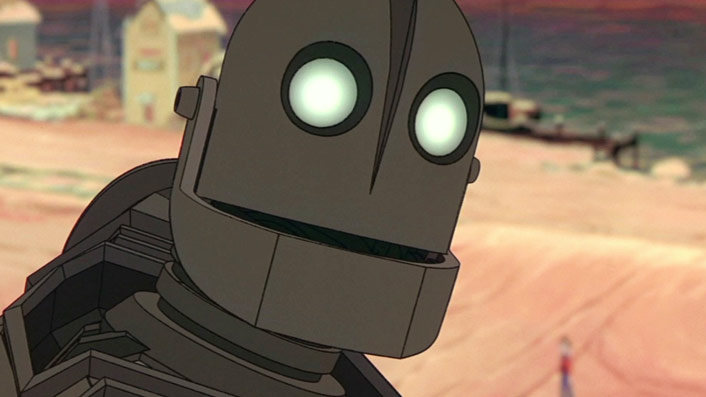 The Incredibles director Brad Bird announced himself with this heartfelt animated tale, in which a young American boy growing up in the Cold War-infused 1950s tries to hide a gigantic robot (yes, that's Vin Diesel's voice) from outer space that he discovers and befriends. Bestowed with the open-heartedness of a child, it's a parable of bridging otherness that packs an almighty emotional wallop.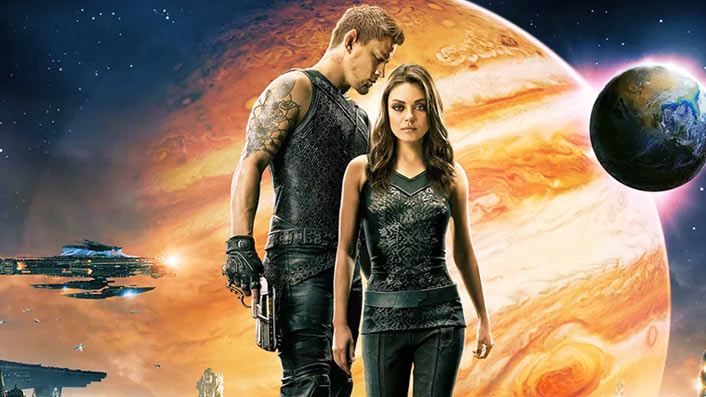 Lana and Lilly Wachowski returned to science-fiction with this weird and sometime wilful space opera, which has Mila Kunis as the galactic princess unknowingly living on Earth and Channing Tatum as the interstellar warrior with canine DNA who helps restore her birthright. It's not good, but it's memorable, whether it's the vertiginous flight scenes, unexpected bureaucratic satire (hello Terry Gilliam!), or Eddie Redmayne giving a hilariously mannered villain's turn.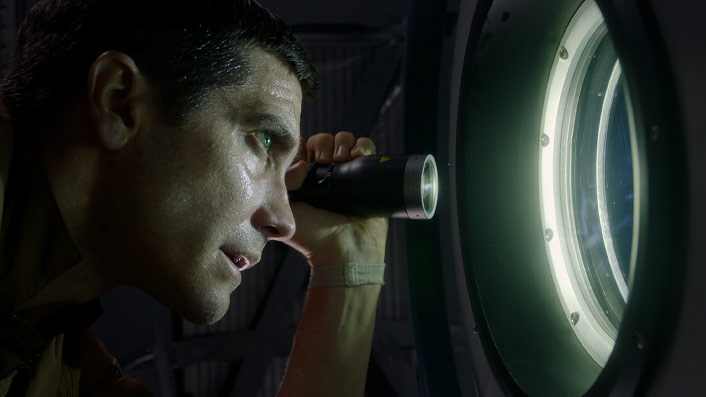 The horror of a rapacious alien organism overwhelming humanity is a sci-fi staple. Director Daniel Espinosa (Safe House) and a solid cast—Jake Gyllenhaal, Rebecca Ferguson and Ryan Reynolds—give it a ticking clock immediacy, a mission to Mars bringing a new multi-celled lifeform to the International Space Station. Calamity naturally ensures.
Gravity was driven by computer code and special effects bent reality's rationale in the movie that rebooted science fiction and the action movie for the looming 21st century. Keanu Reeves is the everyman who becomes a digital warrior in a rebellion against a machine regime; Lana and Lilly Wachowski's blockbuster remains masterfully complete.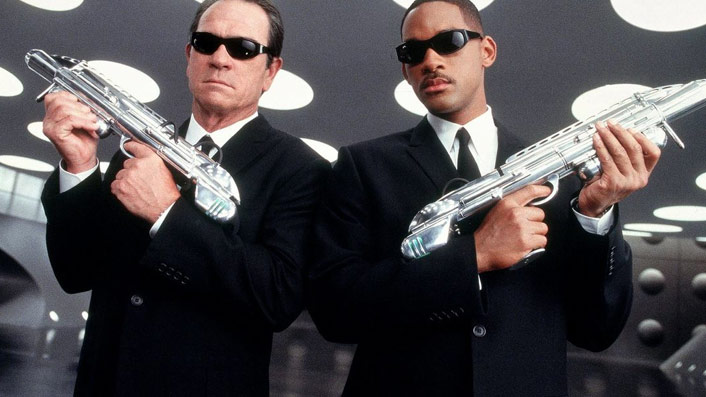 Ignore the box office mandated sequels and disappointing reboot, the founding entry of this action-comedy franchise about the agency secretly policing aliens living on Earth is the only Men in Black movie that matters. Barry Sonnenfeld's idiosyncrasies as a filmmaker dovetail with the dynamic of Will Smith and Tommy Lee Jones as mismatched partners. It's close to amazing how lively and self-aware this blockbuster is.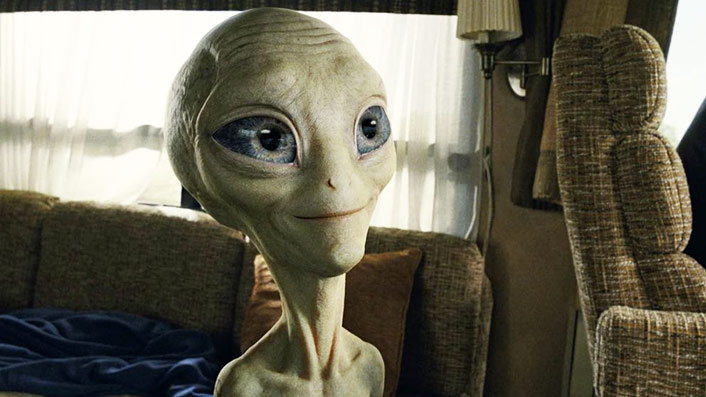 As both writers and lead actors, Simon Pegg and Nick Frost took their British genre appreciation across the Atlantic for this alien encounter road comedy, playing a pair of English geeks journeying to Comic-Con who stumble upon an escaped grey (voiced by Seth Rogen). Many comic mishaps ensure, complete with a rollcall of notable American co-stars.
Inequality assumes a vertical axis in this dystopian Spanish-language horror movie, which is equal parts existential theatre work and science-fiction allegory. In a vast concrete prison inmates are randomly assigned levels visited by a vast banquet that travels downwards: those at the top initially feast, those at the bottom eventually starve. Left furious by the cruel reality, one newcomer tries to make a difference.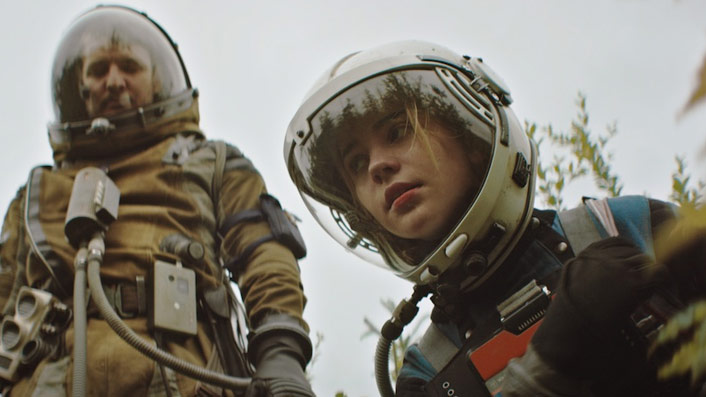 It's The Treasure of the Sierra Madre in outer space. Father and daughter prospectors (Jay Duplass and Sophie Thatcher) land on a forested moon, where greed leads them to shifting alliances with fellow visitors, including Pedro Pascal's scavenger. This a strong example of independent sci-fi, albeit with exterior locations, where comforting tropes can be challenged.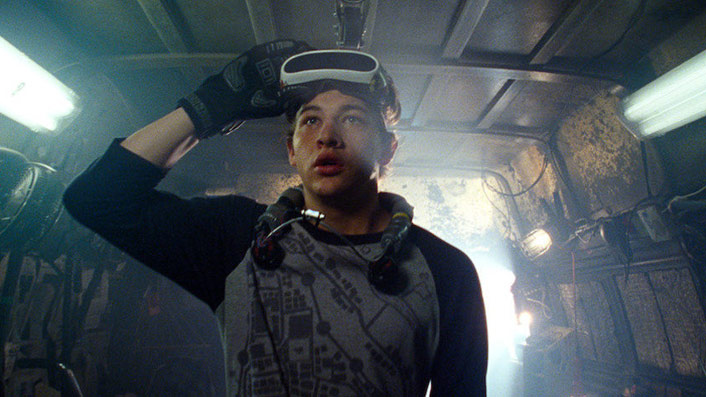 Popular culture is both a salve and a source of spectacle in Steven Spielberg's rampant digital adventure, in which a grim 21st century future is offset by a vast virtual reality game whose fantastical dimensions house an impossible quest. Tye Sheridan is the boy wonder protagonist and Ben Mendelsohn his corporate adversary, but the real star is the famous I.P. redeployed for Spielberg's lavish pleasure.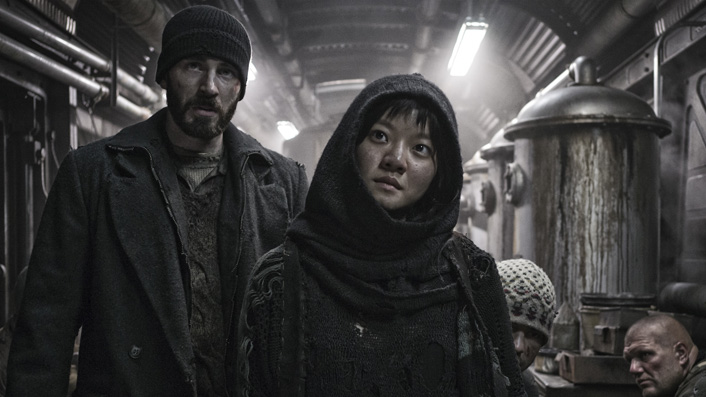 Years before Parasite, Bong Joon-ho made this visceral metaphor that concentrates inequality's cruelty, set on a rigidly stratified train preserving the Earth's few survivors from wintry extinction. Chris Evans leads the oppressed in a desperate revolution that is ultimately without illusions.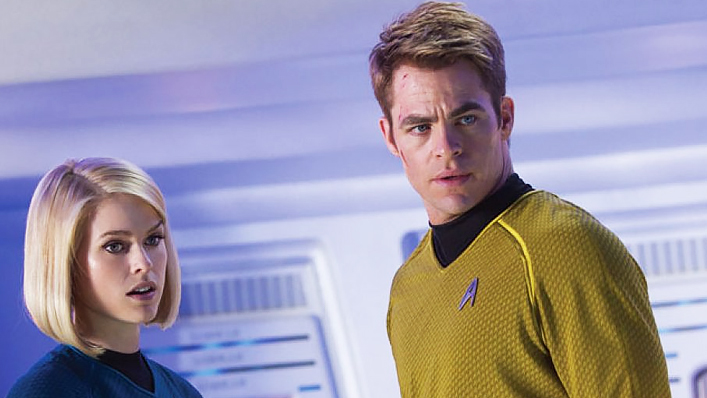 The second—and best—of the Star Trek franchise's 2010s reboot, with Chris Pine as Kirk and Zachary Quinto as Spock, explores the militarisation of space and the perils of buried history, as terrorist attacks lead the Starship Enterprise to alien space and Benedict Cumberbatch's bravura antagonist. J.J. Abrams directs, lens flare and all.
The Moon has loomed large in the cinema since George Melies ground-breaking A Trip to the Moon wowed novice audiences in 1902, making it a fitting setting for an early stop motion animated adventure featuring Nick Park's legendary claymation duo. Motivated by cheese, Wallace and Gromit's lunar journey is an eccentric delight balanced by tactile technique.
Steven Spielberg and Tom Cruise put a modern spin on H. G. Wells' science fiction classic, with the latter as the estranged father trying to safeguard his children after towering alien tripods create havoc. The scale is suitably vast, but what endures is Spielberg's fascination with imagining lines of fearful refugees on American roads. He depicts the remnants of society with painterly care.
A movie is probably too short to satisfyingly encompass Alan Moore and Dave Gibbons hugely influential 1987 graphic novel, but 300's Zack Snyder did his maximal best with this alternate history superhero noir, in which the suppressed remnants of crime-fighting capes investigate an apocalyptic plot.