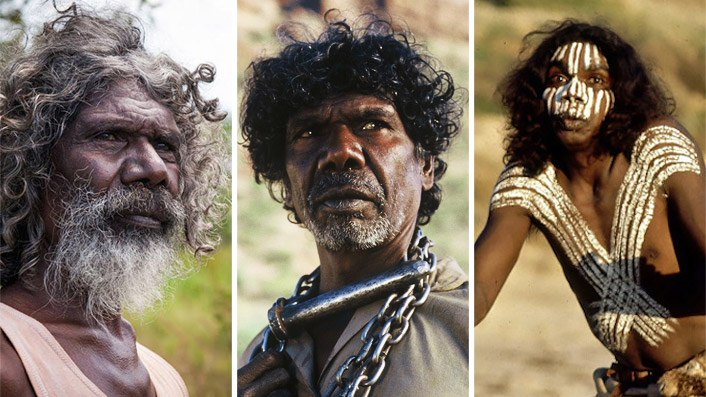 The 10 essential David Gulpilil movies

---
To mark the arrival of My Name is Gulpilil, which celebrates one of Australia's greatest actors, critic Sarah Ward picks the 10 best David Gulpilil movies.

Perhaps the most extraordinary aspect of the new documentary My Name Is Gulpilil is just how magnetically its subject still commands the screen, despite undergoing treatment for stage-four lung cancer. The liveliness that's made David Gulpilil one of Australia's most dynamic screen talents is still present in the documentary's recent footage.
Also crucial to this cinematic portrait is clips from Gulpilil's films—spanning his first movie, to his first lead role, to everything in-between. Together, they provide an exceptional viewing list; there's no such thing as a bad Gulpilil performance. We've picked 10 of his movies that everybody should see.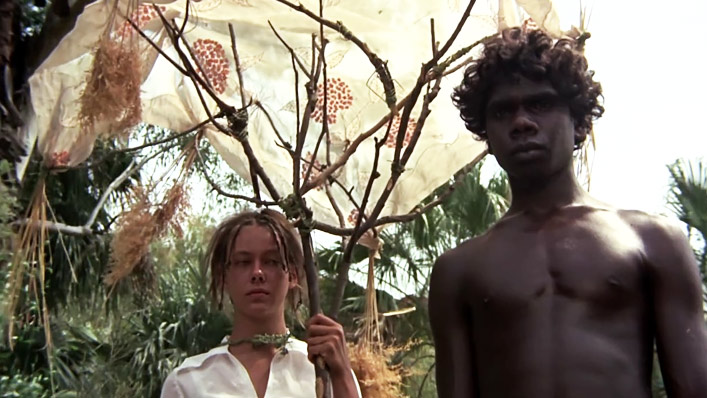 Driven into the outback by their father, then left to fend for themselves, a teenage school girl (Jenny Agutter) and her younger brother (Luc Roeg) cross paths with an Indigenous boy (Gulpilil). They're strangers in a harsh landscape, he's undertaking a rite of passage dependent upon that tough soil, and their fates are tied to the vast expanse that surrounds them at every turn. In his second film as a director, Nicolas Roeg peers at his setting with the same awe and trepidation as his stranded characters, watching on as first-timer Gulpilil both enlivens and haunts the screen.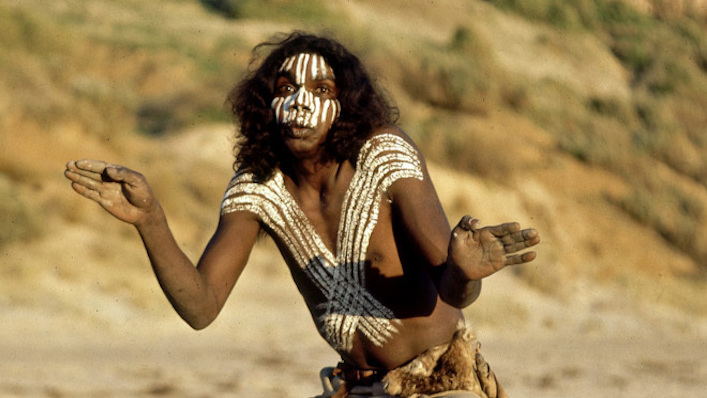 In 2018, when a second adaptation of Colin Thiele's children's book reached cinemas, Gulpilil returned to the story—this time as the father of Fingerbone Bill, the character he initially played back in 1976. More than just nodding back to the beloved initial film, this synergistic casting offered a reminder of Gulpilil's crucial role in the quintessential Australian movie that has been watched and loved by young viewers for decades. Storm Boy isn't just about a boy (Greg Rowe), his pelican and their touching bond, but also about the way he's taught to see and interact with the world by Fingerbone Bill.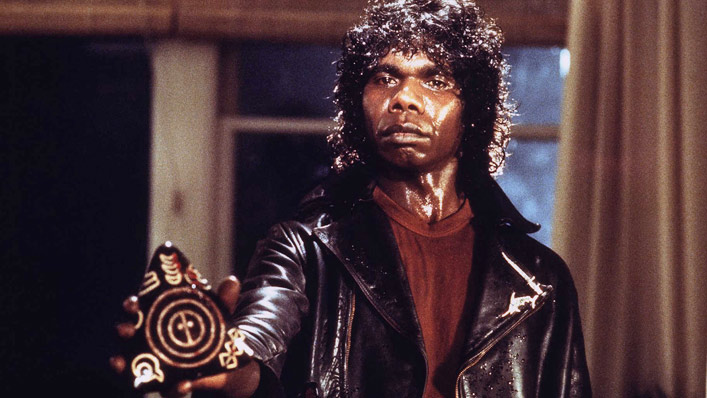 In an ecological thriller from Peter Weir that was thematically decades ahead of its time, Gulpilil plays Chris Lee, one of five Indigenous men accused of murdering another. But with increasingly strange weather plaguing Sydney—and swirling through the vivid dreams of David Burton (Richard Chamberlain), the lawyer on the case—Chris' presence and significance in David's life is never straightforward.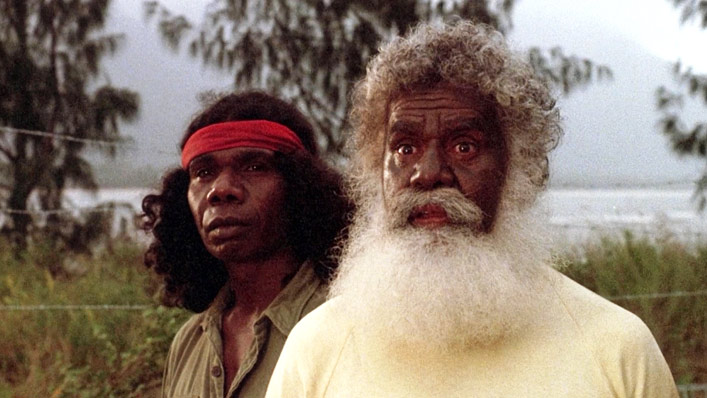 A giant crocodile stalks Dark Age—but, like in The Last Wave, this creature feature has just as much time to contemplate the environment, Indigenous culture and western civilisation's imprint upon both. As directed by Arch Nicholson, the result here sometimes thrashes about as determinedly as the 25-foot reptile that a wildlife ranger (John Jarratt) and his boss (Ray Meagher) are determined to capture. And yet, featuring Gulpilil as an Indigenous Australian concerned for the croc's wellbeing and its link to his culture, this horror film is as thoughtful and complex as it is visceral and engaging.
One of two films in the same year that cast Gulpilil as a tracker, Rabbit-Proof Fence rousingly demonstrates a fact that's proven true across most of his career: that he can make an entire movie's worth of impact even in just a few scenes. In Phillip Noyce's drama, his character isn't the point of focus. Instead, the film tells of three Indigenous girls and their quest to return home from an Aboriginal settlement. Rabbit-Proof Fence always gives the trio pride of place, but still makes it impossible to forget Gulpilil's involvement.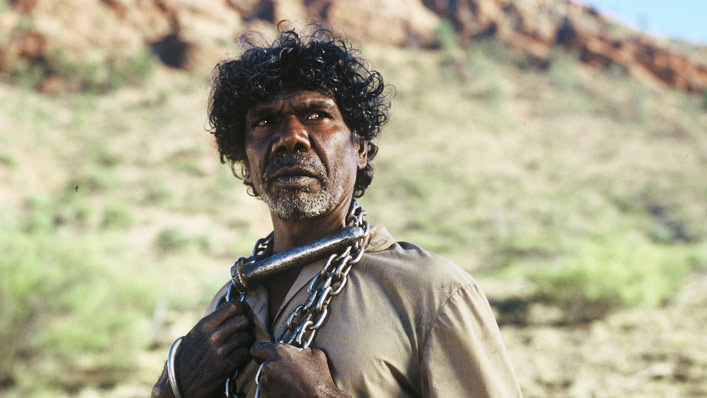 Gulpilil has always been a magnetic actor, but a performance as complex and layered as his AFI-winning turn in Rolf de Heer's The Tracker is simply impossible to look away from. As the eponymous figure in this 1922-set drama, he's caught between two worlds. He knows it, despite his deference to a boss known only as The Fanatic (Gary Sweet). Watching how Gulpilil plays his character is like watching an artist paint their masterpiece.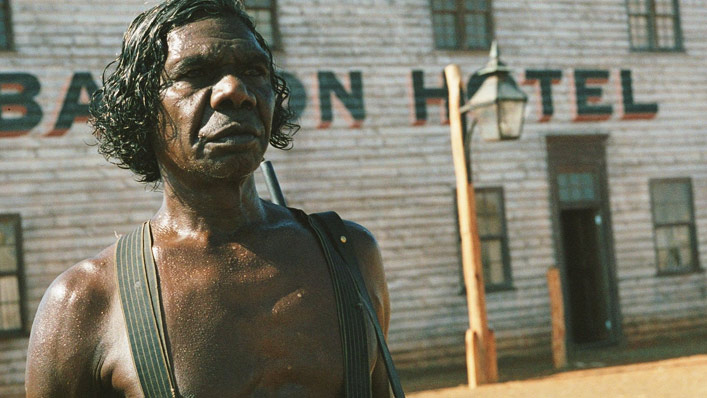 As Noyce and de Heer did before him, director John Hillcoat tasks the actor with playing a tracker—a character defined by their ability to follow another's trail. But none of the three directors ask Gulpilil to simply follow in his own footsteps. In The Proposition, Gulpilil again weathers the in-between space that comes with the territory—of working with white men, and being burdened with their horrendous attitudes towards race.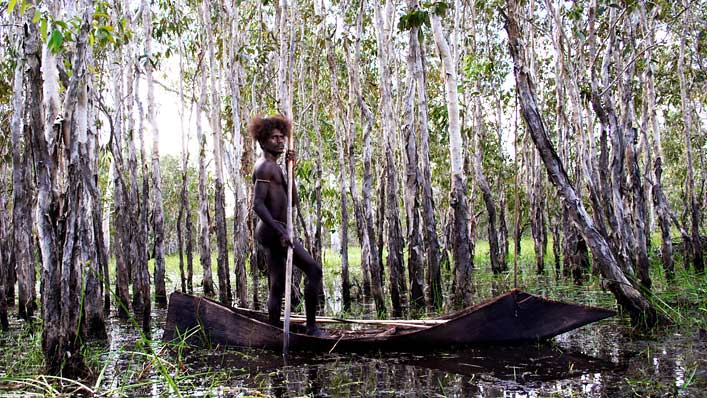 Teaming up for the second time, Gulpilil and de Heer made the first movie entirely filmed in Australian Indigenous languages. A picture born of Gulpilil as much as his director, and starring the actor's son Jamie, the film's merits are many—Gulpilil's narration as The Storyteller being high among them. Stepping into Aboriginal culture prior to white settlement, this is a playful film, relishing its humour and character as much as its lush cinematography.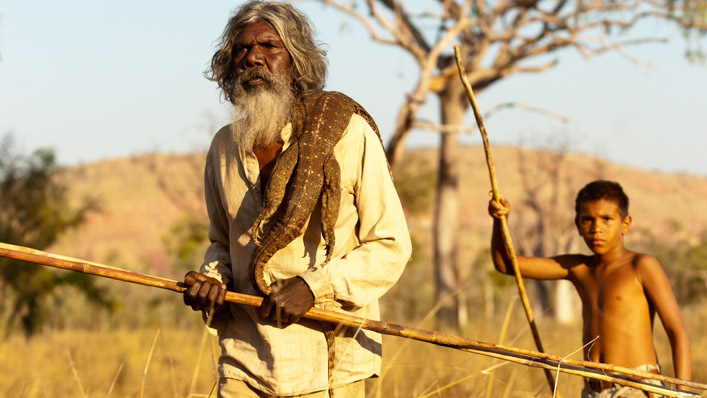 In Satellite Boy, Gulpilil lets a lifetime's worth of experience echo through his performance—befitting his part as grandfather doted upon by 12-year-old Pete (Cameron Wallaby). Filmmaker Catriona McKenzie casts Gulpilil knowingly, of course. When the film follows Pete and his pal on a walkabout, it was always going to conjure up memories of Gulpilil's first role, so it leans into that. Pete and his grandfather living in an old drive-in is another savvy touch.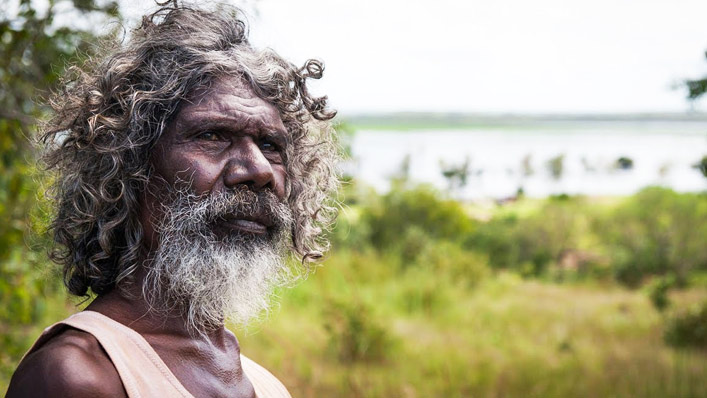 In Gulpilil and de Heer's third collaboration, staring at Gulpilil as the titular character feels like watching a whole world unfold. This nuanced drama charts Charlie's disconnection with an Australia that's eager to forget its Indigenous heritage, rippling with raw emotion at every turn. Gulpilil deservedly won the Best Actor prize in Cannes Film Festival's Un Certain Regard for his efforts, which ranks among his very best work.