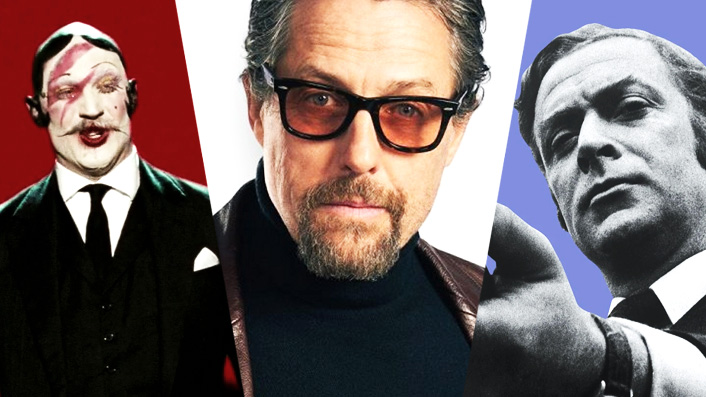 Orright, guv'nor! The best British crime films

---
Guy Ritchie's latest film The Gentlemen (now in cinemas) is the latest in a long line of British crime flicks featuring cockney geezers and all kinds of underhanded activities. Critic Travis Johnson revisits the best of the genre.

Currently in cinemas, The Gentlemen sees director Guy Ritchie return to the mean streets of London he's trodden so often to tell another twisting tale of tough nuts, clever boys, cockney geezers and criminal doings.
British crime cinema has a particular flavour, but Ritchie is only one chef to utilise that particular cuisine. Here, then, are some of the best Brit crime flicks for you to check out if you want to broaden your palate. Hop to it, guv'nor!
Sign up for Flicks updates
We must have one Ealing comedy at least, so let it be this one, which sees former bank clerk Henry Holland (Alec Guinness) mastermind a complicated plan to smuggle a load of stolen gold out of Britain and into France, setting him up for life. Naturally things go awry. This is a light, glib caper that showcases some stellar dialogue and a fun supporting cast including Sid James, Alife Bass, Robert Shaw (in his first film role) and a young Audrey Hepburn. Throw in Kind Hearts and Coronets and The Ladykillers for a perfect evening in.
Enterprising young crim Charlie Croker (Michael Caine) wastes no time in putting together the titular armoured car heist after he's released from prison, culminating in a never-bettered chase sequence involving three Mini Coopers (patriotically coloured red, white and blue) through the streets of Turin. The Italian Job's cheerfully chipper tone and razor-sharp Cool Britannia basically set the tone for almost every populist Brit crime flick going forward. If nothing else, Guy Ritchie owes it a huge debt of gratitude. The 2003 remake is worth a gander too, but only one.
After his brother dies under dubious circumstances, hard-as-nails London gangster Jack Carter (Michael Caine) heads home to blustery Newcastle and finds himself going up against a sleazy porno ring in Mike Hodges' grim, amoral pseudo-western. Caine has never been more terrifying; the dead-eyed Carter is our nominal hero here, but he's no better than the scumbags he's up against, using and abusing all and sundry in his quest to avenge a brother he never even liked. Cold, cruel and iconic, this is one for the ages.
A young Ray Winstone stars as Carlin, a teen sentenced to a Borstal (youth prison) who ruthlessly climbs to the top of the inmate pecking order in order to survive. Director Alan Clarke originally filmed this as a TV play for the BBC two years earlier; after it was withdrawn from broadcast due to the sheer savagery depicted, he remade it as a feature film. The result in unrelentingly bleak, replete with brutal beatings, a gang rape and more than one suicide. But it stands as an unblinking indictment of a system designed to punish rather than rehabilitate.
London mob boss Harold Shand (Bob Hoskins) is keen to go legitimate, and the American Mafia investing in his Docklands real estate project is his ticket out of a life of crime. But when his organisation starts getting mercilessly attacked by an unknown enemy, he brings all his criminal ruthlessness to bear on the issue.
Another bleak exercise, The Long Good Friday can be read as a parable of Thatcherism, with Shand's thug an unvarnished version of the mercilessly aspirational Tories who dominated Britain in '80s. Or you can just enjoy the violence and appearances from Helen Mirren as Shand's lover and a very young Pierce Brosnan.
Years after grassing on his fellow gangsters, retired criminal Willie Parker (Terrence Stamp) is kidnapped and handed over to assassin Braddock (John Hurt) and his apprentice, Morton (Tim Roth). On the road from Spain to Paris, where one of Parker's old comrades is waiting to do something horrible to him, the old snitch seems philosophically reigned to his fate, but appearances can be deceiving.
Stephen Frears directs this existential thriller with detached cool. What could have been a fairly staid affair instead becomes a violent meditation on mortality, morality and loyalty.
Recently paroled crim George (Bob Hoskins again) finds himself falling for Simone (Cathy Tyson), the high-class sex worker his boss (Michael Caine again) has assigned him to mind, but Simone has her own agenda. The impossibility of love in an amoral world is the focus of Neil Jordan's neo-noir, which functions as a kind of thematic precursor to his later The Crying Game.
Caine once famously said that there were only three great British gangster films; he made one, Bob Hoskins made the other, and they made the third together. You can guess which one this is.
Yes, Tom Hardy played both of the notorious Kray Brothers in 2015's Legend, but this earlier effort starring Spandau Ballet's Gary and Martin Kemp is both more violent and more psychologically unsettling, digging into the twin gangsters' twisted relationship with their mother (Billie Whitelaw) in between some truly savage tableaus of violence.
The scene where a man is given a Glasgow smile is particularly repugnant, in the best possible way. A fascinating study of familial sociopathy that uses the Kemps' lack of acting experience to excellent effect, their occasional stiltedness reading as acute mental dysfunction.
Four mates (Jason Flemyng, Dexter Fletcher, Nick Moran, and Jason Statham) find themselves in heavy debt to a mobster after a high stakes card game and undertake to rob a murderous gang of toecutters in Guy Ritchie's effortlessly stylish feature debut. A flabby but fascinating shaggy dog story, Lock, Stock drips in style and attitude, even if it doesn't add up to much. Still, Ritchie's first trip to the cockney crime well is easily his best.
Retired crook Gal Dove (Ray Winstone) is enjoying his golden years on the Spanish coast when the terrifying Don Logan (Ben Kingsley) lobs on his doorstep to convince him to partake in one last job. Things get worse from there. Jonathan Glazer's debut feature is elliptical and often surreal, but if you ever wanted to see noted hard nut Winstone thoroughly cowed by a foul-mouthed Gandhi, this is a must see. Kingsley is always more fun when he's let off the leash (see: Iron Man 3), and he's never been looser than here.
Lock, Stock producer Matthew Vaughn's directorial debut sees Daniel Craig as a coolly professional cocaine cowboy who finds retiring from the trade is more complicated than it should be. Layer Cake is a jittery, paranoid odyssey through London's underbelly that features a parade of great actors (Michael Gambon, Ben Whishaw, Tom Hardy, Sally Hawkins, Colm Meaney, George Harris) and a harder-edged attitude than what Ritchie generally brings to bear on similar subject matter.
Nicolas Winding Refn draws a career-best performance out of Tom Hardy in this expressionistic biopic of hyperviolent British prisoner Charlie Bronson (born Michael Gordon Peterson), whose lifetime of institutionalisation leaves him only capable of expressing himself with his fists, until he cants into a bizarre career as an artist. But this is no redemption tale – for Bronson art is violence and violence is art, and the film takes us on a headlong dive into an interior world where this maxim holds true. Simply electrifying on every level.