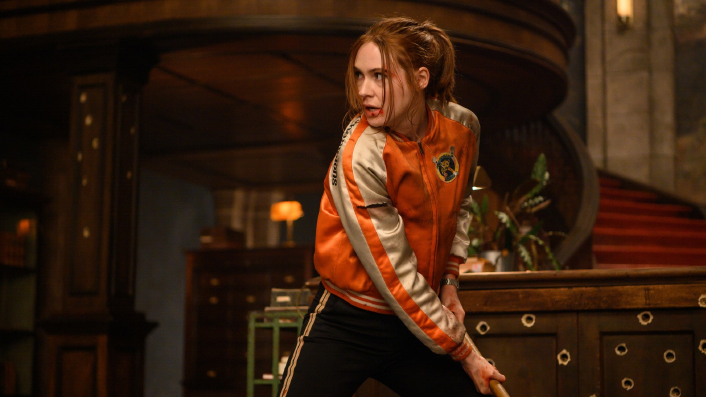 Karen Gillan and Carla Gugino tell us about kick-arse action pic Gunpowder Milkshake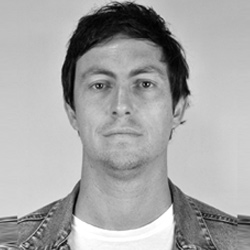 ---
Karen Gillan, Carla Gugino and writer/director Navot Papushado (Big Bad Wolves – aka Quentin Tarantino's favourite film of 2013) tell Steve Newall about their action-packed pic Gunpowder Milkshake.
Karen Gillan stars in Gunpowder Milkshake as Sam, an assassin who learns no good deed goes unpunished when she spares the life of a young girl and becomes the target of armed killers herself. Outnumbered, Sam turns to a secret group of fellow assassins—including her mother (Lena Headey), and a trio of "librarians" (Carla Gugino, Michelle Yeoh and Angela Bassett)—as they try to survive what looks to be one very violent night.
When we spoke over Zoom, Gillan was quick to highlight one of our favourite sequences in Gunpowder Milkshake when explaining what made her decide to star in the film.
"I think first and foremost, it was just when I read the script, I was like, 'I love this,'" Gillan tells us. "And I think it really kicked in when I got to the second action sequence in the film, which is a crazy sequence where I lose the use of some limbs while being attacked by three people and have to defend myself without the use of my arms—and so I remember thinking, 'I have never seen anything like this in a film before.'"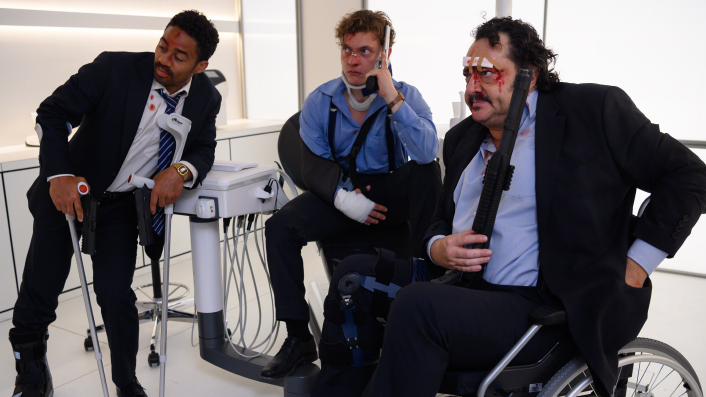 "It's really exciting when you stumble across something that feels like new territory because most things have been done, and then it's hard to find something truly original. And so I was immediately on the phone with my agents, 'Please give me this film.' I wasn't even thinking about any feminist agendas at all. I just thought that the characters were really well-rounded. And I guess for me, the fact that it is such a feminist film is a massive bonus. And it is important to me. But it wasn't the first thing that I thought of. The first thing I thought of was 'I want to do that action sequence.'"
See also:
* Movies now playing in cinemas
* All new streaming movies & series
The action sequence in question is one that Gunpowder Milkshake director Navot Papushado compares to Looney Tunes animator Chuck Jones and Who Framed Roger Rabbit. One of several homages in the film—Papushado variously acknowledged Jackie Chan and Buster Keaton's influence on one particular scene, Bullitt and John Frankenheimer's on another, and Sam Peckinpah elsewhere—it's a sequence that Gillan highlighted when I ask her about how she figured out what Navot had in mind based on his screenplay.
"There's something about the way he brought in the imagery that you managed to conjure up through his writing," she responds. "It was like, 'I can see a clear image'. That was my first comment to my agent. 'The imagery is really original here.'"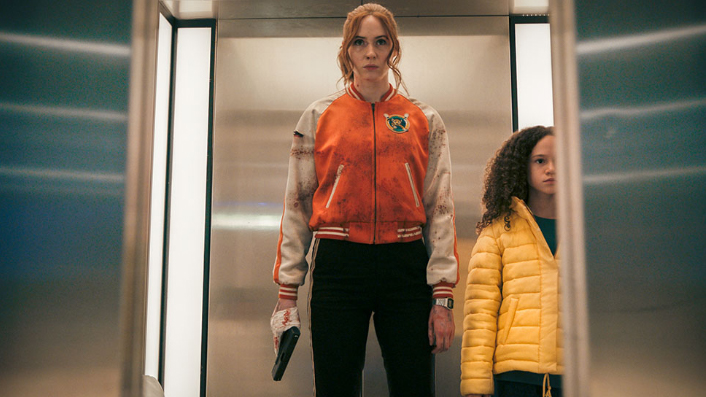 "He literally wrote for the clinic sequence, 'The audience won't know whether to laugh or cry or what to do, but they will know that they've never seen anything like this before.' And I thought that's really cool. You know, you've got a little swagger to his writing too, which I really liked. And then I think it was meeting him that really kind of made me feel confident in the project, I think he's such a film buff that he's the type of person that's going to carve his own way. He's going to have his own voice while listening to voices that have come before him, which is always vital to create something original."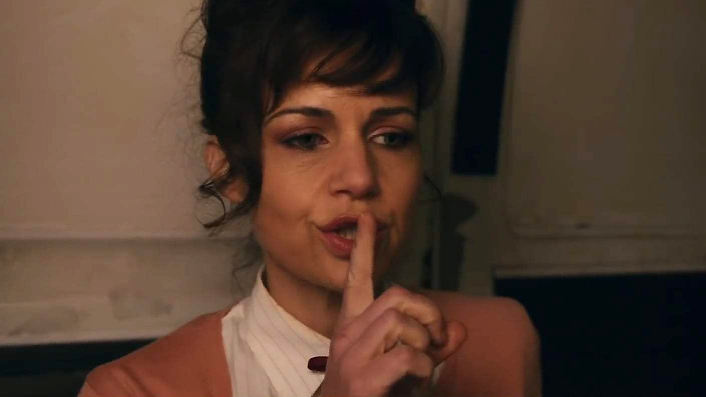 That's a thought echoed by co-star Carla Gugino, who tells us Papushado "pays homage to many great filmmakers, in a way that feels unique to him". We asked Gugino about encountering the evocative title only to discover her character played a librarian (sort of).
"It was funny because I was so intrigued by the title, obviously," says Gugino. "You're like, 'Hmm, what is this? And I like milkshakes… gunpowder, I'm not sure.' And so I will say that I had read the script by the time I spoke to Navot. So I had the context that they weren't your normal librarians. But yes, when I saw that it was one of the librarians, I thought, 'Okay, I've never played a librarian.'"
Sign up for Flicks updates
"By the time that I am on my deathbed, I want to have played almost every role. So I better take this one seriously. And then when I saw the context of the movie, it was cool. I think also there's something interesting about the fact that Navot comes from a country [Papushado is Israeli] that doesn't make genre movies like this. And so when he made Big Bad Wolves, that was because of his being enamored with filmmakers and cinema outside of his own habitat. And so there is this kind of magical thinking that he has because he was introduced to this world, these heightened worlds through cinema. And I love his passion for that. And the fact that that's sort of how he expresses himself."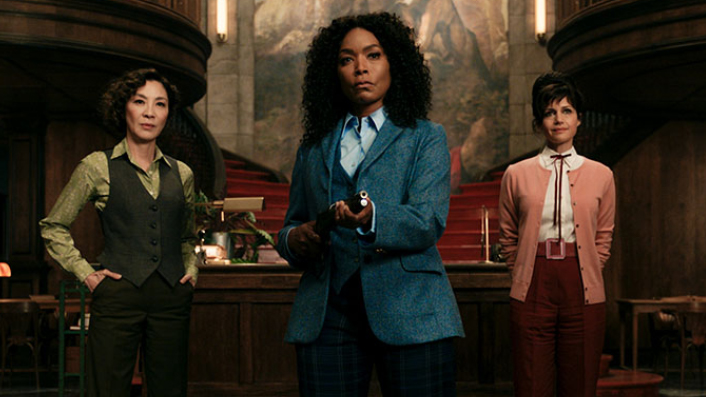 This mutual admiration continued as the cast shaped up further. As Gillan puts it, "No other actresses were cast in the film when I came on board. And then Navot was just telling me, 'Oh, we've got Angela Bassett. We've got Michelle Yeoh. We've got Carla Gugino.' I was like, 'What is going on?! This is like best-case scenario. I can't believe this. This is going to be—first of all—amazing. And second of all, terrible, because I'm going to be star-struck the entire movie'—which I was."
What it meant for Papushado was the opportunity to push his already ambitious action sequences further to fit—and befit—his cast. "The storytelling inside those scenes was there," he tells us when we ask about the evolution of his action scenes. "Like, okay, Karen has to go from the clinic, shooting herself out with the chair, swings her hands, the knife goes in. But you can only go so far."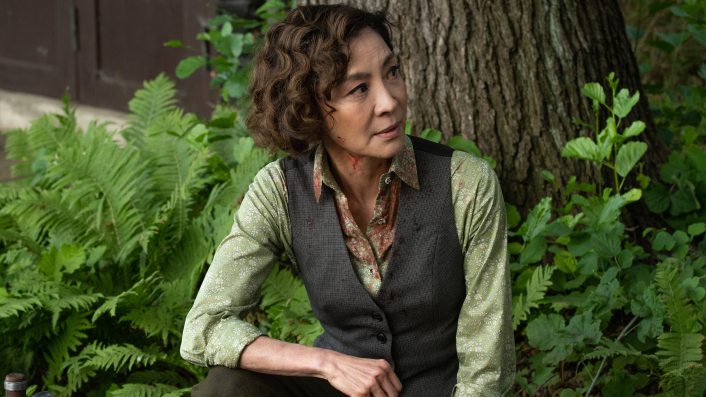 "We had the most amazing stunt coordinator, Laurent Demianoff, who came in and enriched those scenes. Sometimes he would come and say, 'Listen—Karen already knows her routine, how about we do just a little bit extra.' And all of a sudden it's a bigger idea. Or, for example, once we knew that Michelle was joining, we realized we might have to adjust a little bit. This is not unique and big enough for the legendary Michelle Yeoh."
"And actually part of my conversation with her was, "All right, you are probably the most iconic, biggest hero in action of all time." The script, the action parts that are written for Florence [Yeoh's character] right now aren't unique enough. We're going to work on them."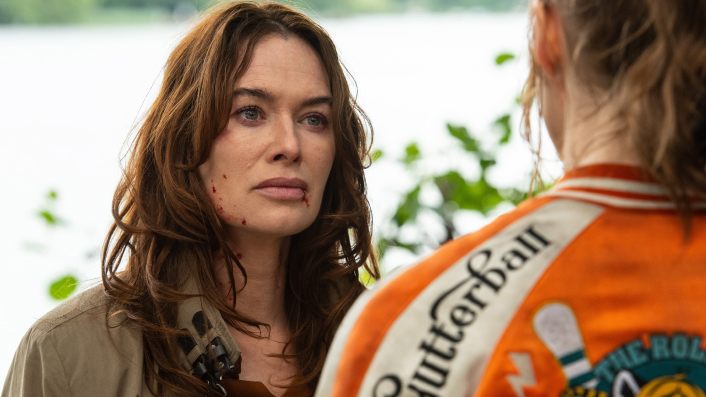 Another cast member who Papushado was eager to compliment in her absence was Lena Headey. "Lena is rock n roll", he tells us. "She belongs to a different era. She is so generous and free-spirited and smart. And I think she taught me a lot. She is just fire and in the best way possible. And that's how I remember her."
Headey's rapport with Karen Gillan is evident on screen—and in the latter's Instagram videos from set that have proved amusing in the lead-up to Gunpowder Milkshake's release.
"I think, very quickly, we realised that we are quite similar and have like, a really silly sense of humor," says Gillan. "And so we were instantly making videos for Instagram and just being so silly. And so I think that's where the bond developed. And yeah, we definitely had nights out. I mean, we all went out for drinks in Berlin, which was fun. And all of that contributes to developing a relationship that will hopefully come off on screen. And but yeah, we just had a lot of fun. That was the bonding process, just like being silly together."
View this post on Instagram
While I could have spent all our interview time talking about their Instagram videos ("I feel like I'm just posting too many and I need to calm down—but there's so many more!" Gillan teased), we were actually here to talk about Gunpowder Milkshake.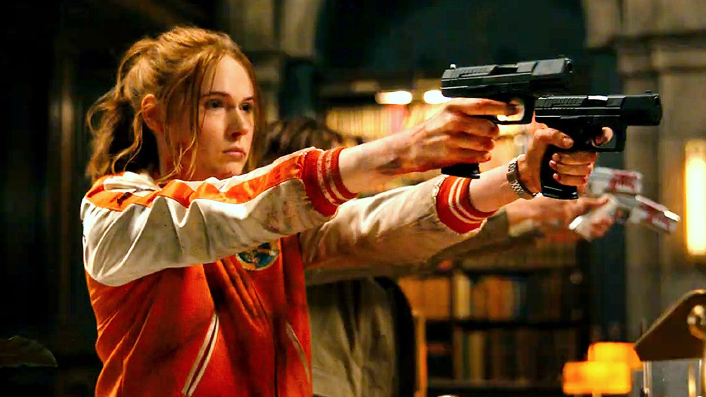 I asked Gillan about the appeal of a project which would let her tap into all her different skills we've seen scattered across other films.
"It felt like it's all come full circle," she replies. "I feel like I've picked up all of these skills throughout the movies that I've done, but it's been more sporadic in terms of using them. It's been like one or two fight sequences each film, which is great because you can concentrate on them and get them good. But this was a whole other level for me."
"It was nonstop action and so many sequences. And so, yeah, it felt like I finally have graduated to a place where I can use all of the skills I've picked up on other films and take it to the next level and challenge myself. I graduated to a full-blown action film."
I framed my final question as extremely intellectual. "Is this the most dudes that you've wasted on screen before?"
Gillan laughs. "I think this is probably my highest male death count. It must be. I mean, Nebula probably killed quite a few. But on screen, this has got to be my highest."
If we count grievous bodily harm?
"I mean, if you're counting that, yeah. I think it's Sam. I think Sam is the most vicious… oh, maybe not the most vicious. She has morals—and Nebula's a sadist. But Sam did the most damage."