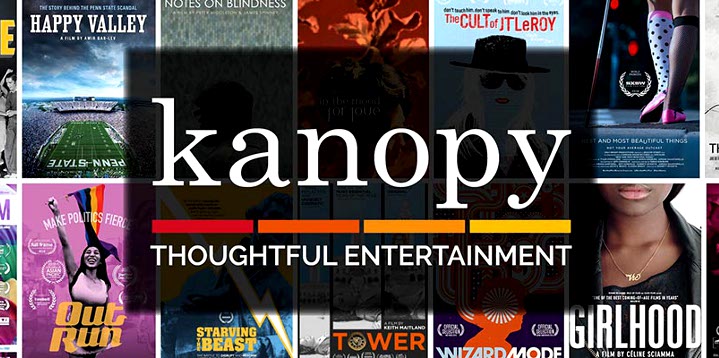 Introducing Kanopy, the awesome streaming service you probably don't know about

---
In the streaming playground, Netflix is the 10-tonne leader of the pack. Stan is the cool, popular guy that everyone kind of knows is the best. Foxtel is the one desperate to hang with the hip kids, while SBS OnDemand and ABC iView are the stoners that nobody has anything bad to say about.
In this world that I have just invented, Kanopy is like the exchange student that keeps to themselves and that nobody quite knows anything about – except that they're super smart, well-read and worldly.
Kanopy is a global streaming service that brings world cinema to people through the magic of their library or university student cards. An expanding number of libraries and schools participate in the service and as libraries are free to join, so too is Kanopy. Users are allowed five free viewings a month from their incredible collection that includes distributors and production companies from around the world, many of them distinctly missing from services like Netflix.
If you've ever spent hours scanning the catalogues of other streaming services and wished they had more classic cinema, films from the fringes, and international titles, then Kanopy is perfect for you. Away from the peer pressures of binge television, Kanopy has assembled a rather astounding array of films from over 100 years of cinema.
Sign up for Flicks updates
People wishing to dive deep into areas like silent movies, experimental cinema, queer and women-centric films will find a seemingly endless supply of suggestions – and not a single Adam Sandler movie in sight. And as Kanopy is a library-based service, there is a large number of curated educational services build around nationalities, social sciences plus instructional and business fields.
With the ability to chromecast from your computer or their mobile app plus Roku and Apple TV, you really have no excuse to give it a go. Here are a bunch of other reasons why we love Kanopy.
Aussie Aussie Aussie
Unlike other services that need to be dragged kicking and screaming to play Australian films, Kanopy's service is full of them. Biggies like Joclyn Moorehouse's The Dressmaker and Garth Davis' Lion are obviously going to be popular titles. But the Oscar-nominated Tanna cannot be streamed anywhere else, nor can classics such as The Getting of Wisdom and Mad Dog Morgan. Likewise, a whole host of documentaries like The Last Goldfish and A Portrait of Photographer William Yang focusing on our multicultural history.
Most amazing is the streaming service's collection of pre-1970s Australian works thanks to the National Film and Sound Archive. As well as newsreels, early television documentaries and government videos, there are rarely-seen works like The Glenrowan Affair (about Ned Kelly), the iconic documentary Back of Beyond, and the 100-year-old The Woman Suffers from 1918.
Frederick Wiseman
Earlier in 2018, Kanopy secured the exclusive global rights to streaming the entire back catalogue of titles by esteemed documentarian Frederick Wiseman. Recently awarded an honourary Academy Award for his contribution to cinema, Wiseman is famous in non-fiction circles for his expansive (often three-hours or more) and observational documentaries about institutions that have long been only available from his own production company's website.
Wiseman's films are a treasure trove, with no subject off limits from his famously controversial Titicut Follies and Domestic Violence and the evocative High School, Model and Crazy Horse to the surprising nature thrills of Central Park and his recent festival sensations National Gallery, At Berkeley and In Jackson Heights.
Queer History
Far beyond the bland comedies and Hollywood titles that the larger services offer, Kanopy offers viewers a real history in LGBTQ stories. The seminal The Watermelon Woman by Cheryl Dunye, the first African American openly lesbian filmmaker, is there as well as her early short film works.
Lizzie Borden's pioneering and anarchic Born in Flames is there, too, as is Sebastian Silva's Nasty Baby. Aussie entries like Grant Scicluna's acclaimed short film Wilding and the impressive Holding the Man adaptation can be streamed alongside pivotal titles like Tom Kalin's Swoon, Sidney Furie's The Leather Boys and Jean Genet's Un Chant d'Amour.
The Modern Arthouse
If you missed the brief theatrical windows at your local arthouse for movies like Anne Hathaway's mental-monster mash Colossal or Ken Loach's Cannes-winning welfare drama I, Daniel Blake then you no longer have to wonder when they will appear on your other favourite streaming platform.
Lucky with Harry Dean Stanton and David Lynch? It's there. Greg McLean's Jungle with Harry Potter himself, Daniel Radcliffe? Yup, they have it. Not to mention movies like the podcasting thriller Women Who Kill, which didn't even receive a theatrical release at all.
Focus on Women
Women-made films from across the globe are readily available here and nowhere else. Where else could you watch documentaries like Jenny Gage's acclaimed teen exposé All This Panic, Kim Longinotto's Pink Saris, and Cynthia Hill's Private Violence, that all played festivals but went otherwise unseen in Australia.
Similarly, important international films like Shirin Neshat's Women Without Men, Mia Hanson-Love's Things to Come and Mariana Rondon's Bad Hair are essential viewing for anybody wanting to see the world from a different point of view.
The Silent Era
A library of films is always going to be the best film school you can go to – and it's a hell of a lot cheaper, too. It's wonderful that a lot of early film classics like Edwin Porter's The Great Train Robbery, Georges Milies' A Trip to the Moon and the collective works of Buster Keaton, Cecil B Demille and DW Griffith (avoid Birth of a Nation on principle, however).
But the real find for film buffs is the seemingly endless collection of short film collections. Discover the birth of visual effects and editing techniques with their collections of avant-garde cinema.