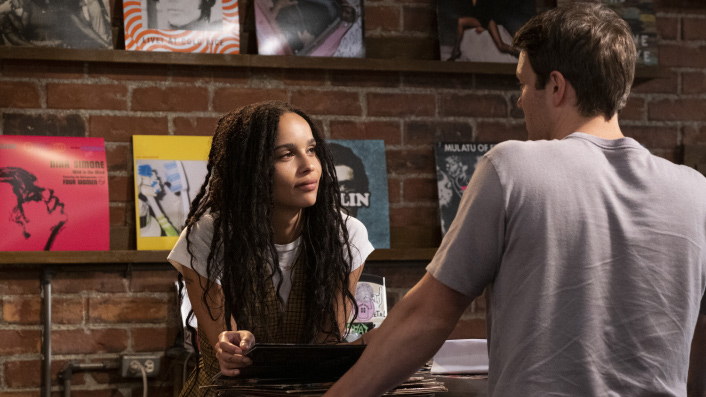 The High Fidelity reboot is perfect if you're sick of everything sucking so much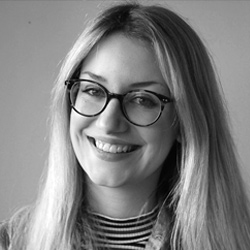 ---
Star Zoë Kravitz is an utter delight in High Fidelity, a new adaptation of Nick Hornby's best-selling novel. This fun, fizzy series is perfect if you're sick of everything sucking so damn much, writes Katie Parker.
When did the romantic comedy stop being cool? Not so long ago, the genre was all but inescapable. Julia Roberts this! Meg Ryan that! Hugh Grant did what?! The fun was endless, the foibles hapless and the future so bright we had to put on our heart-shaped shades.
Sign up for Flicks updates
But, somewhere along the line, something changed. We started turning up our noses at all this frivolity and folly. "This is unrealistic!", we apparently cried. "This is sending the wrong message!" others were heard to neigh. We wanted grit; we wanted realism; we wanted female-focused entertainment that acknowledged that women weren't only monogamy-obsessed breeders racing against time to find the perfect man (OK, fair enough on that last one).
And we got what we wanted. I Feel Pretty showed us that confidence was just a head injury away; Isn't It Romantic also suggested a mild concussion was the path to love. The Big Sick went one better with a full-blown coma!
Yes, we got rid of all that light-hearted fun alright. And only once it was gone, did we realise our mistake.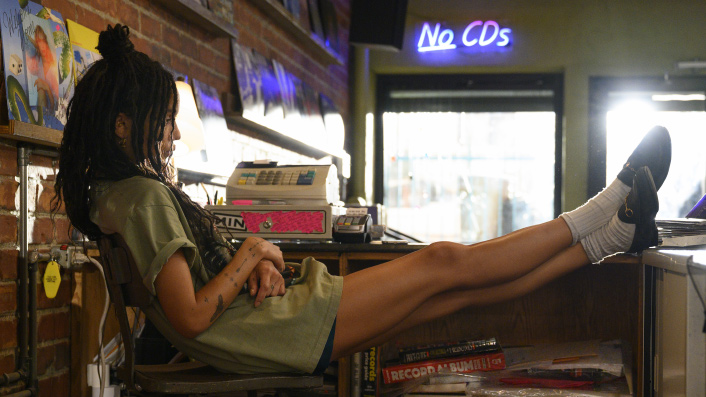 But now, with the release of High Fidelity, the new series adaptation of Nick Hornby's beloved 1995 novel, we finally have in our hot little hands exactly what we (me) have all been waiting for: a fun, fizzy and carefully formulated Romantic Comedy that you actually want to watch—and the most compelling evidence in years for the revitalisation of the modern Romantic Comedy.
Twenty-five years on from the release of Hornby's novel, and two decades since it was adapted into the classic film starring John Cusack, High Fidelity's story of romance and record stores hardly seems like an easy one to update. When it was announced that it would be reimagined as modern-day, gender-swapped TV series starring preternaturally cool celebrity spawn Zoë Kravitz as Rob—here short for Robin—it was, to be completely honest, a little hard to imagine.
For one thing, the gender swaps that have flooded post-#MeTooHollywood in recent years have had uniformly iffy results and, well-meaning as they may be, rarely produce anything particularly worth watching (*cough* Ocean's Eight *cough*).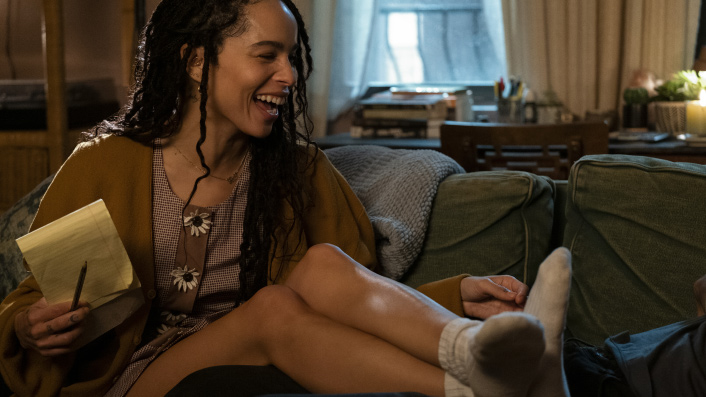 Kravitz meanwhile has long been an underused performer—and though you may have seen her in the likes of Mad Max: Fury Road, Big Little Lies, and (*shudder*) Rough Night, she has never really been given much to do, instead becoming synonymous with supernatural beauty, successful modern boho-chic and having a cool dad. Could she really carry a series—and revitalise a genre—based on a text that centred on one of cinema's biggest douchebags?
Thankfully the answer is a big fat yes—and in fact, Kravitz is a revelation and a delight. Delivering her narration direct to camera as Cusack did, Rob is like an equally witty, more chill, much less traumatised foil to Fleabag, her self-indulgence played for comedy rather than concern.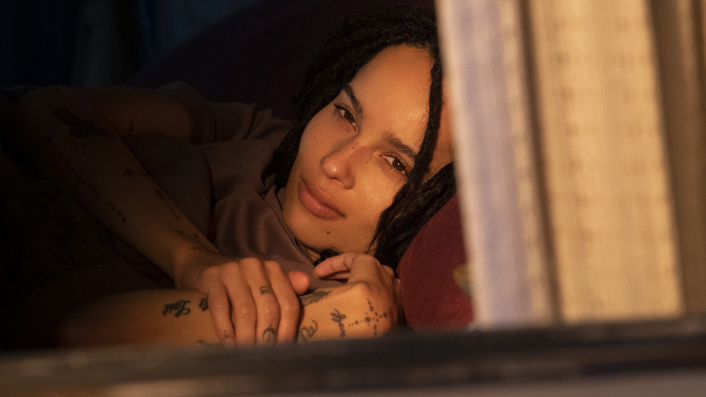 Best of all, as Rob, Kravitz is cool. She makes me want to get thousands of tiny tattoos and lots of tiny earrings and wear skater jeans and Hawaiian shirts. By merely providing the opportunity to spend 10 episodes with her, inside her head (and in front of her stunning face) High Fidelity is an instant success.
But this is not the only reason the show is a delight and—dare I say—a reprieve in our rotting world. With a fun, fast pace, and a diverse and committed cast, High Fidelity is a much bolder, brighter beast than its predecessors, and creates the kind of warm, wonderful world that you just want to spend time in.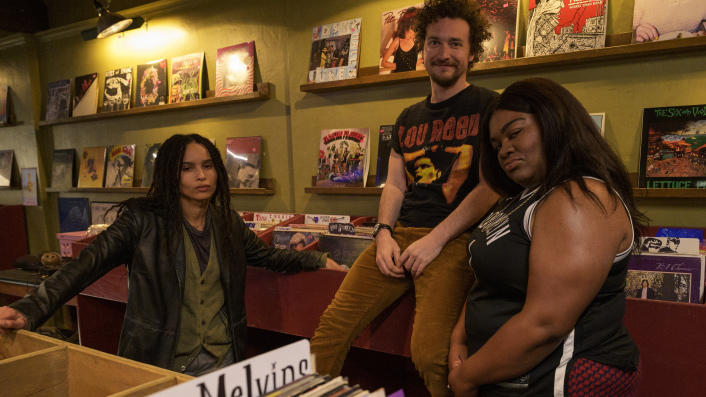 Relocating the action once again (the book was set in London and the movie in Chicago) Robin's Championship Records is set squarely in New York's rapidly gentrifying Brooklyn. Here, just like her predecessors, she and her two employees and best friends Simon (David H. Holmes) and Cherise (Da'Vine Joy Randolph), shoot the breeze, scare off customers and make endless top five lists about anything and everything—especially the music that they obsess over.
When we first meet her, Rob is at a romantic crossroads. Reeling from the breakup of her engagement to dapper British dude Mac (Kingsley Ben-Adir), she is stuck in a pattern of stewing over former flames, obsessing over the reasons her relationships ended.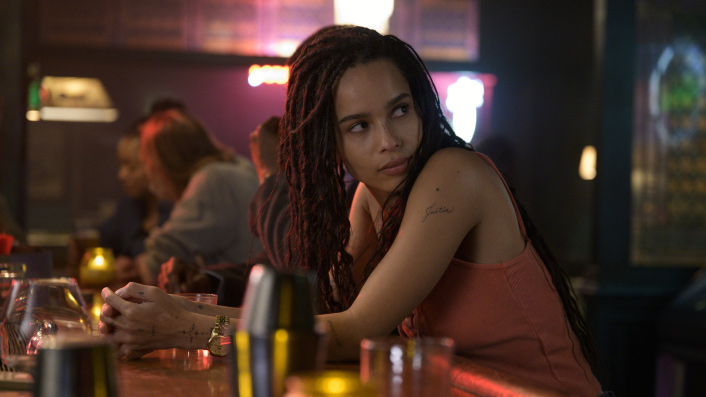 This state of affairs doesn't exactly improve when Mac returns from London with a new bird on his arm. Meanwhile, a sweet but safe new boy Clyde (Jake Lacey) appears on the scene, and Rob decides to interrogate her romantic past with True Detective-esque scrutiny. Soon enough she's in a will-they-won't-they tangle with numerous dudes and desperately trying to avoid the same fate as the chain-smoking spinster neighbour she increasingly sees herself resembling.
With the bare bones of the story more or less the same as Hornby's original novel, and the narrative itself not exactly new for the genre, why is High Fidelity such a breath of fresh air in 2020? Funnily enough, it's because of yet another thing that this adaptation keeps the same: That Rob, as much as she tries not to be, is a bit of an asshole.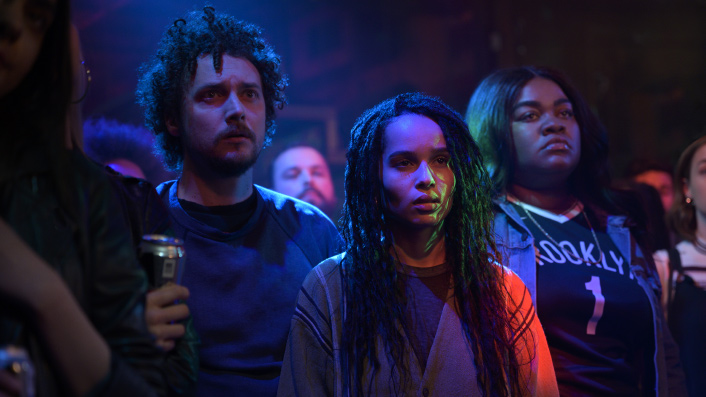 That High Fidelity has not tried to clean up Rob's messiness, is perhaps its masterstroke. She's messy; she's infuriating; she makes the worst decisions imaginable and is somehow always surprised by the catastrophic consequences.
This is not to say Rob isn't sympathetic—but she's certainly not your typical falls-down-all-the-time busy career woman rom-com heroine. In fact, she's more of an anti-heroine: and just like Rob's before her, her problems stem almost entirely from being snobby, self-centered, and too cool for her own good.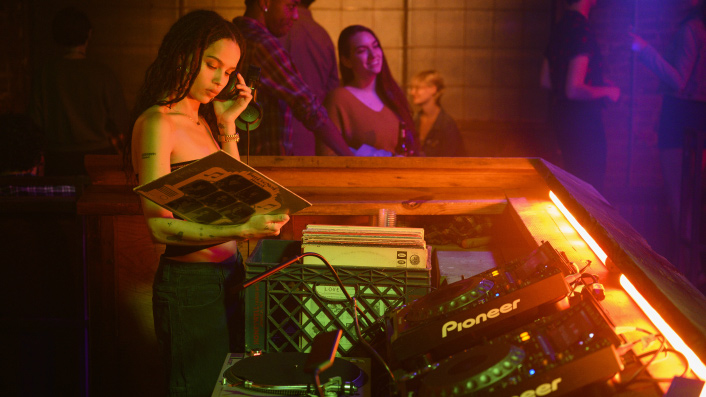 The path of self-discovery Rob must follow may be obvious, but it's how High Fidelity gets there that makes it such a pleasure. With a killer soundtrack (I mean, you would hope so) that not only cements Rob's musical prowess but actually helps to tell her story, her obsession with music—and the memories that it evokes—forms a simple but canny metaphor for her predicament. Robyn treats her relationship history the way she does her beloved record collection: replaying it over and over, every repetition making it harder and harder for her to move on—both from the relationship and the person she thought she was when she was in it.
In a funny way, this is also where High Fidelity is most modern: in a time where change is constant, taste is political and nostalgia is perhaps more intense than ever before, Rob's preoccupation with curating her own life—rather than living it—feels just as pertinent as it did 25 years ago.
But it's not all doom and gloom. Far from it. Cool but not too cool, fun, fizzy and effervescent, full of lovely boys and just radiating with affection for its characters, High Fidelity is a rom-com lover's rom-com—and the perfect watch if you're just a little bit sick of everything sucking so damn much.