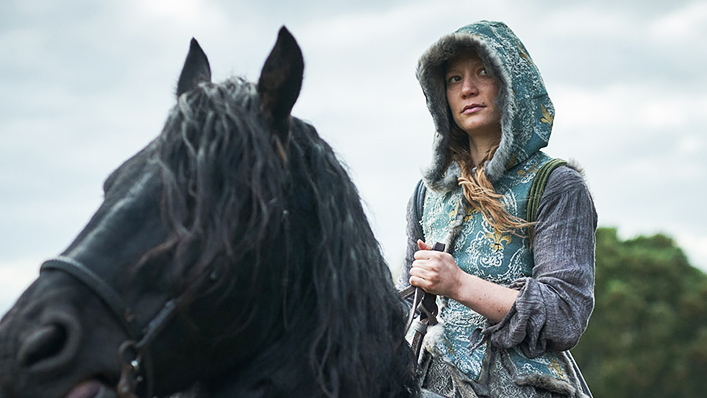 From demons to fever dreams: dark fairy tales that made truly twisted films

---
Vampires, mad scientists, grotesque monsters and old men who collect children's tears – ah, yes, the genre of dark fairy tale movies. Critic Travis Johnson looks at some of cinema's most twisted tales.

Mirrah Foulkes' Judy & Punch (now in cinemas) is a dark, feminist reworking of Punch and Judy. Mia Wasikowska (Alice in Wonderland, Crimson Peak, and a whole bunch of similar fare) and Damon Herriman (Once Upon a Time in Hollywood, Mindhunter, and some films where he didn't play Charlie Manson) head up a dark, bloody and unabashedly feminist take on the venerable puppet play.
There's form for this sort of thing, of course. Dark threads run deep through a surprising number of children's stories and fairy tales, which were by and large morality plays from an earlier time when death (and dismemberment, and rape, and…) were a much more regular occurrence than today.
Here, then, are some of cinema's finest dark fables for your delectation.
Sign up for Flicks updates
Adapted from Angela Carter's landmark volume of transgressive literary folklore, The Bloody Chamber, The Company of Wolves is Interview with the Vampire director Neil Jordan's postmodern take on Red riding Hood, here a kaleidoscopic, erotic, blood-drenched nightmare of werewolves and burgeoning female sexuality.
Taken as a straight-forward narrative, it's bonkers – but as an impressionistic nightmare of repressed desires, it's the business. Angela Lansbury turns up as wise Granny, warning young Rosaleen (Sarah Patterson) to beware of men whose brows meet in the middle, while Terrence Stamp pulls devil duties as a Satan who rides in a white Rolls Royce. Jordan regular Stephen Rea is one of several strikingly realised wolf-people in this fascinating and provocative fever dream of a film.
Master visual stylist Ridley Scott takes a painterly approach to this fairytale pastiche that simply drips with striking imagery, largely courtesy of makeup miracle worker Rob Bottin (The Thing, The Howling). He does some astounding work here, especially when it comes to Darkness (Tim Curry), the most spectacular demon ever realised on film.
The plot hinges on an attempt to plunge the world into endless winter by killing the last unicorn, which forest foundling Jack (baby Tom Cruise) and his woodland fairy pals must thwart. But the real meat of the matter is lusty Darkness's seduction of Princess Lili (Mia Sara), a narrative thread that puts the sexual subtext front and centre to an often discomfiting degree.
Future teen witch Faruiza Balk takes up the role of Dorothy Gale in acclaimed editor Walter Murch's sole directorial effort, a sequel of sorts to the beloved 1939 film The Wizard of Oz. How dark could that be? Plenty, starting with Dorothy being packed off to the nuthatch because she won't stop talking about her first alleged trip to the fantastical land of Oz, and the strong implication that her next trip is hallucination brought on by electro-shock therapy.
Murch's Oz is a much more unsettling realm. Little Dorothy has to contend with bio-mechanical "wheelers" who have wheels instead of hands and feet, a mad princess who collects severed heads, and the utterly inhuman Nome King (Nicol Williams of Excalibur fame) who is basically a landslide come to life. Forget the Wicked Witch of the West – Murch's Oz is a land of nightmares.
French fantasists Jean-Pierre Jeunet and Marc Caro (Delicatessen) deliver their finest work with this fog-bound original, which sees an eerie seaside city plagued by a weird cult that is abducting children. Could it have anything to do with the mad scientist (Daniel Emilfork)?
Streetwise orphan Miette (Judith Vitett) and kind-hearted circus strongman One (Ron Perlman in one of his best roles) are on the case. Endlessly inventive and delightfully off-kilter, The City of Lost Children is probably the most kid-friendly film on the list – and it's still a bizarre steampunk dreamscape populated by grotesques and monsters.
Wouldn't Snow White make a dandy gothic horror? That's the thinking behind this now-obscure oddity, which reconfigures the classic fairytale into something much more malevolent.
The great Sigourney Weaver disappears under layers of latex to play the evil stepmother who plans to knock off innocent Lilli (Freddy Vs Jason's Monica Keena) to cement her hold on her kindly father (Sam Neill). Murder, magic and madness ensue. It's all more than a bit overwrought and histrionic, but that's all part of the film's grand guignol charm.
Czech filmmaker Jan Švankmajer could populate this entire list all by himself, the weird old bastard. But if you're going to look at just one of his films, make it this one (his 1988 Alice, based on Alice in Wonderland, is a close second). When a childless couple begin treating a tree stump dug from their garden like a real baby, the gnarled and twisted thing comes to life, bringing with it a seemingly insatiable appetite.
Feeding the golem-like sprog eventually entails sacrificing the family cat and, inevitably, humans end up on the menu. Gruesome and whimsical in equal measure, Little Otik (AKA Greedy Guts) situates its horror in the mother-child relationship, with fascinating, unsettling results.
Hit and miss director Tarsem Singh delivers his best work with this years-in-the-making passion project, which puts the auteur's striking eye to work on the tale of a hospitalized early Hollywood stuntman (Lee Pace) who spins fantastical tales of adventure and magic for a little girl (Catinca Untaru) who is recovering from a broken arm.
Ostensibly he's just keeping her entertained; in reality, unable to face the possibility of paralysis, he's using his stories to convince her to sneak him enough morphine to kill himself. Sometimes the allegories in play are just a bit too heavy-handed, but the sheer visual brio on display has rarely been bettered.
Master fantasist Guillermo del Toro returns to the Spanish Civil War after his earlier The Devil's Backbone to tell the tale of brave Ofelia (Ivana Baquero), who seeks to escape from her unbearable real life (her mother has married a brutal Fascist officer) by solving the challenges set by the titular Faun (professional skinny guy Doug Jones) who dwells in the forest near her home.
If successful, she'll transcend into a hidden magical realm; if not, she will die. Or perhaps both. Del Toro drenches his eerie fable in layer upon layer of Symbolist meaning, with every frame packed with portent and occult significance. The Mexican director was later loaded with Oscars for fishman fantasy The Shape of Water, but this is his masterpiece.
This multinational co-production brings sumptuous style and artistic carnality to fairyland, depicting three interlinked tales of love, loss, lust, greed, deception, despair – the works. Salma Hayek, Vincent Cassel, Toby Jones, and John C. Reilly are the monarchs of three fictional fantasy kingdoms whose earthly desires lead them each to learn some harsh lessons.
Italian director Matteo Garrone's ambitious triptych doesn't quite come together in the final analysis, but any film that includes a scene of Salma Hayek greedily devouring a sea-dragon's heart is worth a watch.
The Little Mermaid goes disco in this Polish curio that sees two sea-dwelling sisters (Marta Mazurek and Michalina Olszańska) emerge from the ocean and get jobs as nightclub singers and dancers – as you do.
As is the way of these things, sexual desire and unearthly cannibalism soon get into the mix, with one sister developing a thirst for blood while the other contemplates sacrificing her tail and her singing voice for the love of a bass player (bad call all 'round, really). An '80s-set electro-disco fairytale which mixes mermaid lore and vampire legend to singular effect, The Lure is a true one-off.