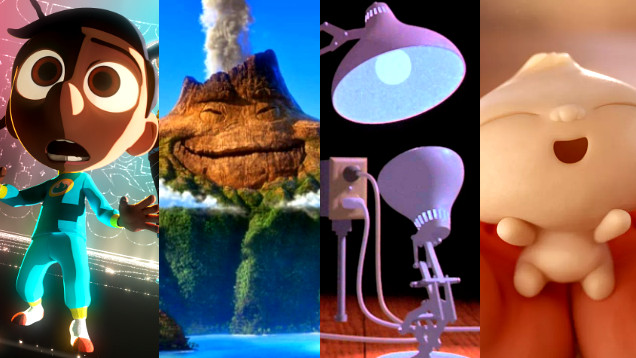 Every Pixar short film, ranked from worst to best

---
When Pixar's Coco reached cinemas late in 2017, it gifted audiences with another of the studio's typically engaging animated treats — but, for the first few weeks of the movie's release, it also gave viewers a shock. In a departure from the studio's usual routine, the movie wasn't accompanied by an original Pixar short film. Instead, patrons were greeted by a 21-minute Frozen effort called Olaf's Frozen Adventure.
After complaints about its length, the Frozen featurette was dropped from sessions; however Coco remains one of only two Pixar features to screen without one of the company's shorts. The first was Toy Story back in 1995, with every account of kindly monsters, lonely robots and empathetic emotions since including a bonus dose of the studio's computer-animated mini-movies — not only asking "what if bugs, fish, cars, rats and dinosaurs had feelings?" across its features, but pondering unicycles, birds, aliens, snow globes, umbrellas and volcanic islands in smaller packages as well.
Sign up for Flicks updates
With Incredibles 2 soaring into cinemas, Pixar's shorts are back. Telling the tale of a Chinese-Canadian woman and the homemade dumpling that becomes her surrogate son, Bao marks the company's 20th original short and its first directed by a woman. But where does this moving ode to maternal love rank among the studio's full slate of pint-sized efforts? Here they all are, ranked from worst to best.
20. Boundin'
A rare Pixar short that features vocals — as descriptive lyrics to the film's central song, rather than as traditional dialogue or narration — Boundin' isn't subtle about its message of self-acceptance. It wouldn't work without the hoedown-style music, but this dancing sheep flick doesn't possess much of the studio's usual magic, in a short better suited for younger viewers.
19. For the Birds
Cute and concise, For the Birds is as bouncy as its titular flock of feathered friends. Paired with Monsters, Inc back in 2001, it's also oh-so-slight, even given its three-minute running time. Small birds sit on a wire, a bigger bird tries to join them, rivalry ensues and gravity intervenes. That's all there is to it, in a short that raises a smile but proves instantly forgettable afterwards.
18. The Adventures of André & Wally B.
Pixar's first short isn't even badged as a Pixar short, with The Adventures of André & Wally B. bearing Lucasfilm's name among its opening credits. While the short's visuals were considered groundbreaking at the time — indeed, it's easy to forget how revolutionary CGI was back in 1984 — this battle between a wasp and a cone-shaped character is as thin, narratively, as it gets. The company's offbeat sense of humour is evident, however.
17. Geri's Game
The first Pixar short created specifically to screen with one of the studio's features — 1997's A Bug's Life — Geri's Game charts a chess game played by an old man against himself. It's easy to see shades of Up in the company's first real attempt to depict an adult human character in any depth, and the simple yet effective effort proves a visual feat, particularly for its time. Still, with little in the way of story, this Oscar winner is slender otherwise.
16. Partly Cloudy
Where Up contemplates life's ups and downs, Partly Cloudy, the short that screened with it, embraces its beginnings — as a starting point, at least. In this visually and emotionally fluffy short, storks deliver both human and animal babies, obtaining their cargo from the clouds. One specific stork has a tougher job than most, however, with its assigned cloud whipping up spiky, electrified and other dangerous creatures. The result is an affectionate tale about working together that almost overstays its welcome, but serves up an especially rousing finish.
15. One Man Band
Not one but two Pixar shorts feature a one man band interacting with a boy, although One Man Band's eponymous figure is flesh-and-blood rather than made of tin. This time around, a musician busks, a kid plays havoc and the whole thing comes together courtesy of an upbeat score, as composed by Pixar favourite — and Up Oscar winner — Michael Giacchino.
14. Lou
Lou isn't a Toy Story film, but it'll instantly make you think of Pixar's famous trilogy. Throwing together a pile of playthings, it turns the resulting heap — rather than the individual items themselves — into a sentient creature. Called Lou, the critter is comprised of everything sitting in a school's lost and found box, although he'd rather see the various items returned to their owners. Nominated for an Oscar like many of Pixar's shorts, it's cute and comes with an important message about bullying, but hardly ranks among the studio's best bite-sized efforts.
13. Lava
In Pixar's most polarising film, short or otherwise, Lava's entire seven-minute running time is centred around a sweet and catchy love song. To the strains of a melodic ukulele tune, James Ford Murphy's short charts the relationship between two volcanic islands sitting in the middle of the Pacific Ocean. Tugging on the heartstrings, it's a thematically fitting accompaniment to Inside Out with eye-catching visuals to match, albeit a film that's on the heavy-handed side.
12. Tin Toy
Pixar's fourth short, Tin Toy boasts two impressive claims to fame. It's the studio's first Oscar winner, taking home the Academy Award for best animated short in 1988 — and it's also one of the inspirations for Toy Story. It's easy to see how the latter evolved from this straightforward but entertaining effort, which is directed by outgoing company head John Lasseter. Here, a one-man-band toy called Tinny attempts to play with, escape the destructive clutches of and ultimately cheer up an eager baby named Billy.
11. Piper
Pixar's shorts are where the company tests new ground, and Piper pushes the boundaries more than most. Its narrative is rather routine, charting the attempts of a hatchling sandpiper to take to the air, but Alan Barillaro's lifelike animation style looks unlike anything else the studio has ever made. The Oscars were clearly impressed, with the film winning Pixar its first short trophy since the similarly avian-themed For the Birds.
10. Luxo Jr.
The film that didn't quite start it all, but now starts each of Pixar's films — in a fashion. In Luxo Jr., a large lamp watches on as a smaller lamp plays with a ball and hops up and down, giving rise to Pixar's now-famous pre-feature logo. As well as its cute recognition factor, the short was the first CGI-animated film to receive a nomination for an Academy Award.
9. Red's Dream
Do unicycles dream of juggling clowns? In this early Pixar short, they do. Imagining the internal longings of a one-wheeled cycle left unsold in a bicycle shop, Red's Dream is among the company's bleaker efforts, but its mood of melancholy lures you in — as does its central anthropomorphised character, which hops up and down with earnest emotion.
8. Knick Knack
Pixar's last short before the company started making features — in fact, it wouldn't make another abbreviated effort for eight years after this 1989 effort — Knick Knack could also be called Shelf Story. A simple but engaging account of shelf ornaments coming to life, the film's primary charms stem from its sense of humour and its a cappella Bobby McFerrin soundtrack. Actually, if they'd named this little flick Don't Worry, Be Happy, it would've stressed the dark amusement lurking in this tale about a toy snowman trying to escape his snow globe.
7. La Luna
La Luna looks fantastic, with its twinkling night sky reminiscent of Vincent Van Gogh's The Starry Night and it's wide-eyed child protagonist recalling the work of Studio Ghibli. And that's almost enough, given how light the story proves. Here, a young Italian boy goes sailing with his father and grandfather, before scaling a ladder up to the moon's surface and going about the trio's nightly work of clearing fallen stars.
6. Lifted
In essence, Lifted is a workplace comedy about an employee trying to prove that he can do his job. The worker in question happens to be young alien Stu, and is in the middle of being tested on his abducting prowess. Trying to lift a man out of bed with a beam of light provides Stu with his biggest challenge, and the short with its main source of laughs. One of Pixar's more slapstick efforts, Lifted perfects its visual humour while also mining the stress that comes with taking on something new —mirroring the task faced by Oscar-winning Terminator 2: Judgment Day, Jurassic Park, Titanic and Saving Private Ryan sound designer turned first-time director Gary Rydstrom.
5. Bao
Giving folktale The Gingerbread Man a new twist, Domee Shi's short starts with a woman making dumplings, watches as one of her meat-filled parcels starts crying like a baby, then charts the bao boy's evolution from cute potential meal to curious kid to surly teenager. As adorable as it is heartfelt, the film offers a perceptive examination of the inescapable reality that nothing lasts forever, all within a relatable mother-son story. Plus, Shi's distinctive visuals are not only a delight to watch, but also representative of Bao's cultural grounding.
4. Sanjay's Super Team
An inescapably personal short from Sanjay Patel, Sanjay's Super Team takes inspiration from the writer/director's childhood. Before he worked his way through behind-the-scenes roles on Pixar's Monsters, Inc, The Incredibles and Ratatouille, he was a superhero-keen boy who grew up surrounded by his family's Hindu traditions, two worlds that mightn't seem to gel. In a tale of intergenerational acceptance, Patel's animated surrogate and his dad bond over their respective interests in an unexpected way. As always, Pixar's penchant for channelling genuine emotions shines bright in this warm-hearted effort.
3. Day & Night
The interplay of day and night has rarely been as engaging as in this memorable short, which casts its eponymous concepts as battling figures. When they first meet, one isn't fond of the other and vice versa, but they ultimately learn they're rather alike as the hours pass. Delving into humanity's engrained fear of difference, what initially sounds standard becomes a complex and creative vessel for a worthy message, complete with bold and inventive visuals. Both day and night bound across the screen as rounded characters set against a black background — with their insides depicting the various activities that take place during waking and sleeping hours.
2. Presto
In what might be Pixar's greatest double, the studio pulled two rabbits out of a hat with Presto and WALL-E. In Presto's case, actual rabbit Alec Azam does everything it can not to come out of a magician Presto DiGiotagione's top hat, in a delightfully slapstick piece of short filmmaking. The first directorial effort by long-time Pixar animator Doug Sweetland channels the spirit of everything from Charlie Chaplin to classic Tom and Jerry, while also offering an amusing and affectionate take on a cartoon staple. Just try to watch this pesky bunny wreaking havoc and try not to think about Bugs Bunny.
1. The Blue Umbrella
On a rainy day, a sea of black umbrellas floods the streets, sheltering those below from the wet weather. Amongst the crowd, a lone blue umbrella stands out — and, found on a street corner, a sole red umbrella as well. They represent rare bursts of brightness in a grey world, but the romance between these anthropomorphised objects has to overcome a few hurdles. Disarmingly tender in mood, and both energetic and expressive in its visuals, The Blue Umbrella embodies Pixar's short filmmaking at its most disarmingly moving. Jon Brion's score helps, of course.