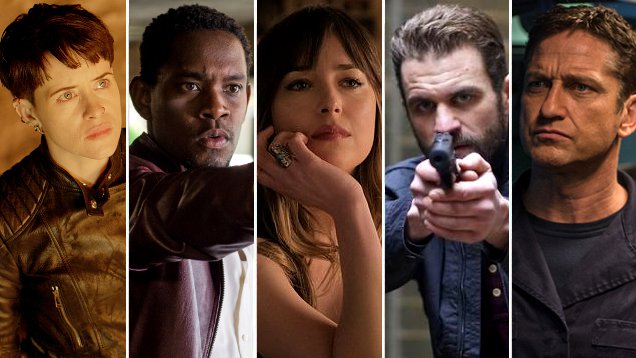 Eight action movies now on Google Play that you might have missed at the cinema

---
From Gerard Butler submarine movies to Idris Elba's directorial debut, the latest action releases keep the foot firmly on the throttle. You might have messed these films at the cinema – but that doesn't mean they aren't worth a look, writes Maria Lewis. 
In the age of tent pole cinema and big-budget blockbusters, it's not as easy to access mid-tier action movies as it used to be. Thankfully that's an abandoned market that home entertainment and digital platforms have been able to exploit with services like Google Play bridging the gap. This month there's a wide variety of action flicks sliding into your lounge cinema, as well as genre movies like Tragedy Girls, Mandy, Ghost Stories and Piercing that don't fit super comfortably into any pre-determined bracket.
Among the shoot 'em ups there's also high-stakes international actioners, female-led franchises, fight movies and real-life biopics with a twist to appeal a wide variety of tastes within the genre.
Not your obligatory fight movie, A Prayer Before Dawn is based on the true story of an English boxer played by Joe Cole (best known for Peaky Blinders and Green Room). Locked up in one of Thailand's most notorious prisons, he's forced to fight for his freedom in Muay Thai tournaments. Gritty and brutal, this is less The Fighter and more Brawl In Cell Block 99.
Now this action movie you definitely missed, because everyone missed it. At the start of 2018 Sony were touting the return of Lisbeth Salander as a big event, with The Crown's Claire Foy stepping into the leather combat boots for an action-thriller. By the time it came to release, the studio borked and the movie came and went quickly in cinemas.
Sign up for Flicks updates
Every American attempt at The Girl With The Dragon Tattoo series has had to overcome the insurmountable obstacle of matching – never exceeding – Noomi Rapace's iconic performance as Lisbeth. Like David Fincher, this version doesn't come close either but the work of director Fede Alvarez is always interesting (Don't Breathe, Evil Dead remake).
This is the kind of movie that was seemingly released every weekend in the early naughts: a high-stakes actioner with a massive ensemble cast playing it straight and just a tinge of ridiculousness. Think The Sum Of All Fears, Behind Enemy Lines and Along Came A Spider. Mid-tier actioners are always reliable for Friday night entertainment and if 'Gerard Butler submarine movie' doesn't sell you, then I'm not sure what will.
If you miss the days when you could watch Mel Gibson action movies without being reminded about sexism, racism or homophobia then hey! Watch an action movie with his son Milo instead! The plot is what you'd expect – a battle scarred tough guy (Gibson) gets roped into helping a shady government agency take down a British villain trying to buy a nuke – but it's simple and effective. The budget isn't amazing, but William Fichtner pops up and that's like a warm, comforting blanket in film's like these.
Part crime flick, part doco in a weird way, part action movie, part comedy, American Animals is very much the Frankenstein's Creature of several genres. It was also one of the most interesting flicks to come out in 2018. Based on the true story of one of the most ambitious – and dumb – heists in American history, it features a trio of young actors who are consistently making interesting choices: Barry Keoghan, Evan Peters and Blake Jenner.
Idris Elba's directorial debut is unlike anything else on this list. Borrowing a lot in style from Guy Ritchie's early crime capers but adding a whole lot of substance, it's based on Victor Headley's acclaimed novel about a young man trading the streets of Kingston, Jamaica for London. It balances on the knife's edge between crime drama and action thriller, somehow managing both due to some deft direction and accomplished performances.
An action movie only in the sense that the subject of this biopic's life was full of action, but those elements make In Like Flynn much more than your standard 'here's a retrospective on a Hollywood icon'. If you happened to see this in Australian theatres, you might be a wizard because it unfortunately barely breathed for a moment before hitting home entertainment. It follows the wild early days of Hollywood star Errol Flynn before he blew up on the international stage.
Again, not a straight up action in it purest form, but this Drew Goddard vehicle features some of the most striking action sequences from any movie released last year. A long, luscious mystery with a breakout performance from Cynthia Erivo, it also has a fascinating turn against type from Chris Hemsworth. Stylish and suspenseful, Dakota Johnson, Jon Hamm and Jeff Bridges also bring their A-game.