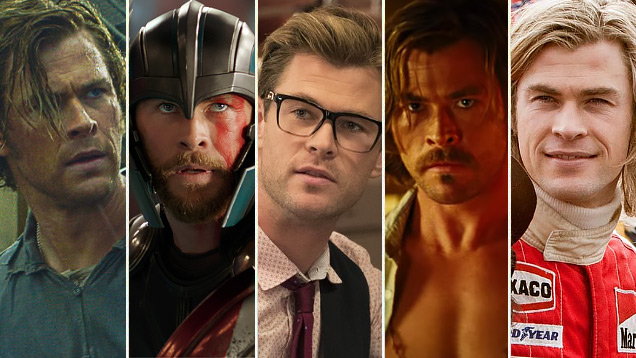 Chris Hemsworth's best roles, from Ragnarok to the El Royale

---
With Men in Black: International currently playing in cinemas, the time is ripe to look back at the stellar career of Australian Avenger Chris Hemsworth. Critic Travis Johnson picks the superstar's five greatest roles.

Chris Hemsworth made his cinematic debut as Captain George "Father of Jim" Kirk in 2009's Star Trek reboot, before rocketing to superstardom with his turn in 2011's Thor. Since then he's spread a wide net, trying his hand – rather successfully – at comedy, drama, horror, and all points in between. And while Hemsworth will always be Thor to us (which is certainly a better claim to fame than the 189 episodes of Home and Away he racked up before heading for Hollywood), the sheer range of his films means he'll be powering along well after the MCU runs out of gas.
The Movie: Taika Waititi injects plenty of humour and a sense of cosmic wonder into the Thor sub-franchise, pitting the God of Thunder against Cate Blanchett's Hela and Jeff Goldblum's Grandmaster, with Tessa Thompson's Valkyrie and Mark Ruffalo's Hulk along for the ride.
The Man: While the first two Thor flicks weren't bereft of humour, they were a little too self-serious. Waititi wisely lets Hemsworth flex his comedy pecs in the third outing. And while the action spectacle impresses, it's Thor's banter with the Hulk that stands out. There's pathos here too, as Thor must grapple with a newly-discovered legacy of genocide and colonialism, ultimately finding himself the reluctant leader of a refugee nation. Striking the balance between the two, Hemsworth delivers a top-notch performance.
The Movie: Ron Howard's '70s-set racing drama details the rivalry and friendship between British Formula One driver James Hunt (Hemsworth) and Austrian Niki Lauda (Daniel Brühl).
The Man: Hemsworth brings his considerable swagger and charm to the role of Hunt, a hard-partying star of the racing circuit whose lifestyle of excess eventually dropped him with a massive heart attack at the age of 45. Hemsworth brings Hunt to vibrant life, but you can sense the tragedy waiting for him in his future, even as he barrels heedlessly towards his destiny.
The Movie: A loose remake of the beloved '84 comedy, this time with Melissa McCarthy, Kristen Wiig, Kate McKinnon, and Leslie Jones as the quartet of supernatural investigators. The internet did not exactly cover itself in glory that day, my friends…
Sign up for Flicks updates
The Man: If you ever need a practical demonstration of Hemsworth's comedy chops, direct your attention to his turn here. As receptionist Kevin Beckman, he flips the script by giving us a male dumb blonde, a himbo so dim that he's taken the lenses out of his glasses to stop them getting dirty. He has a dog called "Mike Hat", a joke that in other hands would fall flat, but here is roaringly funny. Nothing fazes him, or even penetrates his constant aura of good-natured puzzlement at the ways of the world. It's just a stunning bit of business.
The Movie: A disparate group of desperadoes all congregate at the titular motel. Secrets are revealed, crosses are doubled, and a lot of blood is spilled over the course of one very weird night in Dre Goddard's deft neo-noir.
The Man: Hemsworth is Billy Lee, a seductively charismatic cult leader chasing after a runaway acolyte. Picture a cross between Jim Morrison and Charles Manson and you're on the right track. This is a rare villainous role for our guy, and he seizes the opportunity with both hands, oozing dangerous sexuality and predatory guile as he alternately charms, threatens and occasionally murders anyone who gets between him and his prey. This is also the most shirtless he's been since his Home and Away heyday, so if that's your thing…
The Movie: Hemsworth reteams with Rush director Ron Howard for this stirring historical epic, which tells the true story of the whaling ship Essex, whose foundering by an angry sperm whale was the inspiration behind Herman Melville's Moby Dick.
The Man: Can we just say that Hemsworth is pretty much custom built for stirring historical epics? As First Mate Owen Chase, who is forced to take up the reins of leadership after nominal captain George Pollard (Benjamin Walker) proves a dud, he's every inch the capable, square-jawed hero. Having said that, it's further down the track, as starvation sets in and the spectre of cannibalism rears its head, that Hemsworth really proves himself as an actor here, as his noble and dutiful sailor is forced to contemplate the unthinkable for the sake of his crew.