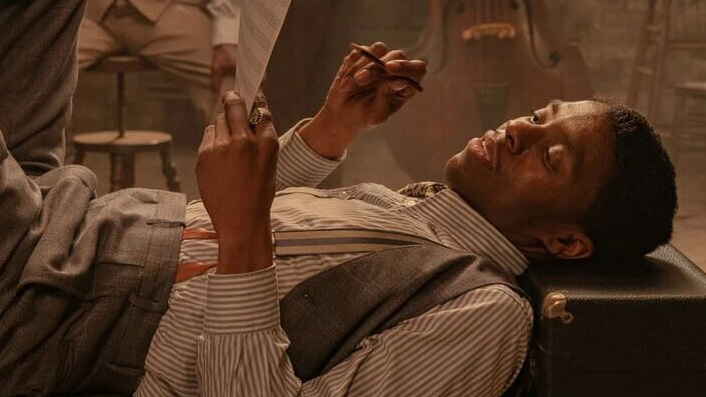 Chadwick Boseman's swansong is the final act in a career distinguished by charisma and talent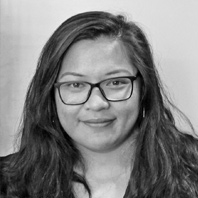 ---
The late Chadwick Boseman's swansong film Ma Rainey's Black Bottom is the final act in a career distinguished by elegance, charisma and pure raw talent. His performance leaves you mourning not just the end of the film but Boseman himself, writes Laumata Lauano.

It all takes place in a day, as the slice-of-life Netflix film Ma Rainey's Black Bottom sees five blues musicians come together to record some songs in 1927 Chicago. But beyond this are deeper themes of social injustice that still echo in society to this day—almost one hundred years later—as the film is symbolic of the Black American experience in the early 20th century. Boseman plays Levee alongside Viola Davis' titular real-life blues singer Ma Rainey, based on the play of the same name by August Wilson.
See also:
* The 10 best Netflix Original Movies from 2020
* All new movies & series on Netflix Australia
* All new streaming movies & series
I can't say the story progression works very well in the film, in that you still feel like you're watching a play, just recorded. However Wilson is arguably one of the greatest American playwrights of the last century, so there's no surprise that the text (adapted by Ruben Santiago-Hudson) really draws the audience into each moment.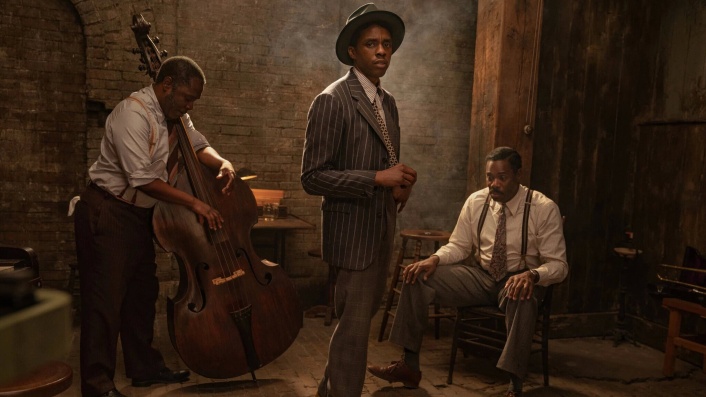 The film's exploration of power imbalance will give you goosebumps

The film takes place almost exclusively in the recording studio, and the plot is therefore relatively simple: the characters need to finish recording the songs despite multiple mishaps. It means that the film is largely a character study in which Wilson—and for the film, director George C. Wolfe—explores blackness in America following a large migration of black people from the south to northern America as shown through Ma Rainey's movements.
During the scene in which Ma Rainey talks about power, or the scene where Levee talks about what happened to his mother, Davis and Boseman articulate the strife and power imbalance in a way that erupts your skin into goosebumps.
Ma Rainey's behaviour from the very beginning is purposefully poised to derail the recording session completely at any moment. But, as we learn after Ma Rainey refuses to begin recording until she has some ice-cold coca-cola, her irritable persona and uncompromising behaviour aren't just diva antics, but the only way she is able to wield and exert power in a world that has worked against her and her colour since before she was born.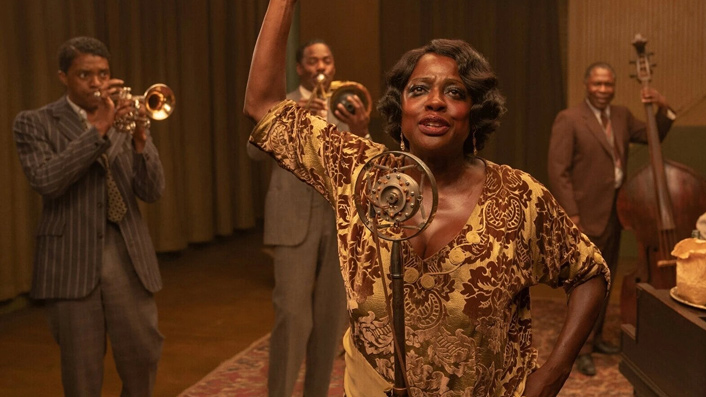 'It's be an empty world without the Blues'
As she puts it, her manager Irvin (Jeremy Shamos) and the record's producer Sturdyvant (Johnny Coyne) may be angry at her antics, but they have to comply to get what they want—and she's going to make sure she doesn't get screwed over in the process, as the Blues isn't just where she gets her power but also what keeps her going.
"It's be an empty world without the Blues."
This is echoed by Levee but also subverted through his arrogance as he stands to undermine Ma's authority in almost every scene. After playing mother and son in 2014's James Brown biopic Get On Up, the duo are in more adversarial roles here in Ma Rainey, which Davis described in the Los Angeles Times as a "fitting denouement" to Boseman's cinematic legacy.
"Levee is probably one of the greatest, if not the greatest role for an African American man, ever, because it absolutely encapsulates them – their pain, their vision, their dreams, their talent," she says, observing the rare virtuosity such a character allows Black actors to explore and which Boseman does so brilliantly.
"It's like someone who has a great figure who has to wear a burlap sack; this is an artist being fitted with an August Wilson garment that couldn't have been more perfect. And he wore it beautifully. He just played the role beautifully."
Boseman brought depth and empathy to all his characters

Before his lead role in Black Panther, Chadwick Boseman—who died of colon cancer at the age of 43—graduated from Howard University, wrote plays, acted and directed in theatre, and had small roles in television.
Boseman brought depth and empathy to each character he played, never mind what was going on in his private life as we learned that during the greatest heights of his ground-breaking career, Boseman was secretly struggling with his deteriorating health.
A tribute from Black Panther co-star Lupita Nyong'o gave us a glimpse into just what it was that made Boseman someone people looked up to and loved not just from the outside as fans so often are but within his circle of colleagues and those who were so lucky to have worked with him.
"You got the sense that he was fully present and also somehow fully aware of things in the distant future," she wrote. "He was absorbent. Agile. He set the bar high by working with a generosity of spirit, creating an ego-free environment by sheer example, and he always had a warm gaze and a strong embrace to share."
The bar soared with his performance of Levee in Ma Rainey's Black Bottom. The way Boseman plays the young musician's ambitious approach to music and life and portrays the sheer emotional depth of his experience as Levee is nothing short of riveting.
In a six minute speech at one point in the film, Levee interrupts a series of lighthearted jabs and grows serious. He goes on to relate the story of his mother's rape at the hands of a group of white men when he was just 8 years old, and his father's subsequent quest for vengeance. Boseman's artistry is at its peak during the monologue.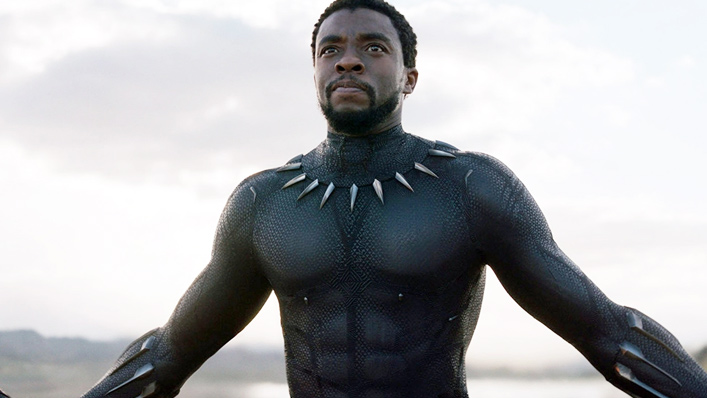 Boseman had been secretly battling cancer for years
Levee is "starting the story from a place of defiance, and then moving to a place of extraordinary intimacy and unbelievable frailty, compared to the laughter and buoyancy that was just in that room," says Wolfe. "It is a monster of a monologue. My main job was creating a space that would be so safe as to allow Chad to go to his most vulnerable, unguarded place that he possibly could, so there would be nothing to stand between him and the depth of his own emotional skills."
You watch his performance in Ma Rainey's Black Bottom knowing that during this time he had secretly been battling cancer for four years—finally being overtaken by it following the filming of this very film at the age of 43, in his Los Angeles home surrounded by his wife and family.
The statement released by his team informed us all that not only did Boseman have stage II colon cancer since 2016 but in between all his starring roles, he had played the very real role of hospital patient as it progressed.
"A true fighter, Chadwick persevered through it all, and brought you many of the films you have come to love so much from Marshall to Da 5 Bloods, August Wilson's Ma Rainey's Black Bottom and several more, all were filmed during and between countless surgeries and chemotherapy."
The end of the film leaves you bereft—not due to the impact of an explosive moment of rage, but of knowing that this is the last time you ever get to see Boseman flex his amazing acting skills in a new film. Ma Rainey's Black Bottom leaves you mourning tragedies both on- and off-screen.