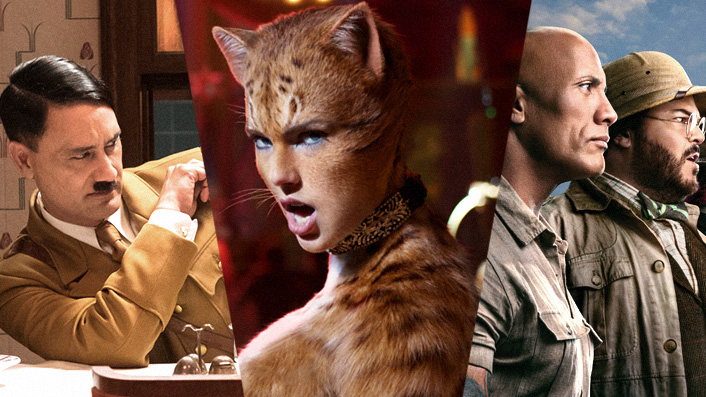 Boxing Day movie guide: the best, worst and everything in between

---
Boxing Day is one of the biggest days for movie releases on the calendar. Find the best and worst in this guide from critic Sarah Ward.

Christmas is over – so it's time to head to the cinema. In 2019, six Boxing Day new releases compete for Australian eyeballs – plus one huge movie that released a week prior, but will still be attracting viewers to a galaxy far, far away for some time to come.
Which one should you devote a few hours of your holidays to? Which movies will do more than just get you out of the heat and into a darkened, air-conditioned room for a few hours? Which film will probably give you nightmares?
Here are the best and worst options in our Boxing Day viewing guide (see all movies playing in cinemas).
Sign up for Flicks updates
Portrait of a Lady on Fire, Celine Sciamma's achingly beautiful period-set romance, achieves more in its many silent frames than most films dream of. In fact, it achieves more when it's simply watching painter Marianne (Noémie Merlant) as she herself watches her portraiture subject, the reluctantly betrothed Héloïse (Adèle Haenel) – and, in similarly quiet, contemplative moments, when Marianne also contemplates how she's committing Héloïse's likeness to canvas.
The two women cross paths when Marianne is hired to paint Héloïse, who otherwise refuses to sit. The former is introduced as a temporary companion for the latter, but something more than friendship blazes. Sciamma crafts a film both slow-burning and alight with emotion. Always a talented visual storyteller, the French filmmaker is  at her best when she's finding ravishing aesthetic as well as emotional heat in this desire-soaked love story.
After winning the 2018 Palme d'Or for Shoplifters, Hirokazu Kore-eda does and doesn't return to what he knows. The Truth focuses on a family struggling with both substantial and everyday woes. But, in his first movie made outside of his homeland of Japan, the film is set in Paris – with a pitch-perfect Catherine Deneuve as a famed actor, Juliette Binoche as her unhappy screenwriter daughter, and Ethan Hawke as the latter's husband.
Even working in a language he doesn't himself speak, Kore-eda is a master at mining the revealing reactions between close-knit groups – the kinds of intricacies and intimacies that can only spring between bonds of blood and love. The Truth may seem minor compared to Shoplifters' potency, but it's another fine addition to his resume, smartly and astutely pondering its titular concept in a plethora of ways.
Ken Loach is another filmmaker who, post-Palme d'Or win (for 2016's I, Daniel Blake), returns to familiar territory – although more forcefully than Kore-eda. After tearing strips off the UK's uncaring governmental bureaucracy and its treatment of those in need, the veteran British filmmaker turns his attention to the gig economy. Accordingly, Sorry We Missed You directs Loach's impassioned cry against behaviour that's become normalised in today's society against another bleak facet of modern life.
At the movie's centre sits ex-construction worker Ricky Turner (Kris Hitchen) and his wife Abbie (Debbie Honeywood). When Ricky loses his job after the 2008 global financial crisis, as well as the family's chance to buy a house, debts start mounting – and selling Abbie's car, buying a van and becoming a contractor for a courier company is the only option. The grim realities that follow are both heartbreaking and all-too-relatable, as interrogated with Loach's trademark naturalism and empathy.
Taika Waititi's "anti-hate satire" Jojo Rabbit is sincere, silly, ambitious and sometimes awkward. Endeavouring to lay bare the preposterousness of hate-filled ideology and indoctrination, the film is well-intentioned, and filled with both heart and humour. It flits between thin sketch comedy, purposefully parodying but also accidentally humanising Nazis, and thoughtfully exploring the forbidden friendship between its eponymous 10-year-old (Roman Griffin Davis) and the Jewish teen, Elsa (Thomasin McKenzie), hidden in his attic.
The film's highlights primarily stem not from its comical tone, or even from Waititi's on-screen turn as Hitler (making a statement by lampooning and playing the Third Reich leader as a person of colour), but rather from its three central performances. Davis and the always-impressive McKenzie etch out a genuine rapport, while Scarlett Johansson is spirited as Jojo's determined resistance-fighter mother.
Framed as the final word on Star Wars' nine-film Skywalker saga, Star Wars: Episode IX — The Rise of Skywalker is both free of surprises and entertaining in an undemanding way. In other words it's worlds away from Episode VIII  The Last Jedi, and feels like a calculated course correction after that bold instalment. Given that JJ Abrams shaped The Force Awakens into a nostalgic, engaging continuation via stealth remake, it's also just the kind of concluding chapter that the returning writer/director was always going to serve up.
While neat, exposition-heavy, plotted just like the galaxy's worst droid (C-3PO) might predict, and guilty of rushing between subplots, The Rise of Skywalker still takes viewers along for a planet-hopping ride. When it works, it works at the space opera saga's usual level. The Rise of Skywalker is also strongest when focusing on its two core characters (Daisy Ridley's Rey and Adam Driver's Kylo Ren), including in a striking ocean-set action scene, rather than when it's grinningly sticking to a very visible and obvious blueprint.
Somewhat surprisingly, 2017's Jumanji: Welcome to the Jungle managed to convincingly revive the Jumanji franchise and update it for the 21st century. A video game replaced the original's board game, naturally. Dwayne Johnson oozed charm as the smouldering in-game hero, while Jack Black proved unexpectedly talented at acting as though he's a teenage girl trapped in a middle-aged man's avatar.
Alas, Jumanji: The Next Level does what too many formulaic sequels do: repeats the same concept, shakes up the template to the bare minimum, and expects that lightning will strike twice. When Spencer (Alex Wolff) and his college-aged friends are sucked back into Jumanji, The Next Level goes through the motions, just with the addition of a few new players. This time, Johnson has to act like Danny DeVito, for example. That, as well as the movie's by-the-numbers feel, gets old quickly.
So beloved for almost four decades that it ranks among Broadway and the West End's longest-running musicals, Cats has finally scampered its way to the big screen. What already seemed silly on stage proves downright ludicrous and bewildering in cinemas. While Tom Hooper had better luck with Les Miserables, he flounders in making this theatre-to-film adaptation engaging, entertaining or anything other than grating.
That leaves a star-studded cast that includes Idris Elba, Judi Dench, Ian McKellen, Jennifer Hudson, James Corden and Rebel Wilson to say the word "Jellicle" much too much, and strut around looking like weird human-cat hybrids, with Cats' unsettling visual effects just one of its many troubles. A better option? Stream the Cats-themed segments of Unbreakable Kimmy Schmidt, which wholeheartedly realises how ridiculous Cats is.