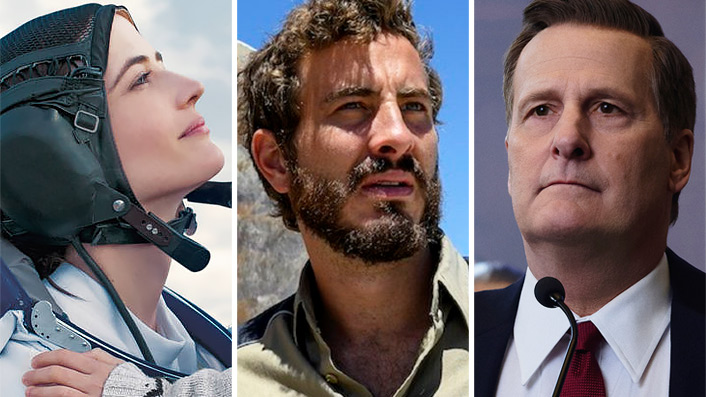 Best new movies and TV series on Stan: September 2020

---
Each month, lots of new films and TV shows are added to Stan's library. Critic Craig Mathieson surveys each month's selections and picks for titles mostworth watching. For the full list of everything arriving on the platform, scroll down.
Top Picks: TV
Enlightening and excruciating in equal measure, PEN15 puts a new spin on the American coming of age comedy by having creators Maya Erskine and Anna Kronkle, who are in their early thirties, play 13-year-olds Maya and Anna, who experience the full whiplash of high school cruelty, opportunity, and discovery in the year 2000.
Sign up for Flicks updates
In the show's acclaimed first season the conceit was revelatory. Playing up the traumatic changes of adolescence with slouchy pettiness and hormonal angst, with two adults as actors, was both horrifyingly funny and a reminder of how those formative years linger. Be warned: the new season features both a pool party and Anna's parents heading for a separation.
Focusing on the strange intimacy and heightened risk of a country divided into rival halves, the Deutschland series (the others are Deutschland 83 and Deutschland 86) has charted the Cold War infiltration of capitalist West Germany by communist East Germany's Stasi spy agency. It unfolds from the perspective of a young East German border guard, Martin Rauch (Jonas Nay), recruited to impersonate a military aide in West German army as tensions ratchet up in the 1980s.
After previous seasons set in 1983 and 1986, the new 1989 setting allows for the fall of the Berlin Wall and the collapse of East Germany, an inexplicable shift for its spies. The subtitled subterfuge is a study of motivation and betrayal, with historic currents that still resonate.
I think we can all name one current President of the United States who'll be watching this. In an adaptation of his book about professional ethics and his fractious relationship with newly elected U.S. President Donald Trump, Jeff Daniels plays former FBI Director James Comey, who from 2017 found himself dealing with an elected leader who had little time for the conventions that marked the White House's relationship with law enforcement.
Never less than dependable and often inspired, the Irish actor Brendan Gleeson (In Bruges, Calvary) plays Trump in what will a hugely scrutinised drama debuting five weeks before America's next Presidential election. The depiction of dozens of familiar Washington D.C. names is in first-rate hands: writer/director Billy Ray's many credits include Shattered Glass, Captain Phillips and Richard Jewell.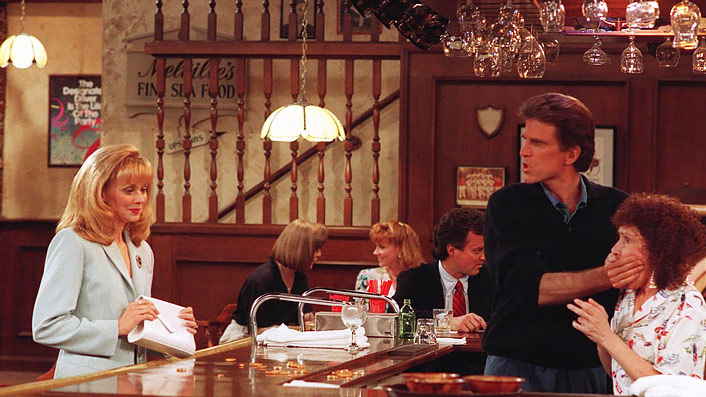 Cheers seasons one to eleven (September 4)
Beloved American sitcoms have become a cornerstone of streaming service programming, as the rights to the likes of The Office and Friends have sold for vast sums. That meant it was only a matter of time until Cheers returned to prominence.
Set in a Boston bar and shot on a Hollywood soundstage, the half hour comedy was a ratings disaster upon debut in 1982 but steadily flourished to become a national touchstone by its 1993 finale. The fulcrum is Ted Danson's lothario barkeep, with the supporting cast of Shelley Long and George Wendt later joined by Woody Harrelson and Kelsey Grammer. The writing is generally sharper and more idiosyncratic than the era encouraged, making the show more than a nostalgic throwback.
Top Picks: Movies + Specials

Below (September 6)
Moving from the film festival circuit to a streaming release, this independent Australian drama is a sometimes obtuse and sometimes daring take on Australia's detention centre regime from co-writer and director Maziar Lahooti, seen through a detached lens set in the near future and motivated by a less than upright protagonist.
In debt and beaten up, Dougie (Ryan Corr) has to accept the help of his stepfather, Terry (Anthony LaPaglia), who in return puts the young man to work as a guard at the outback detention centre he runs, where the guards routinely force the caged detainees to fight each other. Consider it an idiosyncratic parallel to the ABC's recent refugee drama Stateless, less overt but eventually empathetic.
Timely in its depiction of how the burden of parenthood still leans heavily towards mothers, French filmmaker Alice Winocour's much praised third feature is the story of a diligent astronaut, Sarah (Eva Green), who wins a mission for the European Space Agency in outer space but as a single mother must leave her seven-year-old daughter, Stella (Zélie Boulant-Lemesle) on Earth for a year.
So often a figure of cinematic glamour or danger, Green gets a deeply emotional role, complete with a demeaning American boss (Matt Dillon) and problematic former partner (Lars Eidinger). The film is exceptionally good at contrasting the mother-daughter bond with the cold vastness and separation of space.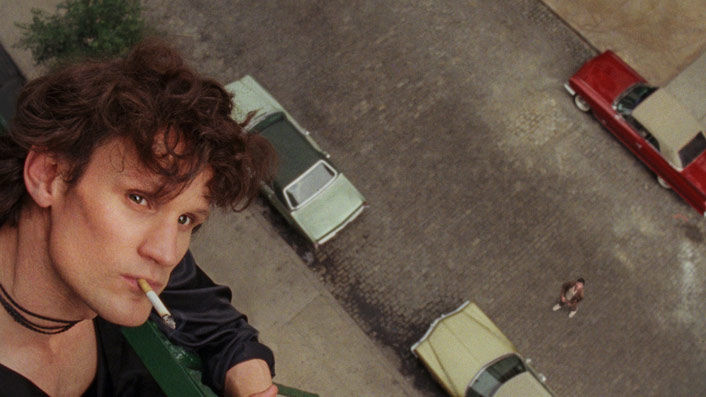 Having played Doctor Who and the newly married Prince Philip on the first two seasons of The Crown, Matt Smith further showcases his versatility with the lead performance in this fictionalised biopic of the late Robert Mapplethorpe, the American photographer who in the 1970s drew from New York's downtown arts and gay subcultures to become a celebrated but controversial artist. His black and white images combined classical nudes, erotic imagery and BDSM depictions.
Ondi Timoner (DIG!) directs a story that matches personal expression to public debate, while Marianne Rendon has the imposing task of playing a young Patti Smith, who was Mapplethorpe's early girlfriend and enduring ally. A major plus: the film features an extensive selection of Mapplethorpe's work.
---
All titles arriving on Stan in September
September 1
Breathe
Daddy's Home
Tropic Thunder
The Terminal
Mapplethorpe
Geordie Shore: Season 20
September 2
Hey Duggee: Season 3, Set 1
Down Under
Material Girls
September 3
American Pastoral
The Imaginarium of Doctor Parnassus
Day And Night
German Angst
September 4
A.P. Bio: Season 3
Cheers: Seasons 1 -11
Canada's Drag Race: Season 1, Episode 10 Rise of the Teenage Mutant Ninja Turtles: Season 1, Part 2
Paddington
The House of Magic
Bill and Ted's Excellent Adventure
September 5
Natural World: Hippos -Africa's River Giants
Monster Beach: Season 1, Episode 25
Broken City
September 6
Love Fraud: Season 1, Episode 2
P-Valley: Season 1, Episode 8
Power Book II: Ghost -Season 1, Episode 1
Below
The Extraordinary
Proxima
Monster Beach: Season 1, Episode 26
September 7
The Circus: Season 5, Episode 12
Be Kind Rewind
Selma
Porn To Be Free
September 8
The Daughter
Apocalypse Now
September 9
Red Dawn
Alan Partridge: Alpha Papa
Rosalie Blume
September 10
China's Artful Dissident
Goon
Cutthroat Island
Furry Vengeance
September 11
The Voices
New Amsterdam: Season 2
The Blinky Bill Movie
Planet 51
September 12
The Biggest Little Farm
Monster Beach: Season 1, Episode 27
September 13
Love Fraud: Season 1, Episode 3
Power Book II: Ghost -Season 1, Episode 2
Monster Beach: Season 1, Episode 28
Wyrmwood
September 14
The Circus: Season 5, Episode 13
Desus& Mero: Season 2, Episode 46
Our Cartoon President: Season 3, Episode 10
Everybody Loves Raymond: Seasons 1 -9
The Lunchroom
Dogs Don't Wear Pants
September 15
Clueless
Ferris Bueller's Day Off
September 16
Mirror Mirror
Terminator 2: Judgement Day
The Aviator's Wife
The Queen of Spain
September 17
Catfish: Season 7
Twilight
The Twilight Saga: New Moon
The Twilight Saga: Eclipse
The Twilight Saga: Breaking Dawn -Part 1
The Twilight Saga: Breaking Dawn -Part 2
The HostRambo: First Blood
Rambo: First Blood Part 2
Rambo III
Everybody Wants Some!!
September 18
Desus & Mero: Season 2, Episode 47
Ghosts Of Girlfriends Past
Hummingbird
Legends of Oz: Dorothy's Return
Astro Boy
Dino Time
High Tension
God Exists, Her Name Is Petrunya
September 19
PEN15: Season 2, Part 1
The Impossible
See Spot Run
Monster Beach: Season 1, Episode 29
September 20
Love Fraud: Season 1, Episode 4
Power Book II: Ghost -Season 1, Episode 3
Summer of Rockets: Season 1
Monster Beach: Season 1, Episode 30
September 21
The Circus: Season 5, Episode 14
Desus & Mero: Season 2, Episode 48
Our Cartoon President: Season 3, Episode 11
Brothers
The Sweeney
Woyzeck
Where the Green Ants Dream
September 22
Nerve (2016)
U-571
September 23
Charmed (2018): Seasons 1 -2
Red Planet
An Unexpected Love
The Dancer
September 24
Fist Fight (2017)
Man on a Ledge
Aurora
Just To Be Sure
September 25
Desus & Mero: Season 2, Episode 49
Deutschland 89: Season 1
Old People's Home for 4 Year Olds: Season 1
Something Borrowed
Maggie
Petra
September 26
Mechanic Resurrection
Monster Beach: Season 1, Episode 31
September 27
The Comey Rule: Parts 1 & 2
Power Book II: Ghost -Season 1, Episode 4
Sleepless
Berry Bees: Season 1 (Part 2)
Monster Beach: Season 1, Episode 32
September 28
The Circus: Season 5, Episode 15
Desus & Mero: Season 2, Episode 50
Our Cartoon President: Season 3, Episode 12
St Trinians 2 -Legend of Fritton's Gold
L.A. Story
September 29
The Fighter
I Am Wrath
Elsa & Fred
70 Big Ones
September 30
Grey's Anatomy: Season 14
Lock U
---
See also
* Best new movies and TV series on Netflix Austalia
* Best new movies and TV series on Amazon Prime
* Best new movies and TV series on Disney+
* All new streaming movies & series