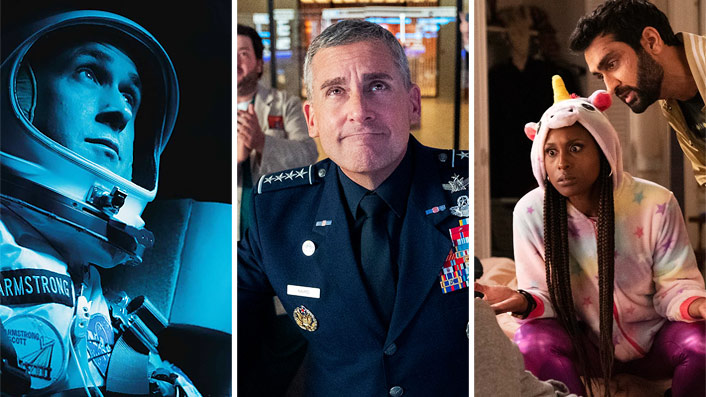 Best new movies and TV series on Netflix Australia: May 2020

---
Each month, loads of new films and TV shows are added to Netflix Australia's library. Critic Craig Mathieson presents his picks for titles worth watching. For the full list of everything arriving on the platform, scroll down. Also check out our top 50 movies on Netflix list.
Top picks: TV

Having debuted with The Politician, the second series from producing powerhouse Ryan Murphy's nine figure Netflix deal is an alternate history of America's golden age of cinema. Tinseltown glamour meets the stark realities of the business as the unseen minorities of the era, including African-Americans and the gay community, are elevated into the midst of studio mythmaking. Fictional characters played by the likes of Darren Criss and Samara Weaving mingle with historic figures, including star-making agent Henry Wilson (Jim Parsons) and a young Rock Hudson (Jake Picking). Lights, cameras and a lot of action.
La La Land director Damien Chazelle directs the first two episodes of this moody contemporary series, which is centred on a jazz club in Paris run by an expatriate American, Elliot Udo, played by the exemplary Andre Holland (Moonlight, High Flying Bird). Created by British writer Jack Thorne (Dirt Music, His Dark Materials), the story moves through personal, cultural and criminal complications, with Elliot trying to connect with his estranged daughter (Amandla Stenberg) and a singer who brings drama off the stage (Cold War's Joanna Kulig).
Having created Netflix's Spanish language sensation Money Heist, one of the streaming service's most watched shows globally, writer and producer Alex Pina works primarily in English for this stylish new thriller, which is set amidst the sunshine, nightclubs, hedonism and drug trade that defines the British villa community on Spain's Balearic Islands. Laura Haddock plays a young woman who enters the cloistered world determined to find out how her brother died, and what his unknown life had become. Expect a fast pace, wrenching twists and lots of fake cocaine.
Many gaffes, crises and an ongoing pandemic ago, Donald Trump pledged to create a sixth branch of the U.S Armed Forces, dedicated to American mastery of warfare in outer space. That was enough to spark this collaboration from The Office's U.S. creator Greg Daniels and that show's star, Steve Carell, which is a workplace comedy about the soldiers and bureaucrats who have to make Trump's sci-fi idea a reality. Carell plays the general in charge, with John Malkovich—potentially genius casting—as his chief scientist, while Ben Schwartz (Parks and Recreations) is their possibly Jared Kushner-like boss, the Secretary of the Air Force. How political the gags are remains to be seen.
Top picks: movies + specials

Directed by Michael Showalter (The Big Sick), this feature is an action comedy about a loved up couple—played by Issa Rae (Insecure) and Kumail Nanjiani (The Big Sick and, ah, Stuber)—whose day goes from good to madcap when they inadvertently get caught up in a murder connected to a criminal conspiracy. If that sounds familiar it's because there's already a mum and dad version in Date Night with Tina Fey and Steve Carell, but this is the Millennial take that will live and die on the chemistry between the leads.
More Damien Chazelle. One of the best cinema releases added to Netflix this month is his under-appreciated 2018 biopic of Neil Armstrong, the first person to step foot on the moon in 1969. Made with deep procedural immersion—the ludicrous risks the Apollo astronauts took are both numerous and quietly accepted—the film looks at the contrast between historic events and individual actions, with a stern Ryan Gosling ideally suited for a private man who drove himself to succeed but couldn't let others fully into his life. The moon landings are a marvel and the final scene is sublime.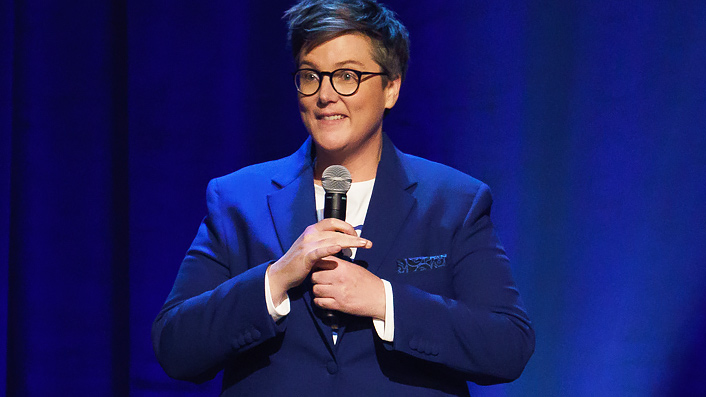 Hannah Gadsby: Douglas (May 26)
After her 2018 breakthrough Nanette, a riveting and monumental act of self-expression that helped change the perception of stand-up performances, Australian comic Hannah Gadsby sticks with Netflix for the filmed version of her follow-up show. Running just over 90 minutes when Gadsby toured it widely in Australia, Britain and North America in 2019, Douglas is both a successor to Nanette and a reaction to the success—and debate—that it generated, along with reflections on the male dominance of art history and her own autism. "If the mixture of ingredients does not seem as if it should cohere," critic Jesse Green wrote of the live show in the New York Times, "the result absolutely does".
---
All titles arriving on Netflix Australia in May
May 1

Casi feliz (series): Sebastián is a radio show host of modest fame, trying to find a way in the world as he deals with his ex-wife (whom he still loves) and two kids.
Into the Night (series): When the sun suddenly starts killing everything in its path, passengers on an overnight flight from Brussels attempt to survive by any means necessary.
Hollywood (series): A new limited series from Ryan Murphy and Ian Brennan, Hollywood follows a group of aspiring actors and filmmakers in post-World War II Hollywood as they try to make it in Tinseltown — no matter the cost.
The Half Of It (film): Shy, straight-A student Ellie helps sweet jock Paul woo his crush. But their unlikely friendship grows complicated when Ellie falls for the same girl.
All Day and a Night (film): While serving life in prison, a young man looks back at the people, the circumstances and the system that set him on the path toward his crime.
Mrs. Serial Killer (film): When a doctor gets jailed for a string of shocking murders, his loyal wife sets out to commit a copycat crime to prove his innocence.
Go! Go! Cory Carson: The Chrissy (kids): The Carson kids win a talent show with a dance that Cory created. But when "The Chrissy" catches on, his sister gets all of the attention!
Tomorrow, When The War Began (film): Ellie Linton (Caitlin Stasey), a teen from an Australian coastal town, leads her friends (Rachel Hurd-Wood, Lincoln Lewis) on an excursion to a camp deep in the woods, dubbed "Hell." Upon their return, the youths find that their town has been overrun by an enemy army, and their friends and family have been imprisoned. When the hostile invaders become alerted to their presence, Ellie and her friends band together to escape — and strike back against — this mysterious enemy.
Clash of the Titans (film): Perseus (Sam Worthington), the son of Zeus (Liam Neeson), is caught in a war between gods and is helpless to save his family from Hades (Ralph Fiennes), the god of the underworld. With nothing left to lose, Perseus leads a band of warriors on a dangerous quest to prevent Hades from overthrowing the king of the gods and laying waste to Earth.
The Edge of Seventeen (film): Everyone knows that growing up is hard, and life is no easier for high school junior Nadine (Hailee Steinfeld), who is already at peak awkwardness when her all-star older brother Darian (Blake Jenner) starts dating her best friend Krista (Haley Lu Richardson). All at once, Nadine feels more alone than ever, until an unexpected friendship with a thoughtful teen (Hayden Szeto) gives her a glimmer of hope that things just might not be so terrible after all.
Primal Fear (film): Defense attorney Martin Vail takes on jobs for money and prestige rather than any sense of the greater good. His latest case involves an altar boy, accused of brutally murdering the archbishop of Chicago. Vail finds himself up against his ex-pupil and ex-lover, but as the case progresses and the Church's dark secrets are revealed, Vail finds that what appeared a simple case takes on a darker, more dangerous aspect.
The Color Purple (film): An epic tale spanning forty years in the life of Celie (Whoopi Goldberg), an African-American woman living in the South who survives incredible abuse and bigotry. After Celie's abusive father marries her off to the equally debasing "Mister" Albert Johnson (Danny Glover), things go from bad to worse, leaving Celie to find companionship anywhere she can. She perseveres, holding on to her dream of one day being reunited with her sister in Africa. Based on the novel by Alice Walker.
Cracked Up, The Darrell Hammond Story (film): In Cracked Up we witness the effects adverse childhood experiences can have across a lifetime through the incredible story of actor, comedian, master impressionist and Saturday Night Live veteran, Darrell Hammond. Behind the scenes Darrell suffered from debilitating flashbacks, self injury, addiction and misdiagnosis, until the right doctor isolated the key to unlocking the memories his brain kept locked away for over 50 years. Cracked Up, director Michelle Esrick, creates an inspiring balance between comedy and tragedy helping us understand the impact of toxic stress and childhood trauma in a new light, breaking down barriers of stigma and replacing shame with compassion and hope.
Osmosis Jones (film): Mixing live action and animation, the film follows the misadventures of a zoo worker with an unknown malady he contracted after eating an egg contaminated with simian saliva. The responsibility of eradicating this lethal virus falls to a white blood cell cop and a fussy cold-cure pill.
May 4
Finding Your Feet (film): When "Lady" Sandra Abbott discovers that her husband of 40 years is having an affair with her best friend, she seeks refuge in London with her estranged, older sister Bif. The two could not be more different – Sandra is a fish out of water next to her outspoken, serial dating, free-spirited sibling. But different is just what Sandra needs at the moment, and she reluctantly lets Bif drag her along to a community dance class, where she starts finding her feet.
May 5
Jerry Seinfeld: 23 Hours To Kill (comedy special): Jerry Seinfeld's new hour-long special, Jerry Seinfeld: 23 Hours to Kill, reinforces his reputation as the precision-craftsman of standup comedy. Premiering on May 5, 2020, only on Netflix, the special features a spectacular arrival to the Beacon Theatre in New York City, and showcases Seinfeld's sharp angles on everyday life, uncovering comedy in the commonplace.
May 6

Workin' Moms: Season 4 (series): Big changes are in the air as the moms stand up for their children, their partners, their businesses — and more importantly, themselves.
Rick & Morty Season 4 (series): Rick & Morty will be returning May 6 for ANZ with new episodes weekly. Dates below:
Episode 406 – May 6
Episode 407 – May 13
Episode 408 – May 20
Episode 409 – May 27
Episode 410 – June 3
May 7
Scissor Seven: Season 2 (kids): Hairdresser by day, freelance hit man by night. The series about an underpaid, scissor-wielding assassin who's not quite cut out for the job returns for Season 2.
The Lovers (film): A man and his wife, each embroiled in an extramarital affair, are sent reeling when they suddenly fall for the least likely person imaginable — each other.
Mission: Impossible – Fallout (film): Ethan Hunt and the IMF team join forces with CIA assassin August Walker to prevent a disaster of epic proportions. Arms dealer John Lark and a group of terrorists known as the Apostles plan to use three plutonium cores for a simultaneous nuclear attack on the Vatican, Jerusalem and Mecca, Saudi Arabia. When the weapons go missing, Ethan and his crew find themselves in a desperate race against time to prevent them from falling into the wrong hands.
May 8
Dead to Me: Season 2 (series): Picking up in the aftermath of that bloody backyard reveal, Jen and Judy struggle to hide a dark secret. With a surprising new visitor in town and Detective Perez hot on their heels, the stakes have never been higher.
The Eddy (series): Set in the vibrant multicultural neighborhoods of modern-day Paris, The Eddy tells the story of the owner of a struggling club, its house band and the dangers they face from the chaotic city that surrounds them.
Valeria (series): A writer in a creative and marital crisis finds refuge and support in her three best friends. Based on the novels by Elisabet Benavent.
Restaurants on the Edge: season 2 (series): The experts continue on their international restaurant rescue mission. With a little encouragement and a lot of overhaul, miracles can happen.
Rust Valley Restorers: Season 2 (series): Life motors on as Mike and the gang restore a slew of classics, including some good ole Detroit muscle. Also, Avery takes on a new role at the shop.
18 regali (film): A pregnant mother with terminal cancer leaves behind 18 sentimental gifts for her unborn daughter to receive every birthday until she reaches womanhood.
Whitestar (kids): When Megan and her new horse Whitestar win dressage competitions after a short training, the owner who got rid of Whitestar demands his horse back.
Chico Bon Bon: Monkey with a Tool Belt (kids): This fun, silly series teaches preschoolers about the mechanical world and how things work. Based on Chris Monroe's picture book series.
The Hollow: Season 2 (kids): After discovering the truth behind the Hollow, friends Adam, Mira and Kai must face their fears and tackle even bigger challenges together.
May 11
Bordertown: Season 3 (11/5/2020)
While juggling concerns about his family's future and a spate of new crimes, Kari squares off against an adversary who's been studying his past cases.
Unbreakable Kimmy Schmidt: Kimmy Vs. the Reverend (interactive special): Join Kimmy and friends on an interactive adventure!
Have a Good Trip: Adventures in Psychedelics (documentary): Celebrities recall their most mind-bending trips via animations, reenactments and more in this comedic documentary exploring the story of psychedelics.
Trial By Media (documentary): In this true crime documentary series, history's most dramatic trials are examined with an emphasis on how the media may have impacted verdicts.
May 12
True: Terrific Tales (kids): Through the magic of the Story Spinner, True and friends create their own versions of Pinocchio, Little Red Riding Hood and other classic fairy tales.
May 13
The Wrong Missy (series): Tim thinks he's invited the woman of his dreams on a work retreat to Hawaii, realizing too late he mistakenly asked someone from a nightmare blind date.
May 14
Breaking In (film): Shaun Russell takes her son and daughter on a weekend getaway to her late father's secluded, high-tech vacation home in the countryside, but the family soon gets an unwelcome surprise when four men break into the house to find hidden money. After managing to escape, Shaun must now figure out a way to turn the tables on the desperate thieves and save her captive children.
May 15
Chichipatos (series): A magician hired for a party lands in hot water when he makes a drug boss disappear during a performance — but is then unable to make him reappear!
White Lines (series): When her brother is discovered dead, a Manchester woman leaves her quiet life to travel to Ibiza, where she seeks the truth about his disappearance.
Magic for Humans: Season 3 (series): He's back to pull a rabbit out of a … piñata? Justin Willman always surprises with frisky magic skills that amuse and charm, trick and disarm.
Dérapages (series): Unemployed and desperate to turn his life around, Alain Delambre is ready to do anything to secure a job at corporate giant Exxya.
Te quiero, imbécil (film): After he loses his girlfriend and his job on the same day, a man in his 30s sees his life turned upside down.
She-Ra and the Princesses of Power: Season 5 (kids): As the princesses prepare to face Horde Prime and his hive mind army in one final battle, Adora must confront her most elusive adversary yet: herself.
National Lampoon's Vacation (film): Accompanied by their children (Dana Barron, Anthony Michael Hall), Clark Griswold (Chevy Chase) and his wife, Ellen (Beverly D'Angelo), are driving from Illinois to a California amusement park. As Clark increasingly fixates on a beautiful woman driving a sports car, the Griswolds deal with car problems and the death of a family member. They reach Los Angeles, but, when Clark worries that the trip is being derailed again, he acts impulsively to get his family to the park.
Kangaroo Jack (film): Two friends from Brooklyn (Jerry O'Connell), (Anthony Anderson) are forced to deliver mob money to Australia. Their misadventures begin when one of them places his red jacket on a kangaroo while attempting to snap a picture. When the kangaroo bounces off, they realize the mob money is in the jacket and are forced to give chase through the Outback.
Human Nature (film): The biggest tech revolution of the 21st Century isn't digital, it's biological. A breakthrough called CRISPR has given us unprecedented control over the basic building blocks of life. It opens the door to curing diseases, reshaping the biosphere, and designing our own children.
The Butterfly Effect (film): College student Evan Treborn (Ashton Kutcher) is afflicted with headaches so painful that he frequently blacks out. While unconscious, Evan is able to travel back in time to difficult moments in his childhood. He can also alter the past for friends, like Kayleigh (Amy Smart), who was molested by her father (Eric Stoltz). But changing the past can drastically alter the present, and Evan finds himself in nightmarish alternate realities, including one where he's locked away in prison.
May 16
La reina de Indias y el conquistador (series): Years after Spanish conquistador Pedro de Heredia betrayed her people and broke her heart, indigenous woman Catalina re enters his life to get revenge.
Night School (film): Teddy Walker is a successful salesman whose life takes an unexpected turn when he accidentally blows up his place of employment. Forced to attend night school to get his GED, Teddy soon finds himself dealing with a group of misfit students, his former high school nemesis and a feisty teacher who doesn't think he's too bright.
May 18
The Big Flower Fight (series): Teams of florists, sculptors and garden designers push their talents to the limit to create extravagant floral installations in this competition show.
May 19
Sweet Magnolias (series): Maddie Townsend has a lot on her plate — including three kids, a cheating husband and one unlikely suitor who has everyone in town talking.
Patton Oswalt: I Love Everything (comedy special): Like the ancient grains of Babylon, Patton provides a healthy dose of witticism in his newest Netflix comedy special, Patton Oswalt: I Love Everything. Enjoy yourself as the Emmy and Grammy winning comedian reflects on hilarious existential anecdotes after recently embracing his fifties, which includes attending his daughter's second-grade art show that cost him the chance to board a full-scale Millennium Falcon or how buying a house is like hiring a suicide squad of superhuman subcontractors. Patton Oswalt: I Love Everything premieres globally on Netflix on May 19, 2020. And stick around post-credits for Bob Rubin: Oddities & Rarities, a bonus one-hour comedy special presented by Patton himself!
May 20
Ben Platt Live From Radio City Music Hall (documentary): Actor and singer Ben Platt performs in a sold-out show recorded at Radio City Music Hall in New York.
The House with a Clock in Its Walls (film): Ten-year-old Lewis goes to live with his oddball uncle in a creaky old house that contains a mysterious `tick tock' noise. He soon learns that Uncle Jonathan and his feisty neighbour, Mrs Zimmerman, are powerful practitioners of the magic arts. When Lewis accidentally awakens the dead, the town's sleepy facade suddenly springs to life, revealing a secret and dangerous world of witches, warlocks and deadly curses.
May 22
History 101 (series): Infographics and archival footage deliver bite-size history lessons on scientific breakthroughs, social movements and world-changing discoveries.
Selling Sunset: Season 2 (series): The reality series that follows LA's most elite real estate agents returns for Season 2, documenting their juicy private lives, posh listings and high-profile clients.
Trailer Park Boys: The Animated Series: Season 2 (series): The animated series returns for Season 2, with the entire gang transformed into cartoons.
Control Z (series): When a hacker begins releasing students' secrets to the entire high school, the socially isolated but observant Sofía works to uncover his/her identity.
The Lovebirds (film): When a couple in the fast lane to splitsville accidentally careens into a murder, they take off on a wild race to find the killer and clear their names.
The Little Rascals (film): Mischievous youngsters Spanky (Travis Tedford) and Buckwheat (Ross Elliot Bagley) lead an anti-girl organization, and they pick their buddy Alfalfa (Bug Hall) to represent them in an all-important soapbox car rally. When the boys then find their driver canoodling with schoolmate Darla (Brittany Ashton Holmes), they decide they must break up the couple. Unfortunately, while Spanky and his pals are busy meddling in Alfalfa's affairs, their prized race car is nabbed by two young toughs.
May 23
Dynasty: Season 3 (series): The modern-day reboot of the iconic soap that follows two of America's wealthiest families returns for Season 3.
First Man (film): Hoping to reach the moon by the end of the decade, NASA plans a series of extremely dangerous, unprecedented missions in the early 1960s. Engineer Neil Armstrong joins the space program, spending years in training and risking his life during test flights. On July 16, 1969, the nation and world watched in wonder as Armstrong and fellow astronauts Buzz Aldrin and Michael Collins embarked on the historic Apollo 11 spaceflight.
Halloween (film): On a cold Halloween night in 1963, six year old Michael Myers brutally murdered his 17-year-old sister, Judith. He was sentenced and locked away for 15 years. But on October 30, 1978, while being transferred for a court date, a 21-year-old Michael Myers steals a car and escapes Smith's Grove. He returns to his quiet hometown of Haddonfield, Illinois, where he looks for his next victims.
May 25
Rebelión de los Godinez (film): When Omar's grandfather forces him to get a job at a tech company in Mexico City, he meets a quirky ensemble of nine-to-fivers … and some nemeses.
I'm No Longer Here (film): In the mountains of Monterrey, Mexico, a small street gang named "Los Terkos" spend their days listening to slowed down cumbia music and attending dance parties, showing off their outfits, hairstyles and gang alliances. These different bands of disaffected youth refer to themselves as Kolombianos, combining the Cholo culture with Colombian music. Ulises Samperio (17), the leader of Los Terkos, tries to protect his friends from the nefarious elements of a quickly evolving drug/political war, but after a misunderstanding with a local cartel, he is forced to leave for Jackson Heights, Queens, a diverse immigrant community in New York City. Ulises tries to assimilate, but when he learns that his gang and the whole Kolombia culture is under threat, he questions his place in America and longs to return home.
May 26
Hannah Gadsby: Douglas (comedy special): Emmy and Peabody award winning comedian Hannah Gadsby stopped the comedy world in its tracks with her genre bending show, Nanette. Having given herself her very own tough act to follow, she named her difficult second album after her eldest dog and took it for a walk across the planet, finishing up in Los Angeles and recording her second Netflix comedy special, Hannah Gadbsy: Douglas. You can expect your expectations to be set and met by Douglas: a tour from the dog park to the renaissance and back guided by one of comedy's most sparkling and surprising minds.
May 27
The Kitchen (film): Between 8th Ave. and the Hudson River, the Irish mafia runs 20 blocks of a tough New York City neighborhood known as Hell's Kitchen. But for mob wives Kathy, Ruby and Claire, things are about to take a dramatic and radical turn. When the FBI sends their husbands to prison, the three women take business into their own hands by running the rackets and taking out the competition.
May 28
Dorohedoro (anime): Amnesiac Caiman seeks to undo his lizard head curse by killing the sorcerer responsible, with his friend Nikaido's help. In the Hole, that's a threat.
May 29
Space Force (series): A comedy series about the people tasked with creating Space Force, a new branch of the U.S. military. From Greg Daniels and star Steve Carell.
Somebody Feed Phil: Season 3 (documentary): "Everybody Loves Raymond" creator Phil Rosenthal continues to travel the globe, sampling different cuisines and cultures.
May 31
The Little Stranger (film): During the long, hot summer of 1948, Dr. Faraday travels to Hundreds Hall, home to the Ayres family for more than two centuries. The Hall is now in decline, and its inhabitants — mother, son and daughter — remain haunted by something more ominous than a dying way of life. When Faraday takes on a new patient there, he has no idea how closely the family's story is about to become entwined with his own.
Undated
Blood & Water (series): A 16-year-old gets herself transferred to the same high school as a girl whom she suspects is her sister, who was kidnapped at birth 17 years earlier.
Mystic Pop-up Bar (series): Wol-ju, the bartender, is not of this world, or the underworld—she is the weaver of dreams between worlds. Though she might seem obscene and unhindered to some, she provides solace and advice to the weary souls whose dreams she enters. After a drink with Wol-ju, one feels spirited and able to turn the page on their own misfortunes. At the Mystic Pop-up Bar, she is able to cross the threshold between this world and the other, between past and present, revealing visions that rectify her customer's suffering.
Snowpiercer (series): In this futuristic thriller, the world has become a frozen wasteland, and the remaining humans inhabit a giant train that perpetually circles the globe.
Kenny Sebastian: The Most Interesting Person in the Room (comedy special): Fusing his musical and comedy chops, Kenny Sebastian gets analytical about frumpy footwear, flightless birds and his fear of not being funny enough.
---
See also
* Best new movies and TV series on Stan
* Best new movies and TV series on Amazon Prime
* All new streaming movies & series