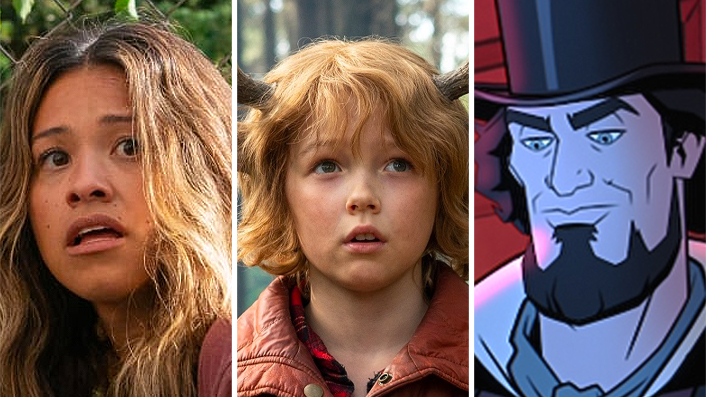 Best new movies and TV series on Netflix Australia: June 2021

---
Each month, loads of new films and TV shows are added to Netflix Australia's library. Critic Craig Mathieson presents his picks for titles worth watching. For the full list of everything arriving on the platform, scroll down. Also check out our top 50 movies on Netflix list.
Top picks: TV
"Mad Max meets Bambi" was one succinct description of Jeff Lemire's limited series comic book, which debuted in 2009 and depicted a post-apocalyptic world where the remains of humanity has been joined by 'hybrids'—human children born with the features and powers of individual animals.
Adapted by Jim Mickle (Hap and Leonard), this fantasy series follows a young deer-boy, Guy (Christian Convery), who has been raised in isolation by his father (Will Forte) but must journey across the remnants of America while different factions aid or attack him. The show will need first-rate CGI for the children, and to strike a balance between adult horrors and child-like hope.
A sharp, stinging six half-hour episodes, the 2020 first season of this British comedy took autobiographical inspiration from the life of co-creator and star Mae Martin. The fictional Mae, as in real life, is a Canadian comedian based in London who was in recovery from substance addiction.
The first episode gave Mae a previously straight girlfriend in the upper-class George (Charlotte Ritchie), and it proved an often insightful study of what we truly want from those closest to us and what we show them to get it. The second season should have plenty more to dig into; as long as it brings back Lisa Kudrow as Mae's mother Linda, the show's outlook is very promising.
Netflix only released five episodes—half a season—of this French crime thriller in January, but it was a breakthrough success thanks to the effortless charisma of star Omar Sy (Untouchable). Playing a modern variant—nlack, the son of a victimised migrant, unrecognised by the ruling elite—of the classic fictional master thief Arsene Lupin, Sy's Assane Diop pulled Ocean's-worthy heists even as he tried to crack childhood mysteries. Part two will hopefully tone down the habit in early episodes of using dialogue to make explicit what the plotting had already implied.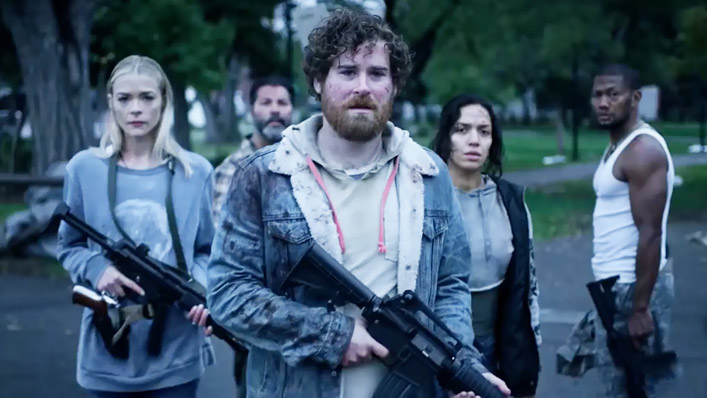 Forget the mess that is Zack Snyder's Army of the Dead—the best zombie content on Netflix remains the first season of this unrelenting zombie apocalypse thriller, which unfolded at a terrifyingly tight and gory focus that began with the botched evacuation of an American town's residents and never widened nor let up. It was everything you'd want in a great genre movie.
A second season of John Hyams and Karl Schaefer's series, set in winter and with society collapsed, continues the unforgiving journey of Rose (Jaime King), who is slowly losing her own humanity as she struggles to keep her daughter Anna (Zoe Marlett) safe.
Top Picks: Movies + Specials

Since her effervescent breakthrough performance in the telenovela satire and comic romance Jane the Virgin (all five seasons are on Netflix), the American actor Gina Rodriguez has been accumulating impressive roles, most notably in Alex Garland's Annihilation and Miranda July's Kajillionaire.
She now headlines this science-fiction action movie from Canadian filmmaker Mark Raso (Kodachrome), playing an increasingly harried victim of a world where electronics have failed and people have lost the ability. As reason gives way to hallucinations and society collapses (it's a banner month on Netflix for post-apocalyptic devotees), Rodriguez's Jill has to try and safeguard her family and hold onto her sanity.
Obviously there are numerous explainers—in video, in print and possibly even in multiple dimensions—that break down Christopher Nolan's science-fiction blockbuster. But I still refuse to believe that anyone can actually parse what is happening in this film, in which a conflict is fought through opposing time streams by the present and future.
That said, since it's Nolan—director of The Dark Knight, Inception, and Dunkirk—then you can expect effortlessly inventive set-pieces, mind-bending momentum, and a character who looks like Nolan. The latter is played, with understated élan, by Robert Pattinson, although it's John David Washington's CIA agent, the unnamed Protagonist, who leads the fight for today alongside Elizabeth Debicki. And, yes, I would suggest turning on the subtitles.
When first announced, this Hollywood studio adaptation of Matt Logelin's best-selling 2011 memoir about raising his baby daughter after the sudden and unexpected death of his wife was going to star Channing Tatum. But the development process and COVID delays mean it's finally debuting on Netflix with Kevin Hart as the lead.
It's up to co-writer and director Paul Weitz (In Good Company, Little Fockers) to guide the exuberant comic through a story that will require more than just exasperated monologues about nappy changes and lack of sleep. If Hart is ever going to break out of his hugely successful mould, this is a film where it can happen.
---
All titles arriving on Netflix Australia in June
June 1
The Water Diviner
Black Holes: The Edge of All We Know
Wag the Dog
Critters 2
The Sea Wolves
Singles
Wolfen
Gold Statute
Roh
Seven Souls in the Skull Castle
Racket Boys
Super Monsters: Once Upon a Rhyme
June 2
Baggio: The Divine Ponytail
Carnaval
June 3

Creator's File: GOLD
Summertime: Season 2
Alan Saldana: Locked Up
Dancing Queens
Pretty Guardian Sailor Moon Eternal The Movie Parts 1 & 2
June 4
Sweet Tooth
Feel Good: Season 2
Trippin' with the Kandasamys
Sweet & Sour
Xtreme
Breaking Boundaries: The Science of Our Planet
Human: The World Within
June 5
Kitty Love: An Homage to Cats
June 7
Puberty Blues Seasons 1 & 2
June 9
Fresh, Fried & Crispy
Awake
Tragic Jungle
June 10
Locombianos
June 11
Lupin: Part 2
Skater Girl
Wish Dragon
Trese
Down to Earth with Zac Efron Season 1
June 12
Love (ft. Marriage and Divorce) Season 2
June 13
Spider-Man: Into The Spider-Verse
June 14
Elite Short Stories: Guzman Caye Rebe
Viva the Underdogs
June 15
Workin' Moms Season 5
Elite Short Stories: Nadia Guzman
Unwind Your Mind
Rhyme Time Town: Season 2
June 16
Elite Short Stories: Omar Ander Alexis
Silver Skates
Penguin Town
Tenet
June 17
Black Summer Season 2
Hospital Playlist Season 2
The Gift Season 3 (
Elite Short Stories: Carla Samuel
Katla
June 18
The Rational Life
Elite: Season 4
The World's Most Amazing Vacation Rentals
A Family
Jagame Thanhiram
Rurouni Kenshin: The Final
Fatherhood
June 20
Nevertheless
June 22
This Is Pop
June 23
The House of Flowers: The Movie
Good on Paper
Murder by the Coast
June 24
Too Hot To Handle Season 2
Sisters on Track
Godzilla Singular Point
June 25
The A List Season 2
Sex/Life
June 26
Wonder Boy
June 28
The Seven Deadly Sins: Dragon's Judgement
June 29
Black Lightning Season 4
StarBeam: Season 4
June 30
America: The Motion Picture
Prime Time
Sophie: A Murder in West Cork
Undated
Ray
Jiva!
So Not Worth It
Record of Ragnarok
---
See also
* Best new movies and TV series Stan
* Best new movies and TV series on Amazon Prime
* Best new movies and TV series on Disney+
* All new streaming movies & series