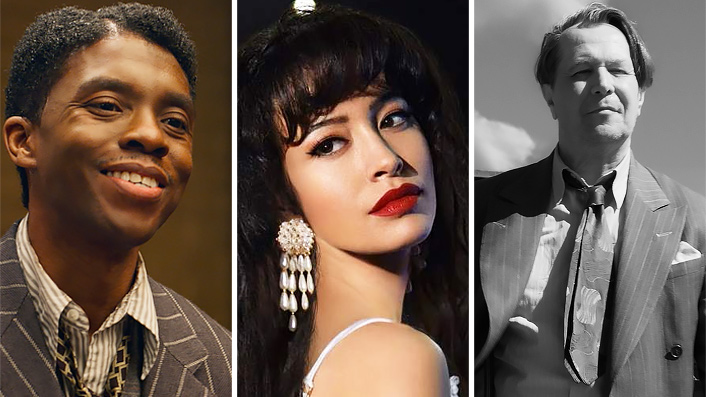 Best new movies and TV series on Netflix Australia: January 2020

---
Each month, loads of new films and TV shows are added to Netflix Australia's library. Critic Craig Mathieson presents his picks for titles worth watching. For the full list of everything arriving on the platform, scroll down. Also check out our top 50 movies on Netflix list.
Top picks: TV
The agony of adolescence has rarely been as funny as it is in this Netflix animated sleeper success, in which year seven students not only have to deal with their suddenly unpredictable bodies, but the bad suggestions of the Hormone Monsters that now visit them. Comedians do much of the voice work, led by co-creator Nick Kroll as Nick and John Mulaney as Andrew. With its loopy internal logic and taste for wild detours, the show manages to be wildly explicit, gently funny, excruciatingly familiar and bluntly educational. And it doesn't become a boy's toy—the female characters feature, especially with Maya Rudolph voicing a hormone monster.
The brief, blazing life of Selena Quintanilla-Perez has always stood out. Born in Texas in 1971 of Latino and Cherokee heritage, she was a breakthrough teenage music star who crossed social and musical lines as her career took off, before she was murdered by a former friend in 1995. The biopic Selena, starring Jennifer Lopez, was released in 1997, and now Netflix has commissioned this limited series with Christian Serratos (The Walking Dead) in the titular role. Moises Zamora's show will have to find new ways to tell a familiar arc, but the passing of time may also allow for a reassessment of Selena's place in a rapidly changing American era.
One of the leading podcasts about popular music, where it's been dissecting hit singles and score excerpts with insight, detail and the extensive input of creators since 2014, Hrishikesh Hirway's Song Exploder made the transition to Netflix series in October with a typically eclectic line-up that included R.E.M. (Losing My Religion) and Lin-Manuel Miranda (Hamilton's Wait For It). The second season adds another four episodes, including Nine Inch Nails (Hurt) and Dua Lipa (Love Again). The half hour format digs down, but it's as much for the musically curious as the superfan. Everybody can learn something from these riffs.
Netflix has spent vast amounts to sign creators such as Kenya Barris (BlackAF) and Ryan Murphy (Ratched) to exclusive deals, but the standout acquisition is Shonda Rhimes, who dominated American broadcast television with the likes of Grey's Anatomy, Scandal, and How to Get Away With Murder. While she didn't create Bridgerton—long-time collaborator Chris Van Dusen is the showrunner—Rhimes' storytelling fingerprints are all over this modern take on Regency-era London society, which comes complete with a Gossip Girl-style anonymous scribe whose pamphlets tweak the wealthy and beautiful. The Christmas Day release suggests a binge-worthy melodrama with period pomp.
Top Picks: Movies + Specials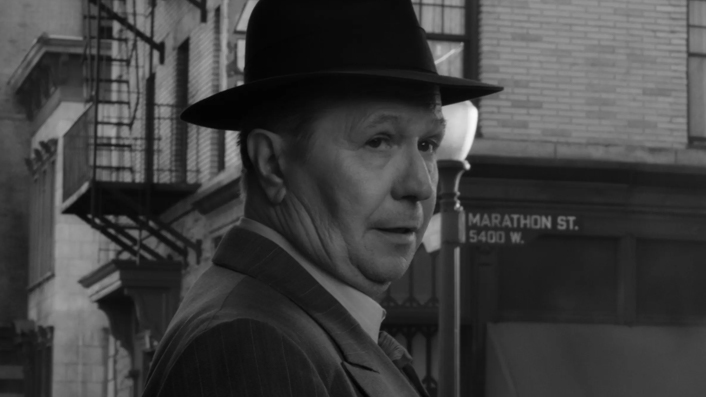 Mank (December 4)
David Fincher never, ever does anything by half. So when it comes to telling the story of Herman J. Mankiewicz, the gifted but dissolute Hollywood screenwriter who wrote Citizen Kane for then boy genius Orson Welles, the director of Fight Club and The Social Network meticulously staged and shot his biopic as a film from the 1940s—with beautiful black and white cinematography, prompted performances and scenes fading to black.
Sign up for Flicks updates
Gary Oldman plays Mankiewicz, sent to the desert by Welles (Tom Burke) to dry out and write a thinly veiled portrait of his friends, media magnate William Randolph Hearst (Charles Dance) and his movie star mistress Marion Davies (Amanda Seyfried). It's a story of Hollywood cynicism and personal betrayal, but it has a contemplative tone courtesy of a screenplay written by Fincher's late father, Jack.
The prolific series creator Ryan Murphy combines his taste for directing movies and love of Broadway with this adaptation of the 2018 American musical, about Broadway creatives who rebound from a failed show and visit a small Indiana town to help a teenager who has been banned from attending high school prom with her girlfriend.
The big city blow-ins are looking for activist credits, but get more than they bargained for, and Murphy has cast the film lavishly. Meryl Streep—as an absolute diva—James Corden, Nicole Kidman and Andrew Rannells bring the song and dance, with Kerry Washington plays the conservative school board president standing in their way. If this works, expect a lot more musicals on streaming services in 2021.
Chadwick Boseman will almost certainly win a posthumous Best Actor Academy Award for his portrayal of an ambitious trumpeter in this drama set in 1920s Chicago, but the final performance from the Black Panther star shouldn't overshadow what is a formidable ensemble work. Denzel Washington continues to resurrect the work of Black playwright August Wilson, assembling this production after directing and starring in the 2016 Wilson adaptation Fences.
His commanding foil from the period drama, Viola Davis, stars here as the real-life blues great trying to control her music and career in an industry bent on excluding her. Theatre luminary George C. Wolfe directs, with performance sequences alongside scalding monologues on race and artistry.
---
All titles arriving on Netflix Australia in December
December 1
Angela's Christmas Wish
The Holiday Movies That Made Us
Natalie Palamides: Nate – A One Man Show
3 Days to Kill (2014)
50 First Dates (2004)
A Thin Line Between Love & Hate (1996)
Angels & Demons (2009)
Are You The One: Seasons 1-2
Chef (2014)
The Da Vinci Code (2006)
E.T. the Extra-Terrestrial (1982)
Effie Gray (2014)
Gormiti: Season 1
The Happytime Murders (2018)
Ink Master: Seasons 1-2
Jurassic Park (1993)
Jurassic Park III (2001)
Kung Fu Panda 2 (2011)
Little Nicky (2000)
The Lost World: Jurassic Park (1997)
Monster House (2006)
Peppermint (2018)
Quigley Down Under (1990)
Runaway Bride (1999)
Super Wings: Season 3
Stargate SG-1: Seasons 1-10
Transformers Rescue Bots Academy: Season 2
Tyler Perry's Madea's Big Happy Family (2011)
Why Did I Get Married? (2007)
Víctor Ceballos
December 2
Alien Worlds
Ari Eldjárn: Pardon My Icelandic (Netflix Comedy Special)
Fierce (Netflix Film)
Hazel Brugger: Tropical (Netflix Comedy Special)
December 3
Break
Chico Bon Bon and the Very Berry Holiday
Tudo Bem No Natal Que Vem (AKA Just Another Christmas)
December 4
Bhaag Beanie Bhaag
Big Mouth: Season 4
Bombay Rose
Captain Underpants Mega Blissmas
Christmas Crossfire
The Great British Baking Show: Holidays: Season 3
Kings of Joburg: Season 1
Leyla Everlasting
MANK
Pokémon Journeys: The Series: Part 3
Selena: The Series
December 5
Mighty Express: A Mighty Christmas
Detention
December 7
Ava (2020)
Manhunt: Deadly Games
December 8
Bobbleheads The Movie (2020)
Emicida: AmarElo – É Tudo Para Ontem
Lovestruck in the City
Mr. Iglesias: Part 3
Spirit Riding Free: Ride Along Adventure
Super Monsters: Santa's Super Monster Helpers
Triple 9 (2016)
December 9
Ashley Garcia: Genius in Love: Christmas
The Big Show Show: Christmas
Rose Island
The Surgeon's Cut
December 10
Alice is Borderland
Anatomy of a Dachshund
December 11
A Trash Truck Christmas
Canvas
Giving Voice
The Mess You Leave Behind (El desorden que dejas)
The Prom
December 14
A California Christmas
Hilda: Season 2
Tiny Pretty Things
December 15
Black Ink Crew New York: Seasons 1-2
The Challenge: Seasons 10 and 13
Grizzlies (2020)
The Professor and the Madman (2019)
Pup Academy: Season 2
Song Exploder: Volume 2
Teen Mom 2: Seasons 1-2
December 16
Anitta: Made in Honório
BREAK IT ALL: The History of Rock in Latin America
How to Ruin Christmas: The Wedding
Nocturnal Animals (2016)
The Ripper
Run On
Vir Das: Outside In – The Lockdown Special
December 17
Braven (2018)
December 18
Guest House (2020)
Home for Christmas: Season 2
Jeopardy! Champion Run V
Jeopardy! Champion Run VI
Jeopardy! Teacher's Tournament
Jeopardy! College Championship
Jeopardy! Tournament of Champions
Ma Rainey's Black Bottom
Sweet Home
December 20
Rhys Nicholson Live At The Athenaeum (2019)
December 21
The Con Is On (2018)
December 22
After We Collided (2020)
London Hughes: To Catch a D(ck
Rhyme Time Town Singalongs
Shaun the Sheep: The Farmer's Llamas (2020)
Timmy Time: Season 2
December 23
The Midnight Sky
Your Name Engraved Herein
December 25
Bridgerton
December 26
Asphalt Burning (Børning 3)
DNA
Fast & Furious Spy Racers: Season 3: Sahara
Go! Go! Cory Carson: Season 3
The Magic School Bus Rides Again in the Zone
December 27
Sakho & Mangane: Season 1
December 28
Cops and Robbers
Rango (2011)
December 29
Dare Me: Season 1
December 30
Best Leftovers Ever!
Equinox
Transformers: War for Cybertron Trilogy: Chapter 2: Earthrise
December 31
Best of Stand-Up 2020
Chilling Adventures of Sabrina: Part 4
---
See also
* Best new movies and TV series on Stan
* Best new movies and TV series on Amazon Prime
* All new streaming movies & series