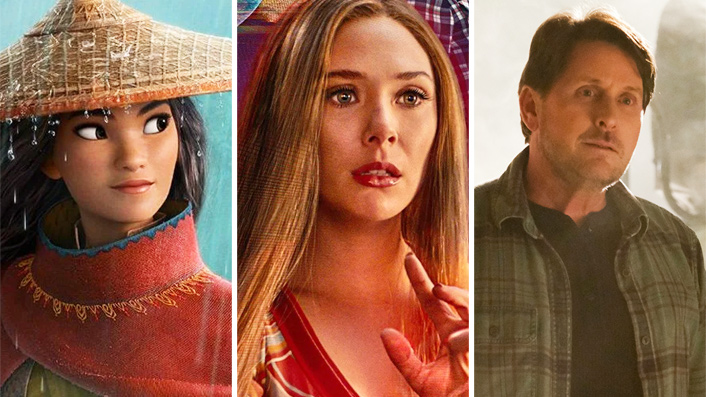 Best new movies and TV series on Disney+ Australia: March 2021

---
Each month, new films and TV shows are added to Disney+'s Australian library. Here's Eliza Janssen's recommendations for the titles most worth watching. Scroll down for the full list of everything arriving on the platform.
Top picks

This CGI story is not a sequel or an adaptation—and that alone will pique the interests of some fantasy fans. Raya and the Last Dragon looks to be one of those original Disney stories with its own vibrant and, well, animated fictional world; even though in the past, those adventurous titles like Atlantis: The Lost Empire and The Black Cauldron have underperformed.
Sign up for Flicks updates
Nevertheless, it's a real pleasure seeing Disney flex its creative muscles, drawing on Southeast Asian mythology and visuals to tell a lively story with a stacked cast of Asian-American voice talent. Starring Kelly Marie Tran, Awkwafina, and Gemma Chan, Raya and the Last Dragon will also screen in cinemas from March 4.
WandaVision season finale (March 5)
So here it is: the final bumper episode of the MCU's first big foray into streaming TV. Yes, I remember Netflix's Daredevil and Jessica Jones, but those former Marvel series didn't include clips from the highest-grossing film of all time in their 'previously on' segments.
WandaVision has been a stylish and IP-expanding journey through TV history, and it doesn't feel silly to claim that the show really holds up alongside Marvel's cinematic features. Not sure how much of WandaVision's appeal has been purely due to its time-skipping sitcom production design and an unleashed Kathryn Hahn performance, but I'll be sad to see season one end all the same.
You either die a hero, or live to see your once-underdog youth hockey team become the villain. That's where ex-coach Bombay (Emilio Estevez) finds himself, at least, when we first meet him at the beginning of this rebooted-for-episodic-streaming comeback.
It's not the early 90s anymore, and the Mighty Ducks' former generosity and winning attitude has made the team snooty and ultra-competitive, to the point where they don't let in awkward kids like 12-year-old Evan (Brady Noon) anymore. It'll take the combined powers of Evan's supportive mom (Lauren Graham) and Bombay to forge a new team of even mightier ducks. Maybe that should even be the new team's name.
---
All titles arriving on Disney+ Australia in March
March 5
Raya And The Last Dragon
March 12
Love in the Time of Corona – Season 1
Own the Room
March 19
The Falcon and The Winter Soldier
Arrested Development – Seasons 1-3
Disney Ducktales – Season 3
March 26
The Mighty Ducks: Game Changers
Gnomeo & Juliet
Code Black – Season 1-3
Ghost Whisperer – Season 1-5
Happy Endings – Season 1-3
---
See also
* Best new movies and TV series on Netflix
* Best new movies and TV series on Stan
* Best new movies and TV series on Prime Video
* All new streaming movies & series