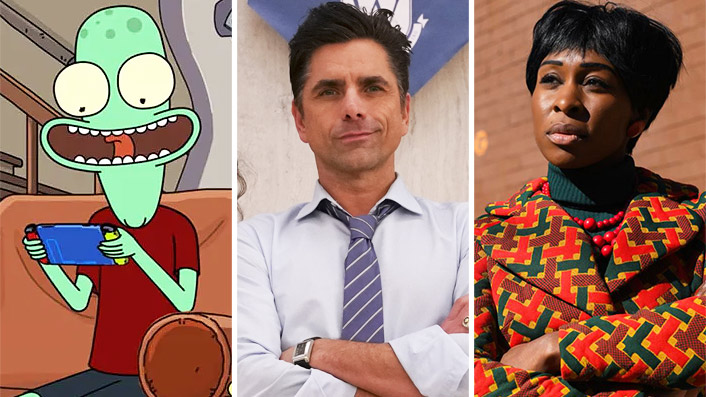 Best new movies and TV series on Disney+ Australia: April 2021

---
Each month, new films and TV shows are added to Disney+'s Australian library. Here's Eliza Janssen's recommendations for the titles most worth watching. Scroll down for the full list of everything arriving on the platform.
Top picks
At first glance, Solar Opposites is merely Rick and Morty 2.0, with its noodle-armed, asterix-eyed cast of sci-fi misfits. Justin Roiland co-created both series, and voices not only Rick and Morty themselves, but also SO's pessimistic alien Korvo.
By the end of season one, however? I was won over, by the newer show's more laid-back humour, and in particular its tremendous seventh episode, starring the voices of Andy Daly and Christina Hendricks as some of the embattled, miniaturised prisoners our protagonists keep in their human ant farm. That episode went all out with a full orchestral score, and we can expect the same deadly 'commitment to the bit' with Solar Opposites' second season.
Starring John Stamos as the reluctant coach of an all-girls high school basketball team, this sports series couldn't come at a better time. Only this week, a video from Oregon college basketball Sedona Prince went viral, for exposing the vast difference in the National Collegiate Athletic Association's treatment of its mens teams and womens teams. Weight room, equipment, sponsorship, even their daily meals: Prince's video comparison makes it hard to deny that mens' teams are treated significantly better, and she concluded the TikTok by saying that, "If you aren't upset about this problem, then you are a part of it."
Big Shot, with its heartwarming focus on the unique strengths and obstacles of female athletes, seems like a serendipitous, fictionalised answer to this recent scandal. If anyone can bring some charm to such a frustrating issue, it's Stamos, baby.
We're getting two Aretha stories on screen this year: Jennifer Hudson, in the upcoming biopic Respect, and Cynthia Erivo, in this National Geographic limited series on the songbird's creative 'Genius'. Previous instalments in the series have focused on the more typical fields of science (Geoffrey Rush as Albert Einstein) and art (Antonio Banderas as Pablo Picasso), but singing like Aretha takes more than god-given talent, even if 'god-given' seems like the perfect words for her celebrated vocals.
If you got taken to church by the 2018 music doco Amazing Grace like I did, you probably sensed that Franklin's 'greatest of all time' voice comes from a combination of a uniquely intelligent control over her music, some divine higher power and her upbringing in the heart of the Baptist Church. Here, Courtney B. Vance will appear as C.L. Franklin, the 'Million-Dollar Voice' who fathered 'the Queen of Soul' herself, and it'll be fascinating to see how all those influences brought us so many definitive songs.
---
All titles arriving on Disney+ Australia in April
April 2
Screen Queens seasons 1 and 2
Secret Life of the American Teenager seasons 1-5
Cesar Millan: The Real Story
Station 19 season 4
Squanto: A Warrior's Tale
Sharks of the Bermuda Triangle
Dino Ranch season 1
Disney Walk The Plank seasons 1-3
Higglytown Heroes seasons 1-2
Caravan of Courage: An Ewok Adventure
Ewoks: The Battle for Endor
Star Wars: Clone Wars – Volume 1 & 2
Star Wars: Ewoks (S1 & 2)
Story of the Faithful Wookie
April 9
Solar Opposites season 2
Disney Junior Muppet Babies season 3
Disney Future-Worm!
April 16
Big Shot
National Geographic: Earth Moods
April 22
Secrets of the Wales
April 30
Genius: Aretha
South Pacific (1959)
---
See also
* Best new movies and TV series on Netflix
* Best new movies and TV series on Stan
* Best new movies and TV series on Prime Video
* All new streaming movies & series