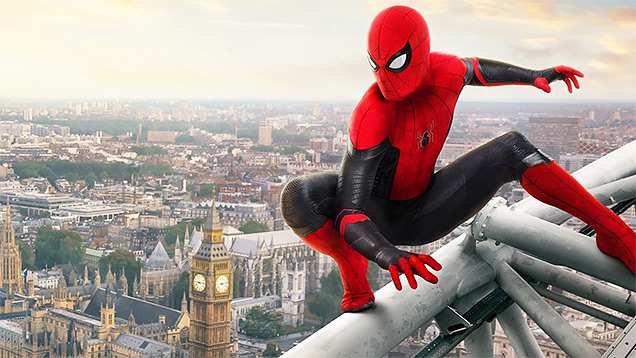 All Spider-Man movies, ranked from worst to best

---
Spider-Man: Far From Home has arrived in cinemas, expanding the cinematic universe of the world's most iconic web-slinging hero. Blake Howard revisits all Spidey movies and ranks them from worst to best.

Hopefully, I've heeded old Uncle Ben's advice, retooled for the purpose of this exercise: with great lists comes great responsibility. What follows is a definitive ranking of Spider-man cinematic outings. No T.V animated series, movie cameos and games have been included. Nor have the made-for-TV Spidey movies from the late '70s and early '80s.
Before you get your knickers in a knot, Marvel Studios fans: while Captain America: Civil War, Avengers: Infinity War and Endgame certainly feature incredible Spidey highs, our friendly neighbourhood web-slinger is merely part of an overarching ensemble and not the protagonist of the story.
This list keeps its focus on the movies in which Spider-Man is the star of the show. Here they are, eight in total, ranked from worst to best.
Sign up for Flicks updates
The pure alchemy of director Sam Raimi's two first Spider-Man films is that they maintained a narrow focus, juggling the inner turmoil of Spider-man/Peter Parker (Tobey Maguire) and a singular villainous character. Spider-Man 3 abandons logic, dismisses the goodwill of its two predecessors (which were phenomenal critical and financial successes) adds baffling dancing, allows James Franco to redesign villain costumes and devolves into an utter shit show. Spider-Man 3 is The Room of comic book movies.
The most offensive thing about Marc Webb and Andrew Garfield's first outing as Spider-Man is its repetition. Wiping the slate clean of Raimi's garbage fire seemed to influence a decade later retread of almost identical ground. The differences are aesthetic, other than threads of Sony's snore-inducing Spider-world building, save for one fleeting iconic moment during which Garfield rescues a young boy from a car dangling off of a bridge.
It's easy in a post-Marvel Cinematic Universe (MCU) world to forget that Sam Raimi's Spider-Man was the box office behemoth that launched the world's most famous superhero into stratospheric heights. Highlights include a screenplay by David Koepp, iconic performances from the definitive Uncle Ben and Aunt May (Cliff Robertson and Rosemary Harris) and mind-boggling special effects (for the time). Yes, Tobey Maguire looks 45 years old and is an objectively terrible actor. So what!
The second outing from Raimi and co. was the gold standard that all filmmakers playing in the superhero sandbox wanted to reach. Fifteen years later, Spider-Man 2 hasn't aged well. Maguire performance ripened into something objectively terrible. Raimi counteracts that somewhat with great formal aptitude. There are the iconic final words of Mary Jane Watson (Kirsten Dunst): "go get 'em, tiger." In hindsight, there's a tremendous amount of goodwill for a New York hero protecting the city from a good scientist gone wrong.
The pressure of delivering a stand-alone Spider-Man movie became much harder in a post-Spider-Verse world. Director Jon Watts, Tom Holland and now Jake Gyllenhaal are punching hard to continue the magic of Homecoming, breaking out of the neighbourhood and going global. Far From Home's burden is that it's doing a lot of franchise heavy lifting. When it's allowed to be itself, it's at its very best. Like getting a chance to feel what it's like to be a passenger during a web sling, for instance, pausing to take a mid-air Spidey-selfie. And when Holland's Peter deaks with the consequences of a ridiculous gorgeous Aunt May (Marissa Tomei).
Tom Holland is undeniably the very best live-action Spider-Man. It's so damned refreshing to see an actor close to the age of the character. It's genuinely fresh to see 2017 Brooklyn authentically represented in the faces of director Jon Watts' equivalent of Breakfast Club for the MCU. Michael Keaton is phenomenal as the villain Vulture. One of the very best elements of these films is Spider-Man's ability to empathise with the villain. This is distilled perfectly as Holland is chaperoned to the Homecoming dance with Keaton in the driver's seat. The tension explodes off the screen.
Thanks to the beautifully conceived and portrayed characters at heart, at the time that I saw The Amazing Spider-Man 2 it was my favourite Spider-man film to date. I wrote: "Webb and his two leads craft such beautiful and whimsical chemistry between Garfield and Stone that no matter how awesome Spidey is swan-diving between skyscrapers, or the air vibrating at Electro's whim – Peter and Gwen's exchanges snap, crackle and pop off of the screen."
It's a quantum leap ahead of its predecessor. But its villains – Jamie Foxx's Electro lumped with an origin story very similar to the Riddler's (Jim Carrey) in Batman Forever, and Dane DeHaan as Harry Osborn retreading his Chronicle angst – leave a lot to be desired.
The ever-expanding behemoth of the superhero genre rarely produces truly undeniable masterworks, such as the original Superman, Batman Returns, The Dark Knight, Iron Man, Guardians of the Galaxy, Logan and Black Panther.
And yet Spider-Man: Into the Spider-Verse flung into these ranks. It's self-aware and never glib. The spellbinding animation is a rich tapestry of styles, rewarding repeat examination. It's the fourth movie in the last 18 months with Spider-Man in it, and yet it's like a breath of fresh air. In the height of the final battle, Peter Parker says to Miles Morales: "I can't let another Spider-Man die." Miles replies: "Neither can I." In this terrific film he is very much alive and well.